France Raises Terror Threat to Highest Level After Spate of Attacks That Left 3 Dead and Others Injured
France has raised its terror threat alert to the highest possible level after a spate of attacks in a single day left three people dead and others injured.
A woman was beheaded at a church in the city of Nice by a knifeman who killed a further two people and left others injured, before he was shot and arrested by police on Thursday morning.
The murder spree came hours before a man wielding a gun was shot dead by police after threatening passers-by in the town of Montfavet, near the French city of Avignon, some 160 miles away from Nice.
In both incidents, the attackers are alleged to have shouted "Allahu Akbar", meaning God is great, a phrase often used by Islamist extremists before launching a deadly assault.
Later in the day, a security guard at the French consulate in Jeddah, Saudi Arabia, was stabbed and had to be taken to hospital.
The guard suffered non-life-threatening injuries. In a media statement, an official said: "The French embassy strongly condemns this attack against a diplomatic outpost which nothing could justify."
A representative of the French Council for the Muslim Faith strongly condemned the attack and said: "As a sign of mourning and solidarity with the victims and their loved ones, I call on all Muslims in France to cancel all the celebrations of the holiday of Mawlid."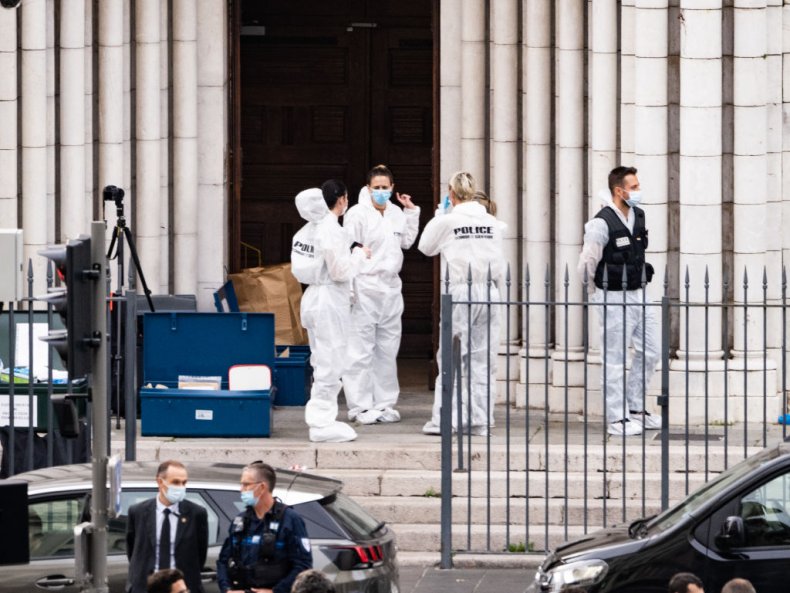 Prime Minister Jean Castex raised France's security alert to its highest level and said the government's response would be firm.
The murders in Nice have attracted condemnation from around the world, including Turkey President Recep Tayyip Erdogan, who earlier this week announced he was taking "legal, diplomatic actions" over a cartoon of himself in French magazine Charlie Hebdo.
The cartoon depicts the president lifting the dress of a veiled woman.
Relations between France and Turkey are strained after President Emmanuel Macron pledged a tougher stance against radical Islam.
Macron has also pledged to defend secularism following the beheading of French teacher Samuel Paty, who showed children cartoons of the Prophet Muhammad in class.
Macron said the teacher "was killed because Islamists want our future," but France would "not give up our cartoons."