France Suspends Top Scorer Karim Benzema in Extortion Scandal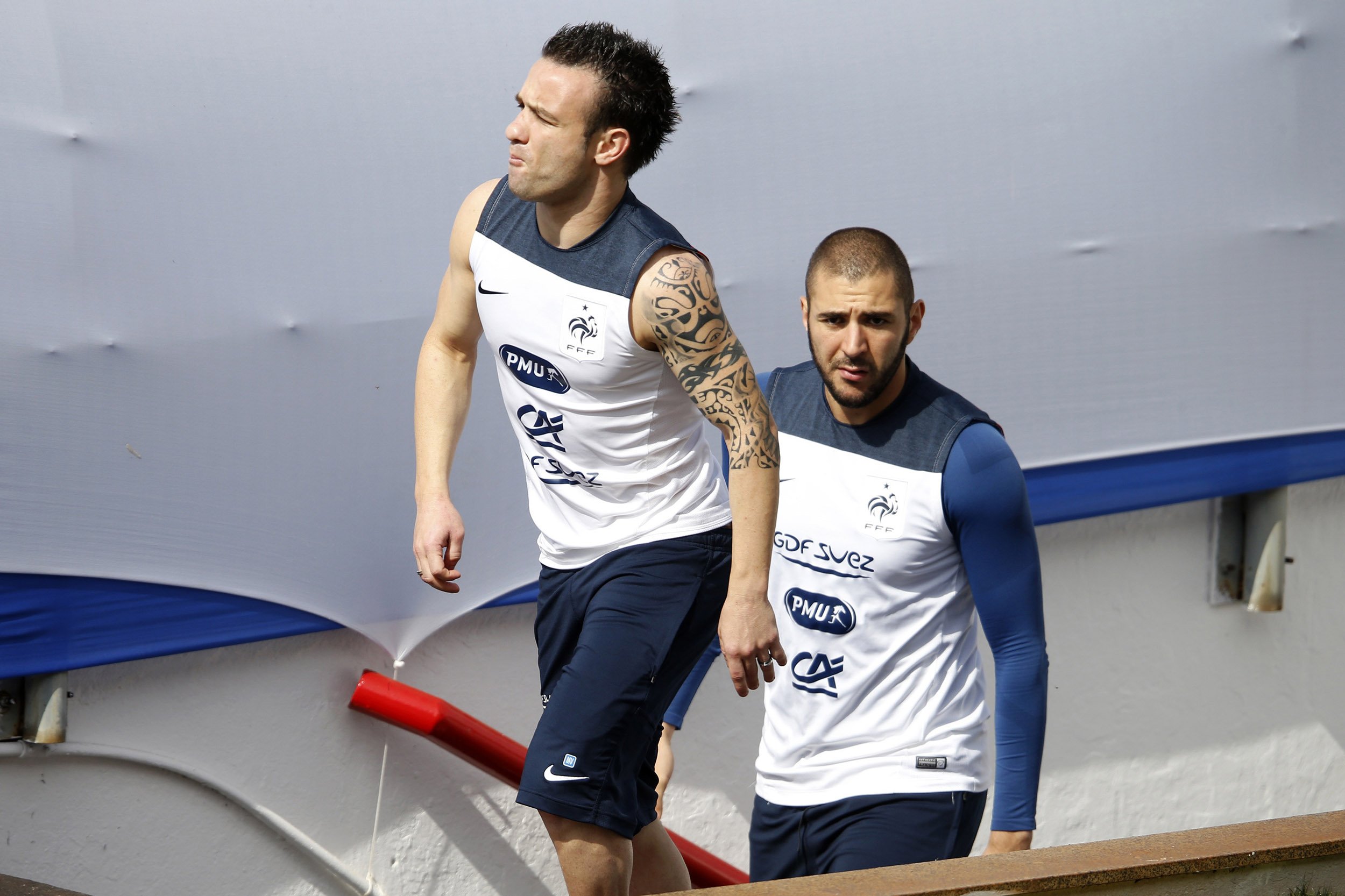 Is French striker Karim Benzema simply imprudent when it comes to dispensing advice, or is the 27-year-old footballer an accomplice to a sex-tape extortion scandal involving a teammate? That question may not soon be answered, but in the meantime Les Bleus' most prolific scorer will not be representing France when it hosts Euro 2016 next summer.
On Tuesday, December 8, the hulking, 6-foot-2 Benzema scored a hat trick for his club team, Real Madrid, in an 8-0 UEFA Champions League wipeout of Malmö. Two days later, French Football Federation President Noël Le Graët announced that Benzema, who was France's leading scorer in the 2014 World Cup, was suspended indefinitely from the national team. "I have decided that [Benzema] is not available for selection," Le Graët said of the Lyon native, adding that the decision was "heartbreaking."
Benzema's suspension stems from his involvement with a sex-tape extortion scandal involving a French national-team teammate, midfielder Mathieu Valbuena. Earlier this year, the 31-year-old Valbuena learned that a video involving him and an unidentified woman had been lifted from his mobile phone. The person or persons responsible allegedly then attempted to extort an undisclosed sum of money from Valbuena, who went to the French police.
The tape had still not been made public—and no arrests had been made—when the French squad met at the national training center in Clairefontaine, outside Paris, for a practice session on October 5. There, according to Valbuena, Benzema approached him and offered to help resolve the issue by putting him in touch with a third party familiar with the blackmailers. "He was saying, 'You will have to pay,' indirectly," said Valbuena, who is known as Le Petit Velo (the Little Bicycle) due to his 5-foot-4 stature.
"[Benzema] was not aggressive in his manner of talking, he did not talk about money concretely, directly," Valbuena told the French daily Le Monde in late November. "But when someone insists that I meet someone...hmm. I have never met anyone who is going to destroy a video for free just because they love me!"
One day after Benzema approached Valbuena, the striker spoke by phone with the alleged third party, Karim Zenati, a childhood friend of Benzema's who has armed theft and drug-dealing convictions. Parts of the conversation were leaked by French police to Europe 1 radio: "I said to him: 'I'm going to sort it out for you,'" Benzema is heard saying. "You got to go see the guy. He'll come. He'll talk to you. I give you my word there's no other copy.'"
Later in the phone conversation, Benzema tells Zenati, "I said [to Valbuena]: 'If you want the video to be destroyed, my friend comes up to see you in Lyon and you sort it out face to face with him.'
"I said, 'My role stops here,'" Benzema continues. "'Now it's my friend who takes over. He's the one who knows the person with the video. Me, I don't know him. So now if you want to sort this out, give me your number. I'll pass it on, and you sort it out with him.'"
During the conversation, Benzema and Zenati can be heard chuckling about Valbuena's plight.
Benzema was not laughing on November 4 when French police arrested him and charged him with "complicity in a blackmail attempt." He was held in custody overnight, but his passport was not revoked and he was permitted to return to Real Madrid, the club that he, along with Cristiano Ronaldo, had led to a UEFA Champions League championship in May 2014.
A judge in Versailles has prohibited Benzema from contacting Valbuena directly. Last week, the Real Madrid striker gave an interview on French television. "When I hear all this talk about extortion, and that I'd demanded money from him—it makes me angry," Benzema said. "The idea that I would need money, or my friend would need money—it's ridiculous. I've earned a good living for a long time. I don't need money. We never, never spoke about money."
In announcing the suspension on Thursday, Le Graët was empathetic, bordering on paternal, in discussing the dynamic French striker. "[The suspension] doesn't change that I have a lot of esteem for this guy," Le Graët said. "I think he's a good guy, a guy who grew up in a tough neighborhood and never changed his friends. I have a heart. Giving out suspensions has never been my cup of tea."
Benzema's star-crossed past likely played a role in Le Graët's decision to indefinitely suspend him. Though Benzema, of Algerian descent, is by far France's most prolific scorer, with 27 goals in 81 international matches (no current national team member has even half as many), he was not selected to Les Bleus for the 2010 World Cup.
That omission centered around an investigation of Benzema and teammate Franck Ribéry soliciting an underage prostitute in 2009. Only last year, a judge dropped the charges on the basis that prosecutors were unable to prove that either defendant knew the female was 16 at the time. The young woman, Zahia Dehar, has since gone on to become a French reality TV star and Parisian fashion icon.
Now Benzema is likely to be excluded from the national team roster when France hosts the European championships in June. Of a more grave concern, Benzema faces a minimum sentence of five years if convicted of the blackmail charge.
The 2016 UEFA European Championship—Euro 2016—commences in France on June 10. It will be the most prestigious international soccer event France has hosted since the 1998 World Cup. And for a country that recently had an international friendly between France and Germany at Stade de France in Paris find itself as one target of the November 13 attacks, Euro 2016 was shaping up to be an event in which national pride straddled the boundary of the pitch with anxiety.
France will cautiously but enthusiastically welcome all of Europe for the year's most anticipated football event. That same welcome, however, will most likely not be extended to France's most gifted player.
France Suspends Top Scorer Karim Benzema in Extortion Scandal | Sports