Éric Zemmour becoming president of France would be a "disaster," one political operative in Paris told Newsweek this week as the shadow of the far-right TV host looms increasingly over next year's election.
Over the last few weeks, Zemmour, who was born in Paris to a Jewish family from Algeria, has been promoting his best-seller France Hasn't Had Its Last Word, which claims that Islam and immigration will destroy the country.
On screen and on the front pages, the 63-year-old is riding a wave of media prominence built upon his popular talk show on CNews, a right-wing television network likened to Fox News that in May became France's No.1 news network for the first time.
He openly promotes the "Great Replacement" narrative—a conspiracy theory that white people are being "replaced" by non-white, non-European immigrants; has been condemned for homophobic views; and in a show last year, called unaccompanied migrant children "robbers", "murderers" and "rapists," according to rival French TV news network Euronews.
It is the kind of demagoguery not out of place on Fox's Tucker Carlson Tonight, for which the anchor has been criticized in for his pronouncements on the same topics and who also has been the subject of speculation over a potential presidential run.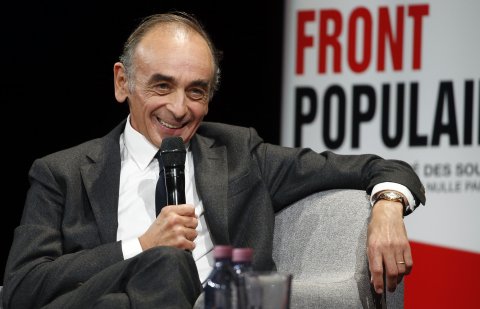 Many commentators have also dubbed Zemmour "the French Trump," pointing to parallels between the Frenchman and the former darling of Fox News, ex-President Donald Trump, whom Zemmour admires and channels in his anti-establishment rhetoric.
"There are plenty of points in common with Trump—the television aspect, there is also an aspect in attitudes to women and femininity," said Emmanuel Rivière, director of international polling at Kantar Public, a respected political bellwether in France.
"There is also a parallel in that they appeal to an alliance of older conservatives and wealthy people and frustrated and anxious white blue collar workers," Rivière told Newsweek.
"The ethnocentric feeling has mostly declined over the last 15 years but Zemmour has increased the freedom to express some radical ideas," he added.
Zemmour, has not declared his candidacy, but one survey this week indicated his chances were good if he were to throw his hat in the ring for the ballot's first round on April 10, 2022, with a possible run-off two weeks later.
A Harris Interactive poll predicted Zemmour would get 17 percent of the vote, only seven points behind the centrist President Emmanual Macron.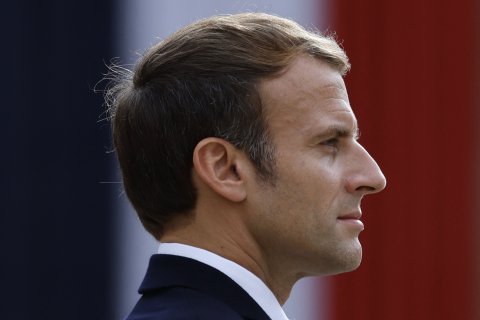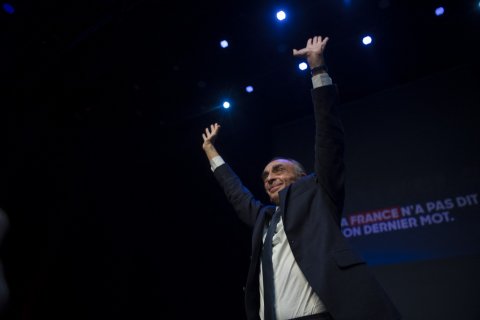 More significantly, he was two points clear of far-right mainstay Marine Le Pen, who has tried to broaden her base in recent years, renaming the party her father once led from Front National to Assemblement National (National Rally),
"He is fishing in the same water as Marine Le Pen," Rivière said. "He can get some support from the center right or the political right because he has a better image among older people who have been hostile to Front National and the Le Pen name."
In a country in which Macron managed to take the presidency in 2017 without having held elected office before—as Trump did in the U.S.—there is concern among the establishment that the era of the outsider could prevail again.
'Huge Differences': Trump and Zemmour
However, Rivière said that his pollster's monthly barometer of political sentiment conducted since 1976 for the newspaper Le Figaro, which Zemmour has worked for, suggested the CNews host had a long road ahead to becoming president.
When asked which figure people wanted to play an important political role in the coming months, he was only in 12th place, with 19 percent.
"We have never had a personality at this ranking at this level of popularity in October becoming president the following year," said Rivière who sees "two huge differences" between Trump and Zemmour.
"As opposed to Trump, Éric Zemmour will never have the opportunity to be supported by a strong political party," he said.
"The second is that Trump was famous as a businessman and in the U.S. being successful as a businessman makes you credible to run the economy of a big country. This could be the weakness for Zemmour. He has no such background."
The fightback from the center and the right is likely to build in the coming months. More than 3.8 million tuned in to last month's televised debate between Zemmour and left-wing Jean Luc Mélenchon, the founder of democratic-socialist party La France Insoumise (France Unbowed).
Meanwhile, Macron, who has not declared his candidacy, is set to use former conservative insiders from the administration of ex-center right President Nicolas Sarkozy to help his campaign, Reuters reports.
This is in response to concerns that Zemmour could outflank Le Pen on the far-right, splitting its vote and thus giving the center-right an open door to the election's second round. Polls show this poses the biggest threat for Macron's chances for a second term, the agency reported.
"The moment is particularly explosive in France and is even favorable to the election of a Donald Trump with a more intellectual image like Zemmour, said Philippe Corcuff, author of The Great Confusion. How the Far-right Is Winning the Battle of Ideas.
"In French politics, historically, the intellectual image is important for politicians," he told Newsweek, pointing to the urbane veneer cultivated by Macron and before him, the country's longest serving head of state, François Mitterrand, who was president between 1981 and 1996.
Zemmour in his view, is benefiting from the media's love of "new and unexpected figures who seem to upset the traditional frameworks."
"He has also been one of the protagonists of an extreme ideological right-wing movement for the past ten years, his person allows for a more direct link with electoral politics," said Corcuff, who is also an associate professor at the Institute of Political Studies in Lyon.
Corcuff said public spaces in France, such as social media, "are becoming far-right, but not French society as a whole."
However, he believes France now has "an explosive mix of resentments and frustrations associated with a profound discrediting of professional politicians." This can be captured by the ultraconservative ideological stance of Zemmour.
"The Left is in crisis, with its nose to the grindstone," said Corcuff. "It has long developed an arrogance about its supposed intellectual superiority.
"It does not want to believe that the victory of a Zemmour is possible—like large parts of the American left believed before Trump's victory in 2016."
Corcuff expects polling to feed the media coverage of Zemmour, creating a snowball effect which gives "credibility to Zemmour's candidacy and making possible what was until recently unlikely—his victory on April 24, 2022."
On the other hand, Zemmour's adversaries hope his star will wane once he declares himself a candidate, which requires 500 signatures from elected officials, millions of euros to campaign and not least, a manifesto detailing policies not polemic.
Also, France's media regulator ruled that because he should be considered a politician, not a journalist, his airtime on CNews should be limited.
'A Disaster, But He Could Win'
However, his instincts honed on France's answer to Fox News, mean the Tucker Carlson-style rhetoric on the campaign trail would be likely to grab a many headlines, even if it turns a few stomachs.
Gaspard Gantzer, former advisor to François Hollande, Macron's predecessor, said that Zemmour's ability to exploit the weaknesses on the right "Macron is good", he told Newsweek, but those within his party "seem to be too confident."
Gantzer added that Zemmour "proposes a very simple analysis of problems because he understands perfectly how to be at the center of media attention."
"It would be a disaster, but he could win."