France's Improbable Blockbuster Buddy Film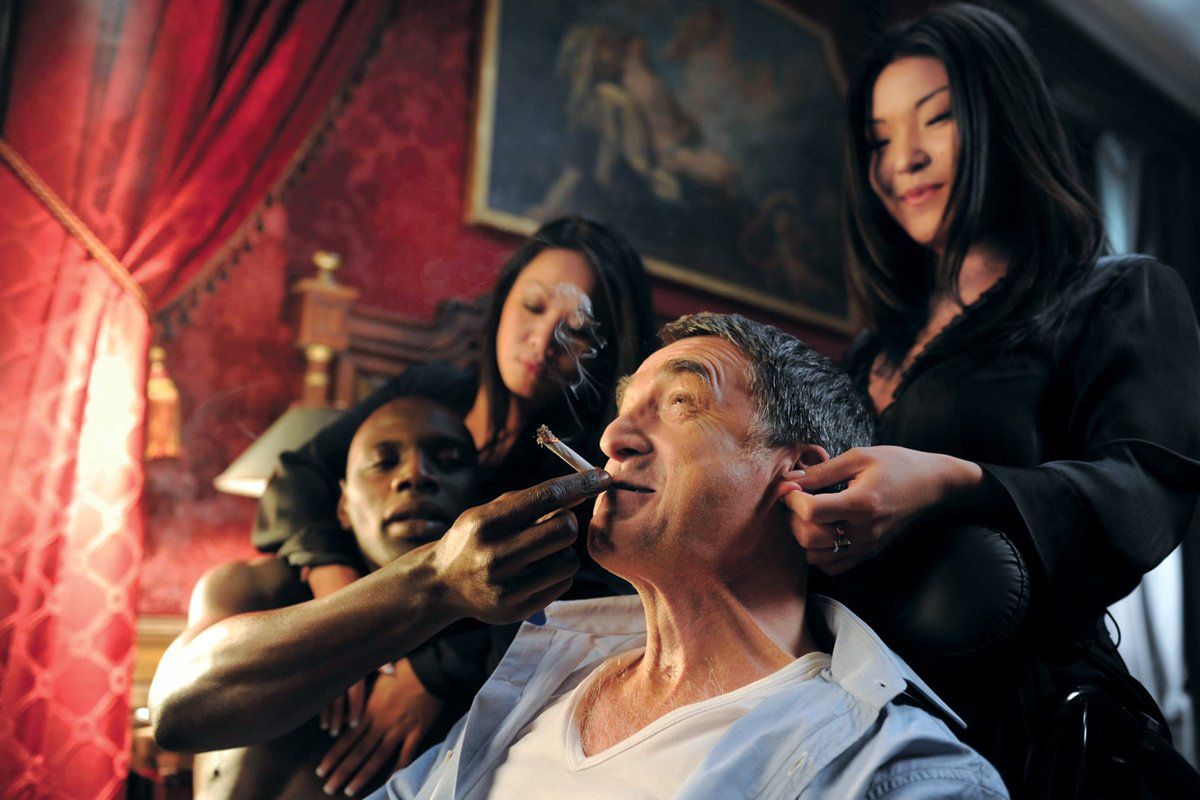 Ambient Malaise? check. Now add a quadriplegic widower, an ex-con from the ghetto—and don't forget the nonstop laughs. It is an improbable mix, but the feel-good buddy film Intouchables ("Untouchable") is sending France to the cinema en masse. Twilight's vampires and Spielberg's Tintin can't touch this motley duo of marginals. Tagged a "social phenomenon," the film drew more than 10 million viewers in its first month and is set to become one of the top five most popular French films ever.
In his Paris mansion, blasé aristocrat Philippe (François Cluzet), paralyzed from the neck down, is interviewing overqualified, bleeding-heart bores for a new live-in caregiver. Enter Driss (Omar Sy), wry and pitiless, a young black man from Paris's troubled banlieues, looking for rejection so he can keep collecting unemployment. The blueblood, tired of pity, dares the wisecracking interloper to take the job. Worlds clash and sparks fly. Each handicapped—physically, socially—in his own way, they become fast friends, tease each other to dueling soundtracks of classical and funk, and surrender to the rollicking adventure. The pair shake off police in a Maserati, draw shushes at the opera in a laughing fit, and hire sexy masseuses to rub Philippe's surviving erogenous zones (his ears). Once dead to the world, both men come alive.
Intouchables is the fourth feature by writer-director duo Eric Toledano and Olivier Nakache. "We never imagined it would become this," Nakache says. But there were signs. On the strength of a preview at Cannes, some 35 countries bought the rights, and the Weinsteins have optioned a U.S. remake.
For France, in the throes of an economic crisis and a divisive election season, the film works not despite the climate, but because of it. Intouchables evokes second chances and real liberté, égalité, fraternité. It suggests that six years after banlieue riots, social barriers might not be as wide as cynics suggest. Utopian, maybe, but refreshing. Le Monde applauds the film's "social metaphor" showing the benefit of linking "an Old France paralyzed in its privileges and the life force of its youth of immigrant origin." The directors beg off punditry. Says Toledano, "We made humor with something you aren't normally allowed to joke about."
Indeed, that's where the few critiques come in. Where fans liken the film to "medicine," opponents attack it as "anesthesia" and trash its "good sentiments" (an epithet in French film circles). "Welcome to the flat land of the Care Bears, petrified by the crisis to the point of wanting to repaint the house and office pink," La Tribune jeers. Box-office darlings like Amélie and Bienvenue Chez les Ch'tis, the French recordholder with 20 million tickets sold, drew similar bile. "Some people like a film up to a certain number of tickets sold," muses Nakache. "Beyond that, they have to pick a fight."
In fact, Intouchables is based on a true story. The real Philippe Pozzo di Borgo managed a top champagne house when he was paralyzed in a paragliding accident. He hired an ex-con as his "guardian devil" and chronicled their hijinks in a book. "We didn't exaggerate the reality—au contraire," says Toledano.
At the film's heart is Sy, dazzling in a rare role for a black lead in France. A popular TV comic, Sy, 33, was born outside Paris to West African parents. "He vehicles so many things about French society," says Nakache. "Now actors from the second wave of immigration are here to tell these stories. Omar is brilliantly part of that."
Intouchables' success is more good news for France's crisis-beating box office. With 206.5 million tickets sold last year, 2010 was its best since 1967. And 2011 is another prime vintage, as French gems blur the line between popcorn fare and cinéma d'auteur. "Audacious projects," says Nakache. "It's so encouraging, so motivating." More good sentiments? As Le Monde retorts to the film's critics, "So what? That's what we need."