Francia Raisa Says She 'Could've Died' After Trump Supporters Harassed Her at Rally
Actress Francia Raisa has shared a tearful post describing how she was boxed in on the freeway by Donald Trump supporters in an incident where the 32-year-old said she "could've died."
The Grown-ish star was driving the I-405 Freeway in Los Angeles, California when she came upon a Trump motorcade. Raisa alleges that the crowd "boxed" her in, surrounded her car and intimidated her.
She shared an emotional post to her Instagram stories describing the ordeal.
"I was just on the 405 and I got stuck in that stupid Trump Rally and they f****** boxed me in and they're pointing at me and laughing at me saying 'haha' and literally I almost crashed because they wouldn't let me out," she alleged.
"I was trying to go around it." Raisa further explained. "They were being so violent. I could've crashed. It was so dangerous." Adding: "I just don't understand that's the country that y'all are supposedly wanting right now. Really? That's what makes America great? That's f***ed up. I could've died right now."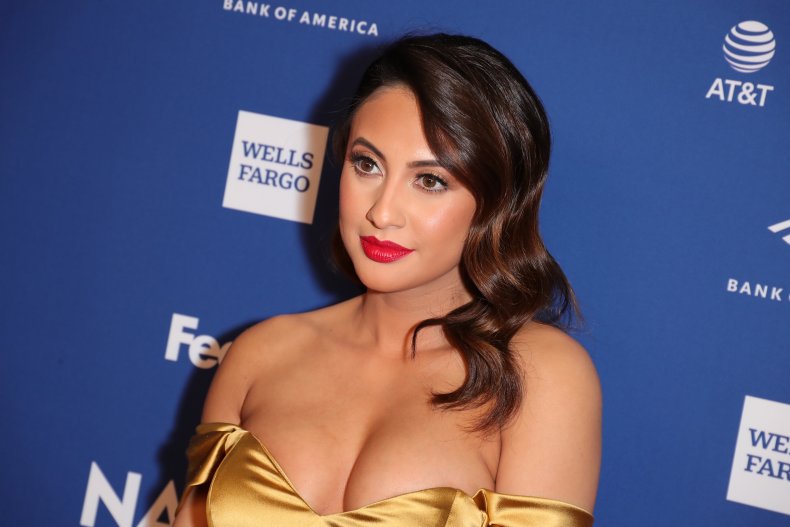 A large caravan of vehicles was reported on the freeway yesterday with some footage being shared to social media.
Republican congressional candidate Errol Webber posted a video of the freeway being flooded with cars and trucks adorned with U.S. flags and Trump fanfare.
TMZ reports that the cars on the 405 were heading south to Orange County, where the president hosted a fundraiser event in Newport Beach on Sunday.
Trump attended the private fundraiser at tech mogul Palmer Luckey's Newport Beach estate. He also participated in a roundtable discussion with supporters, then made a speech, according to the White House.
Raisa alleged that her being targeted by the convoy was racially motivated as she is of Mexican heritage.
"That was so f****** dangerous, pointing at me and laughing at a Mexican," she said. "Oh God, that was really f****** scary."
The Los Angeles Times reports that the rally along Pacific Coast Highway and Newport Boulevard was "raucous and confrontational at times" with one of the publication's reporters harassed by a man in a Trump hat and for wearing a mask as others shouted: "Fake news!"
Raisa made headlines three years ago when she donated a kidney to her good friend Selena Gomez. She is also known for her roles in Bring It On: All or Nothing and The Secret Life of the American Teenager.