France, Japan Support Free Navigation in Asia-Pacific, A Message Seemed Aimed at China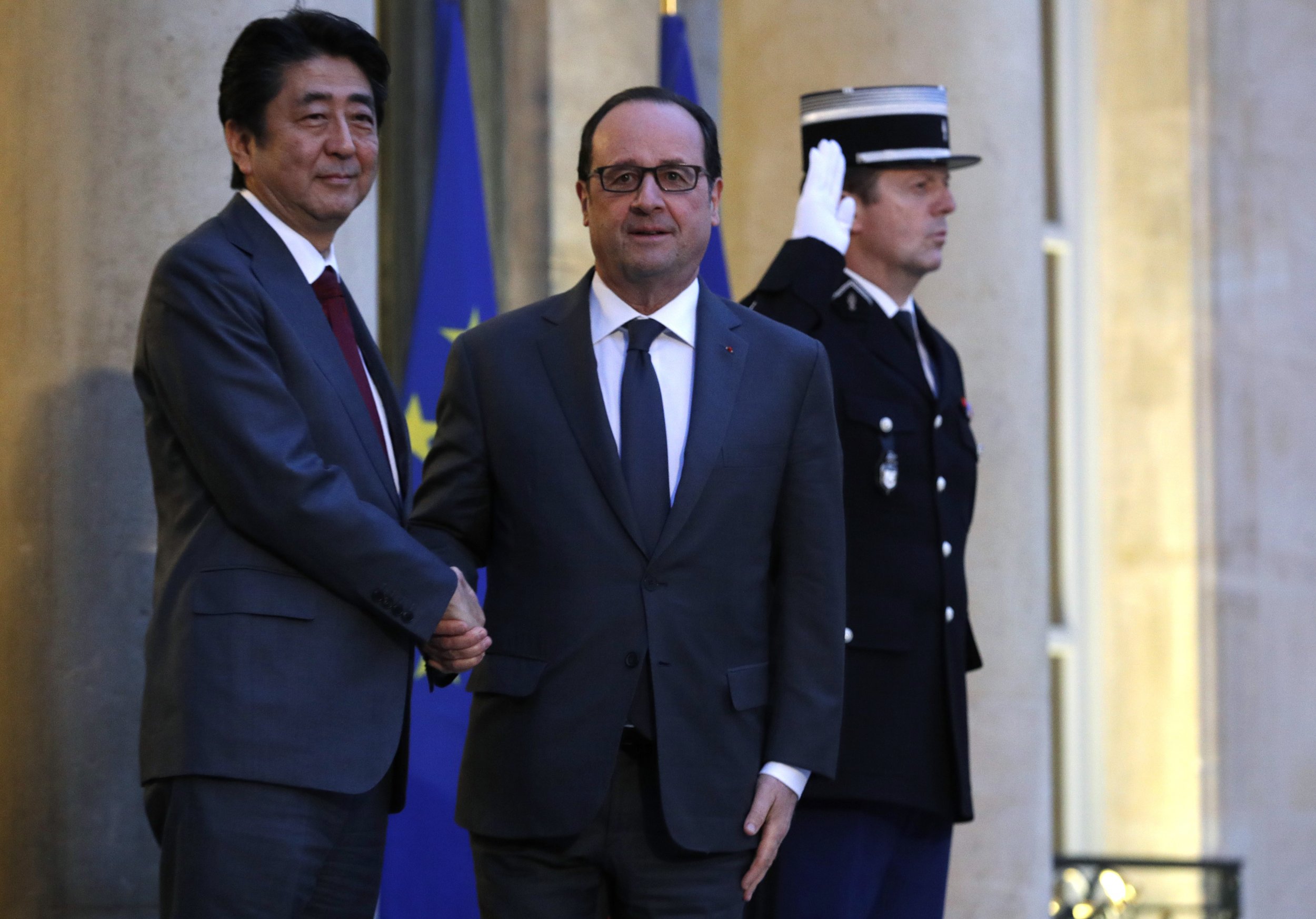 France and Japan support a "free and open maritime order" in the Asia-Pacific region, Japanese Prime Minister Shinzo Abe said after talks with French President Francois Hollande on Monday.
The message seemed aimed at China, which claims almost all the South China Sea and which has fueled concern in Japan and the West with its growing military presence in the waterway.
"Francois and I agreed on the importance of ensuring a free and open maritime order in the Indo-Pacific region (and) of continuing to support the stability and prosperity of this region," Abe told reporters after the talks.
Japan plans to dispatch its largest warship on a three-month tour through the South China Sea beginning in May, three sources said last week, in its biggest show of naval force in the region since World War Two. China pledged a firm response if Japan stirred up trouble in the South China Sea.
Abe underlined the importance of separate naval exercises involving personnel or equipment from Japan, France, Britain and the United States to be held around Tinian island in the western Pacific in May.
Hollande said France reaffirmed its support for an increased Japanese peace-keeping role and said the two countries would work together to improve the ability of their forces to cooperate.
He assured Abe of France's support after North Korea this month fired four ballistic missiles into the sea off Japan's northwest coast. He also denounced the development of North Korea's nuclear and ballistic programs, which he said violated all its international obligations.
Reflecting concerns over rising protectionist sentiment in the United States and elsewhere, Abe said Japan and France wanted to continue to be "champions of free trade" and said an agreement on a free-trade pact with the European Union would send an important message.
Hollande also voiced support for the proposed EU-Japan trade accord which is being negotiated.
France and Japan also signed an agreement on reinforced cooperation on nuclear energy.
Two Japanese firms, Japan Nuclear Fuel Limited and Mitsubishi Heavy Industries, agreed in February to buy a combined 10 percent stake in a new company being split off from Areva for 500 million euros ($537 million), helping a state-backed rescue of the French nuclear group.
Abe earlier met German Chancellor Angela Merkel in Hanover.