Francois Hollande Will Push US and Russia to Join French Forces Against ISIS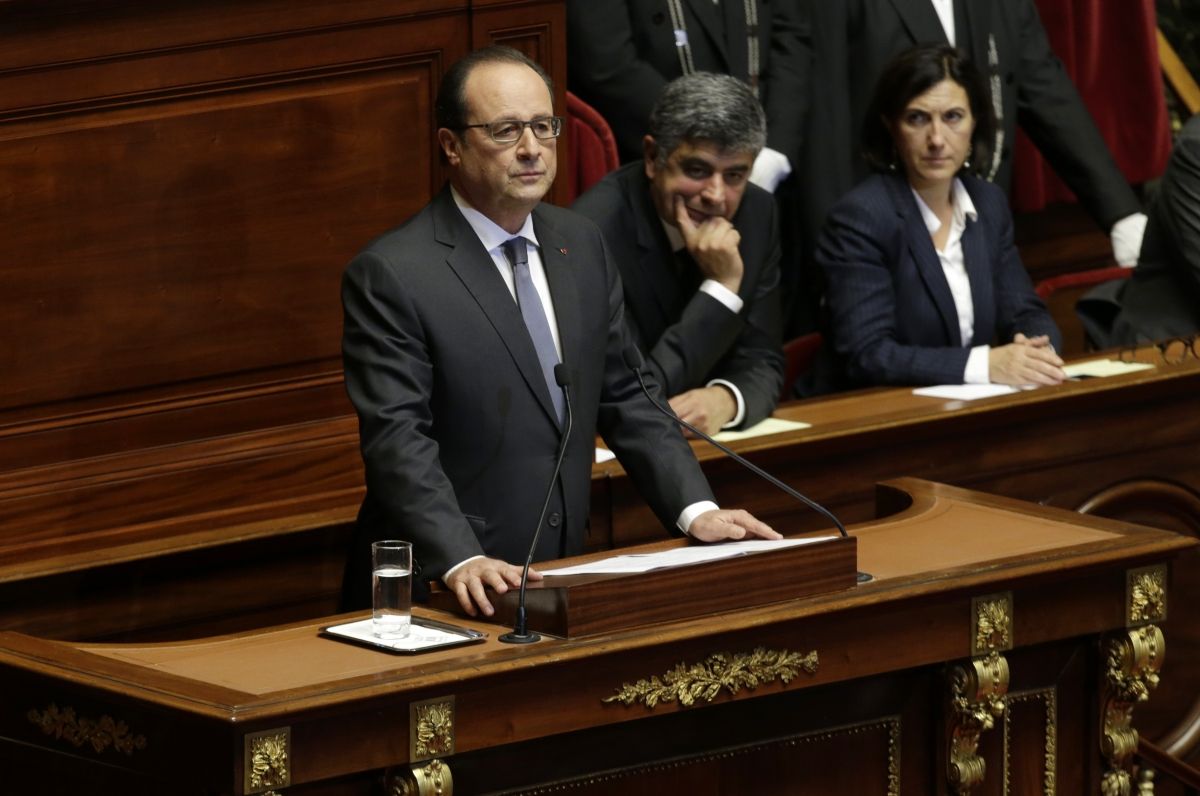 French President Francois Hollande addressed both houses of the French parliament in Versailles on Monday, saying that he will meet with U.S. President Barack Obama and Russian President Vladimir Putin in the coming days to "join our forces" against the Islamic State militant group (ISIS) in Syria.
Hollande said that he would travel to Washington and then Moscow to meet his American and Russian counterparts, in order to strengthen the fight against ISIS. He also pledged to "intensify" France's fight against ISIS in Syria. "We will continue the strikes in the weeks to come," Hollande said.
Hollande has requested that the U.N. Security Council convene to adopt a resolution on the common goal of fighting what he called "terrorism." The French leader said that the coordinated attacks on the French capital were "decided and planned" in Syria and "prepared and organized" in Belgium with help within France.
Hollande announced that he will seek to amend the country's constitution so that authorities would be allowed to strip dual citizens of their French citizenship if they are deemed a risk to national security. He will also try to pass a bill thate would extend the state of emergency in France by three months.
He said that France must "go on living" and show "perseverance" and "unity" in the aftermath of the worst attack on European soil since the 2004 Madrid bombings. "France is not engaged in a war of civilizations because those murderers do not represent a civilization," he said.
Hollande called for tougher controls of the EU's borders after the attacks: "If Europe does not control its external borders, then it's back to national borders. This would be the dismantling of the European Union."
He paid tribute to the 129 who lost their lives in the attacks, their loved ones, and the 99 people who remain in a critical condition after the shooting and suicide bomb attacks on bars, restaurants, a concert venue and France's national football stadium.
"Today, our country is in mourning," Hollande said. "We remember the innocents who died as they were mowed down by armed gunmen in the streets of Paris and in its suburbs. We think of the hundreds of young people, young boys and girls who have been traumatized by the attacks. Some are still fighting for their lives." There were victims from 19 countries among the dead or wounded, he said.
The French leader paid tribute to Paris's emergency services that reacted to the attacks and the healthcare system that treated those affected. He thanked the security services for their courage and saluted French pilots for their successful raids on the ISIS stronghold of Raqqa late Sunday.