Famous NYPD 'Lamplighter' Frank Serpico Gets Political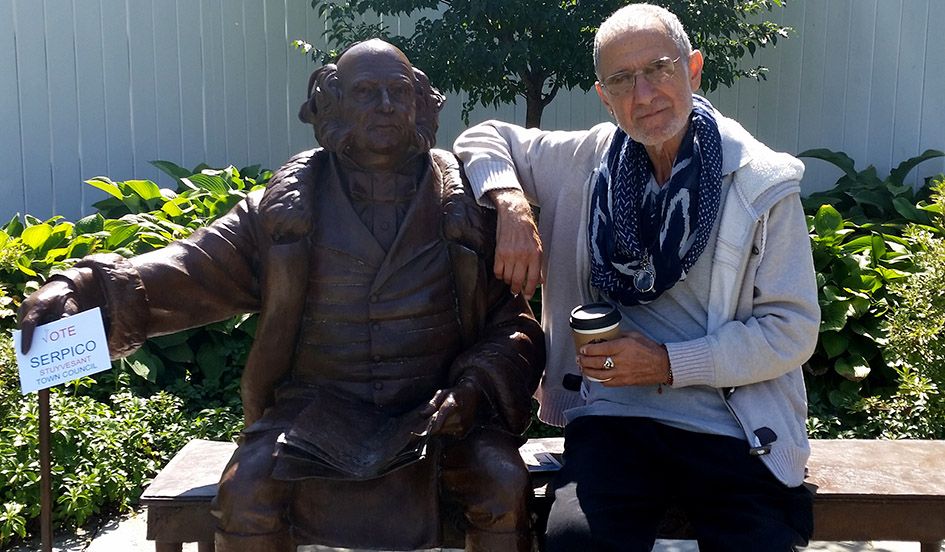 Frank Serpico is running his new political campaign the way those who know him would expect him to: bringing Greek philosophy into impromptu discussions about corruption and feeding farm foul scraps of bread while canvassing.
The price good men pay for indifference to public affairs is to be ruled by evil men, the 79-year-old Serpico often says, alluding to Plato with nearly everyone he encounters during a reporter's recent visit. It's his way of imploring them to care about politics.
The famous New York Police Department whistleblower, lionized in the 1973 Sidney Lumet film Serpico, is vying for a seat on the town board in Stuyvesant, New York.
He's been inspired to run by what he claims was the town's corrupt way of handling his land dispute, saying it's indicative of a culture of cronyism.
Serpico wanted to buy land from his next door neighbor, Frank Palladino, a local developer. Both confirmed to Newsweek that the deal did not transpire, and the details of why this happened are also a subject of contention.
Serpico alleges that Palladino not only razed a ridge on environmentally sensitive land, but chopped down some of the ex-cop's trees. He eventually arranged for Palladino to be arrested because of the felled trees, but maintains that the Columbia County district attorney, who handles cases in Stuyvesant, favored the defendant during the prosecution.
In Serpico's view, the ordeal was not a one-off injustice. He alleges that Stuyvesant's political system is an "old boys' network," and says the reciprocal back-scratching was too much for him to shrug off.
"Honestly, I was just so, I don't know the word—disgusted," he says. "I felt I was reliving my past," referring to his time with the NYPD.
He further reflects: "We should be able to trust the politicians. We should be able to trust the prosecutors. We should be able to trust the judges—and not play this cat-and-mouse game."
Palladino, who denies any wrongdoing, says he has little power in the community compared to Serpico, due to the latter's reputation. "I'm not going to win a media battle with Frank Serpico, because he's Frank Serpico," he tells Newsweek during a phone interview. "I am not part of the good old boys' group in Columbia County."
When their deal soured, Palladino says, Serpico "called everybody and their brother.... He called the building inspector, the planning board, he called everybody—and I was looked at with a pretty fine-tooth comb."
Palladino pleaded guilty to trespassing allegations, but downplayed their significance, saying: "This should have been a civil case." He added: "Now there's two cows on the property. I told him he could still buy it."
Paul Czajka, Columbia County district attorney, emphatically denies the claims he was soft on Palladino and that there's an old boys' network.
"As I told the reporter at another newspaper, the only person that's madder at me than Frank Serpico is Frank Palladino," he says.
Czajka maintains that many of the trees Serpico thought were his actually weren't, as per a land survey his office commissioned. As such, Serpico didn't receive the monetary damages he had hoped for, which he claims is what led to this conflict, he claims. In addition, he says, he didn't have control over how much money Serpico received.
"I prosecuted Frank Palladino, hoping to get a conviction and a satisfactory order of restitution in favor of Frank Serpico," he says. "I did get a conviction, and I did get an order of restitution but it wasn't to Frank Serpico's satisfaction—but that's up to the judge."
He later said: "If I did not want to prosecute Palladino, there would have been no prosecution, and there would have been no conviction, and there would have been no order of restitution. I would not have spent the county's money on hiring a surveyor and an arborist, but I don't order restitution, the judges order restitution."
Serpico says he doesn't particularly want to be a politician, but he feels that participating in this election will at least bring attention to the alleged corruption and inspire others to seek good government. Serpico does not want to be known as a "whistleblower," explaining that he always hated the term, but rather a "lamplighter."
"Injustice can't prevail when the light of justice is shining on it," he says. "I wanted to shed the light of what's going on in my little town, which is going on is every little town in the county—thats why im getting mail from people across the county."
During the afternoon of the reporter's visit, Serpico spends time driving around to place signs in support Ken Golden, his pick for Columbia County district attorney. After then stopping by a local print shop to check on his own campaign materials, Serpico begins reflecting on current policing controversies. As it turns out, he holds a nuanced position on this increasingly polarized discussion—he is as staunch a supporter of law enforcement as he is accountability.
"I don't dislike cops," Serpico says. "There's nothing I love more than an honest cop who's doing his job the way he should be."
At the same time, he makes clear: "I find myself one of the most harsh critics of police excessive use of force."
Asked if New York City Mayor Bill de Blasio and NYPD Commissioner William Bratton made good on their promises for justice reform, such as easing tensions between cops and communities of color, Serpico said he's "pretty disappointed" by them. He declined to elaborate.
As for stop-and-frisk?
"Stop-and-frisk was always legal, and still is," he says, but "you have to have probable cause—and that probable cause is not people of color."
"The fact is that white people use drugs as much as people of color—especially the coke snorters."
Serpico also warns against rushing to judgement in the case of tennis star James Blake, whom an officer mistook for a credit card fraudster and threw to the ground. The incident was reflective of the current controversies over both use of force and racial bias in policing.
Serpico says NYPD Officer James Frascatore, who can be seen in a video throwing Blake to the ground at the Grand Hyatt in Midtown Manhattan, showed "good takedown tactic," but "bad judgement."
When cops pursue suspects, they don't know whether the alleged perpetrators have weapons, Serpico says. And it means nothing to cops that Blake was wearing nice clothes and standing outside a nice hotel, he says. Indeed, the best cons can often be seen wearing chic clothes and hanging at upscale locales, Serpico maintains. In his view, Frascatore eliminated the threat without creating an overly dangerous situation: He didn't take out his gun or erroneously fire, as others have.
"Cops put their lives on the line and they try to act in a way that is going to save lives and not hurt anybody," he says. "It was a mistake, in other words. Don't take it out of context."
Of Blake, Serpico says: "The thing is, this guy is a famous tennis star. I personally have never heard of the guy, nor do I care to. But apparently his dignity and his pride—that's what all the controversy is with the media."
He adds: "If it was Joe Blow, nobody would have said anything."
The NYPD's leaders, Serpico says, are coming down hard on Frascatore to avoid criticism.
"When they want to take the pressure off themselves, they have to put it on somebody," he says. "At the Academy, that's the way you're taught to take somebody down, and he was just following this training.
"He shouldn't be put on a desk. He should be retrained," he continues, saying that instead, "they take his shield and his gun away like he killed somebody."
Famous NYPD 'Lamplighter' Frank Serpico Gets Political | U.S.