How Frank Sinatra Jr. Got Hip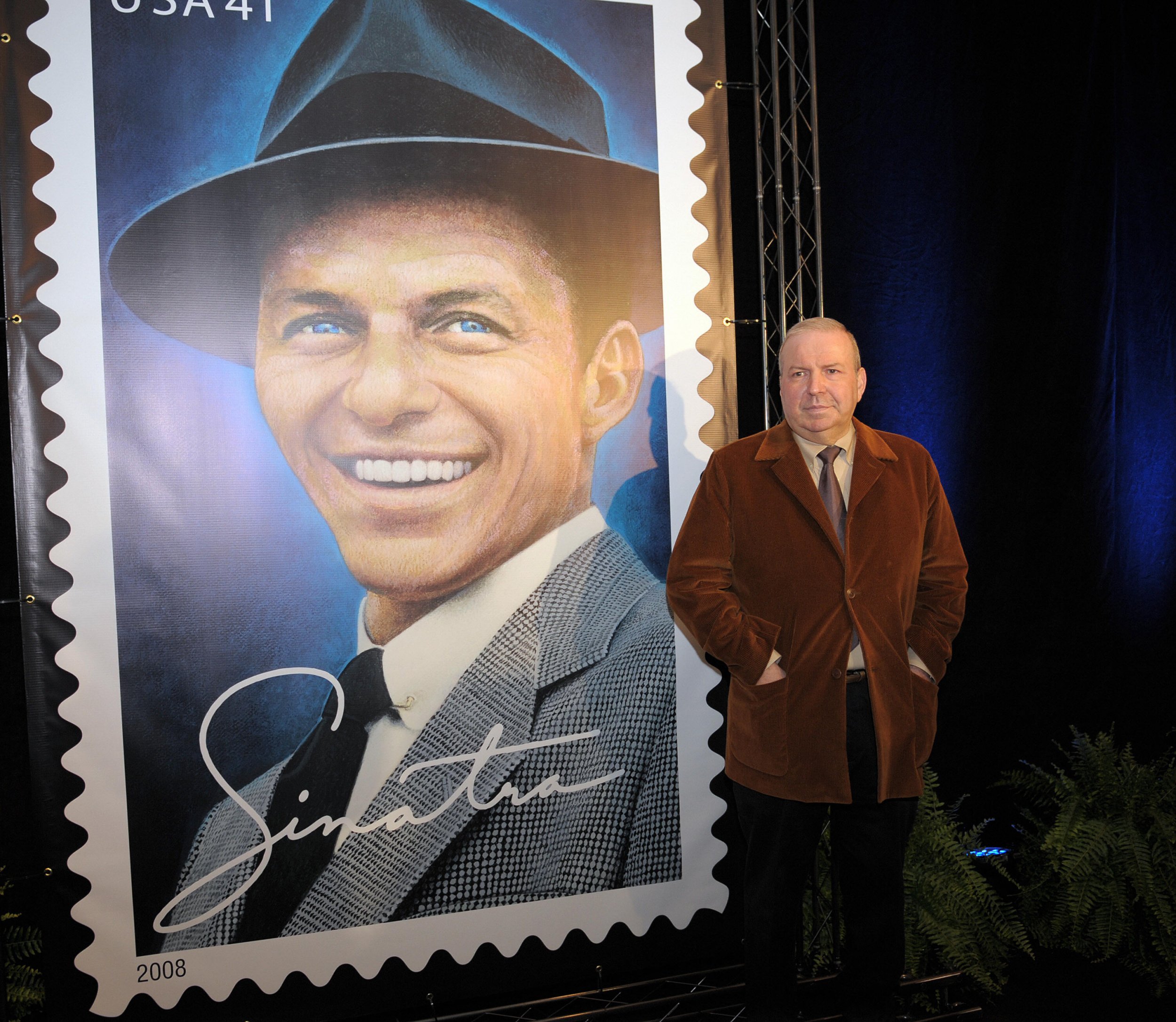 Picture this, if you dare: Las Vegas, 1987. I am one of an unhealthy horde of gluttons at the Rio Hotel's all-you-can-eat dinner buffet. My strategy is to start with pure cholesterol—a dozen shrimp drowning in watery cocktail sauce—followed by various lethal grease magnets (eggrolls, onion rings), topped off with a visit to the carving station for fatty slices of prime rib and a mountainous glob of gravy-slathered mashed potatoes. Dessert? That's for sissies! I think I had some Chinese spare ribs instead.
Curled up in a booth in a happy state of hypoglycemic shock, I saw a sight at once sad and glorious: A party of six people entered the room ready to celebrate an auspicious occasion with a post-matrimonial pig-out. The bride and groom were properly tuxed-and-gowned and likely just minutes removed from the chapel where Reverend Elvis had sanctified their eternal bond. Their gold bands were gleaming as they hit the crab leg station and filled their plates with joyous abandon.
That's when I started to take notes, thinking that this only-in-Vegas moment might warrant closer poetic inspection. At the time, I was writing songs for my band's third album, and had an intuition that taking one's betrothed to a buffet instead of a white-tablecloth joint might be a fitting mise-en-scène for a cynical Was (Not Was) love song.
A mere matter of hours later, I hit upon a phrase with a felicitous repetition of "V" sounds that seemed promising for the song's title: "Wedding Vows in Vegas." Now the trick was to see if such a premise held narrative water, and whether there were enough viable rhymes for a singable chorus. Before my head hit the pillow that night, I had written four lines I was happy with, which expanded the song's reach from a depressing local tableau into a statement about the vagaries of romance in general. To wit:
Wedding vows in Vegas
Aren't meant to last for ages
You've got to be courageous
To play the odds that love will win
Whatever city you're in.
In the following days, I fleshed out the tale and delivered the lyrics to my songwriting partner, Don Was, with instructions to write a song one might hear in a Las Vegas cocktail lounge, circa 1966—jazzy, smoky and minor-key wistful. He hit the musical nail on the head by the next day; now we just had to find a singer who would give the song that very special Rat Pack-era ambience. Sammy, Dean, Frank?
We had enough humility not to approach the aforementioned Holy Trinity, but what if we could find the next best thing to The Man Himself—the often-forgotten son of the Chairman of the Board, Frank Sinatra Jr.? A week or so later, we got a positive response: Young Frank said he loved the song and would come to Los Angeles to cut it with us anytime it was convenient.
We booked some time at the venerable Ocean Way Recording studio in Hollywood, which Frank Sinatra himself had graced when it was called United Western Recorders in the 1960s and '70s. Frank Jr. strode into the room with a workmanlike modesty, extolling the virtues of the songwriting by quoting Nelson Riddle (his dad's longtime arranger/conductor): "If it ain't on the page, it ain't on the stage," he said solemnly.
Two brief hours later, "Wedding Vows in Vegas" was on its way to wax-dom, as Mr. Sinatra Jr. had given five or six credible readings of the lyric and was on his merry way with an enormous shoulder-pack cellphone looped over his sport jacket. Nobody had such contraptions at the time, and we were beyond impressed. This cat had class.
Our album—What Up, Dog?—came out in 1988, and through a canny combination of expensive videos ($250K per!) and independent promotion (i.e., payola), it yielded a pair of top 10 hits worldwide, Walk the Dinosaur and Spy in the House of Love. We toured the world, did Top of the Pops in London and hit most of the late-night shows in America: Arsenio, Rick Dees and even Letterman, which felt like a coronation of sorts. We loved Dave.
Our hits were overproduced and way too silly to be remembered for long (especially Dinosaur), but for a connoisseur of kitsch like Paul Shaffer (Dave's longtime musical director), it was the melding of Was (Not Was) and Frank Sinatra Jr. that earned his admiration. Did we think we could get Frank Jr. to join us to do the song on the Late Show? We extended the invitation and were told forthwith that he would love to.
We arrived in New York City and met Frank for a run-through before taping the show, with Don on piano and me on flute, and our lead singers in tow to sing harmony. If Mr. Sinatra Jr. was at all nervous, he didn't show it, though I was quaking in my Adidas sneakers that I'd blow the little solo I'd been practicing in my hotel room for two weeks.
It all went off smoothly. Frank delivered the lyric with equal measures of sobriety and good humor, and we were all surprised when Dave invited him over to his desk for a post-song interview. Frank allowed as he had almost fainted when his agent told him a "rock band" wanted him to sing a song they'd written but said he loved the material and would work with us again anytime we wanted.
It was then that Letterman got a semi-evil glint in his eye and asked a question that Frank seemed to be prepared for. "Does your father know who I am?" Dave asked with a crooked smile. "Yeah, sure," Frank answered, revving up for the punch line. "That kid, the one who's on late at night? If he ever left town, his wife wouldn't miss him—all she'd have to do is run her hand through a Brillo pad!"
Frank Jr. had delivered a "zinger" of sorts, alluding to Dave's famous shock of unruly, wiry hair! It didn't matter that Letterman was famously unmarried at the time; what mattered is that Sinatra the Younger had come loaded for bear and had delivered a riposte to the cynical host that elicited ambivalent laughs from an audience already confused and disoriented by the "wedding" of the saloon singer and the funk band from Detroit. Cut to commercial.
As I was heading to the elevator afterward, a handsome, middle-aged woman who had accompanied Mr. Sinatra to Rockefeller Plaza flagged me down and spoke to me in deadly earnest. "I hope you know how important this is to Frank. He is really very grateful and wanted you to know that." Her gravitas was evident—we had offered the Kid in the Shadows the opportunity to shine brightly on his own, with but scant mention made of his illustrious father.
When I woke up this morning and read that Frank Sinatra Jr. had died at the age of 72, I felt at once deeply saddened yet grateful that we'd had the opportunity to defeat the forces of irony and give the man a justly deserved moment in the spotlight. He was a true gentleman and a thorough professional, and a singer whose fortunes would likely have been far greater with a different given name. Thanks, Frank. You did it your way.