Frank Sinatra's Manager Concerned About 'Exaggerated' New Book
A new book written about Frank Sinatra has outraged some of the surviving members of the late singer's inner circle, who say they feel protective of their former boss and of one of the final albums he recorded before his death in 1998.
The book in question is Sinatra and Me: In the Wee Small Hours, written by Tony Oppedisano and due out on June 8 from Scribner. The publisher told Newsweek it stands behind the book and does not believe the criticisms about its contents are valid.
Sinatra and Oppedisano were more than three decades apart in age, but Oppedisano explains in his book that Sinatra came to trust him through his association with their mutual friend Jilly Rizzo, who was a close Sinatra confidante before he died in 1992.
The book's 320 pages wade through Oppedisano's memories of his first Sinatra album purchase at age 13, his introduction to the legendary crooner at a Manhattan bar in 1974, and his eventual role as Sinatra's road manager during the final few years of the late crooner's touring career.
The memoir also explores rumors of Sinatra's alleged connections to the Italian mob, his romantic dalliances and marriages, and late-night conversations that often lasted into the early morning hours.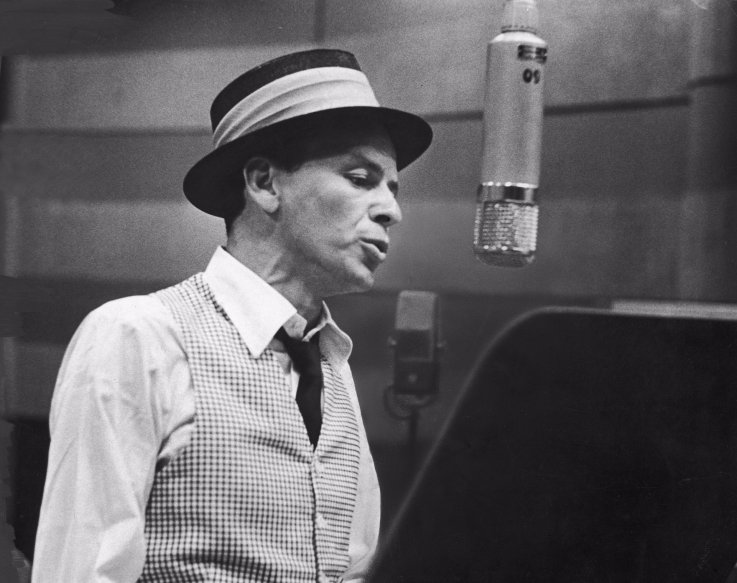 "If you had [Frank] Sinatra as a friend, you didn't need any more friends. He was a one-and-only, a champion of the underdog," said Eliot Weisman, who was Sinatra's manager during the final decades of his life. In the photo, Sinatra is pictured during a recording session at Capitol Records in 1953.
Murray Garrett/Getty Images
But Eliot Weisman, who was Sinatra's manager during the final two decades of his career and a co-executor of Sinatra's will, said it is Oppedisano's descriptions of 1993's Duets that he finds problematic.
"Tony Oppedisano had nothing to do with Duets," Weisman told Newsweek.
Weisman said he was given an advance copy of Oppedisano's book, most of which he said he believes is "exaggerated." In the chapter that deals with the events surrounding the recording of Duets, Weisman said the writing paints Oppedisano as an "integral" part of the recording process.
"And he wasn't," Weisman said.
Duets was released by Capitol Records in 1993, and was Sinatra's first new album since the early 1980s. Its 13 tracks paired freshly recorded Sinatra vocals with singers like Barbra Streisand, Liza Minnelli and Tony Bennett on songs that are quintessentially Sinatra, including "New York, New York" and "I've Got the World on a String."
Though the album received a mixture of positive and negative reviews from critics, it peaked at #2 on Billboard's 200 and was certified multi-platinum by the Recording Industry Association of America.
Oppedisano and Weisman both say that Rizzo played an early part in igniting the idea behind Duets, but their retellings of how the album came to be differ from there. In an advanced copy of the book provided to Newsweek, Oppedisano describes Sinatra as interested in returning to the studio but uncertain about the process used for the album, which involved him recording his new vocals separate from his duet partners.
When the time came to record, Oppedisano wrote that he drove with Sinatra and Weisman to the studio and stepped in to address issues Sinatra had with the recording process as they arose.
After initial hesitations by Sinatra in the studio, Oppedisano wrote that he secretly recorded part of Sinatra's warm-ups and later shared the tape with him—a decision Oppedisano wrote was risky, but ultimately convinced Sinatra his aging voice was still worth recording.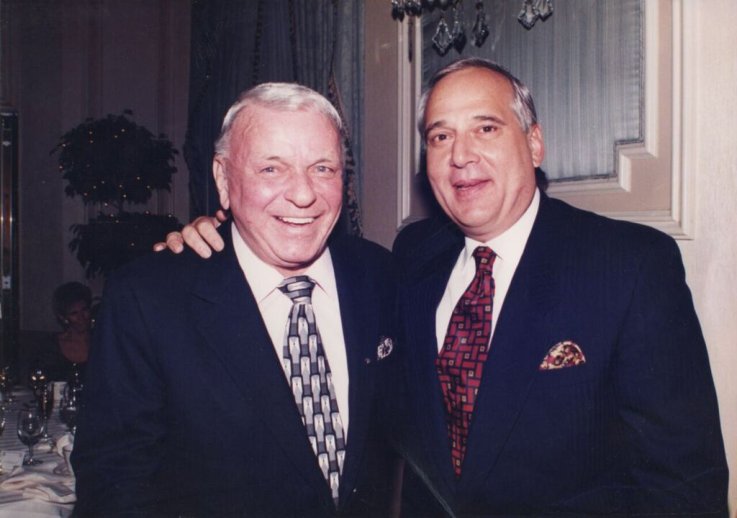 Frank Sinatra (left) is pictured with Eliot Weisman, who worked as Sinatra's manager during the last two decades of the late singer's life.
Photo provided by Eliot Weisman
Weisman outlined a different story during his recent conversation with Newsweek and in his own memoir published in 2017, which explored his time with Sinatra as well as his managerial roles with other stars such as Liza Minnelli, Sammy Davis Jr. and Don Rickles.
According to Weisman, in 1991 Sinatra asked him to be the co-executor of his will to ensure the interests of Sinatra's children and current wife were represented fairly.
Weisman said he became the main driver behind Duets after the memory of Rizzo's original concept for the album startled him awake one night. He said the memory came around the time Charles Koppelman, then an executive at EMI, was pushing for Sinatra to record a new album with EMI's Capitol Records.
Weisman said that Sinatra was uncertain about the project from the beginning, and it wasn't until Sinatra's fourth wife, Barbara, pushed him to return to the studio after two failed days that he begrudgingly agreed. Weisman also said Sinatra initially wanted vocals he recorded years earlier to be reused for the album, instead of returning to the studio to record fresh tracks—another difference in the two men's retellings.
"It was not easy—it was difficult," Weisman said of the recording process. "Sinatra never bought into Duets."
Weisman said that while many of Sinatra's close confidants and some who were in the studio during the Duets recording are no longer alive, he is, and he felt it necessary to speak up about the discrepancies between his memories and Oppedisano's memoir.
"As long as I'm alive, I will protect him," Weisman said of Sinatra. "If you had Sinatra as a friend, you didn't need any more friends. He was a one-and-only, a champion of the underdog. And anything I can do to help protect him, his name and likeness, I will do."
Weisman is not the only person involved in the recording of Duets who raised concerns about Oppedisano's book. Hank Cattaneo, who worked as a producer on the album, also told Newsweek he was "disappointed" when he was given an early copy of the Duets chapter.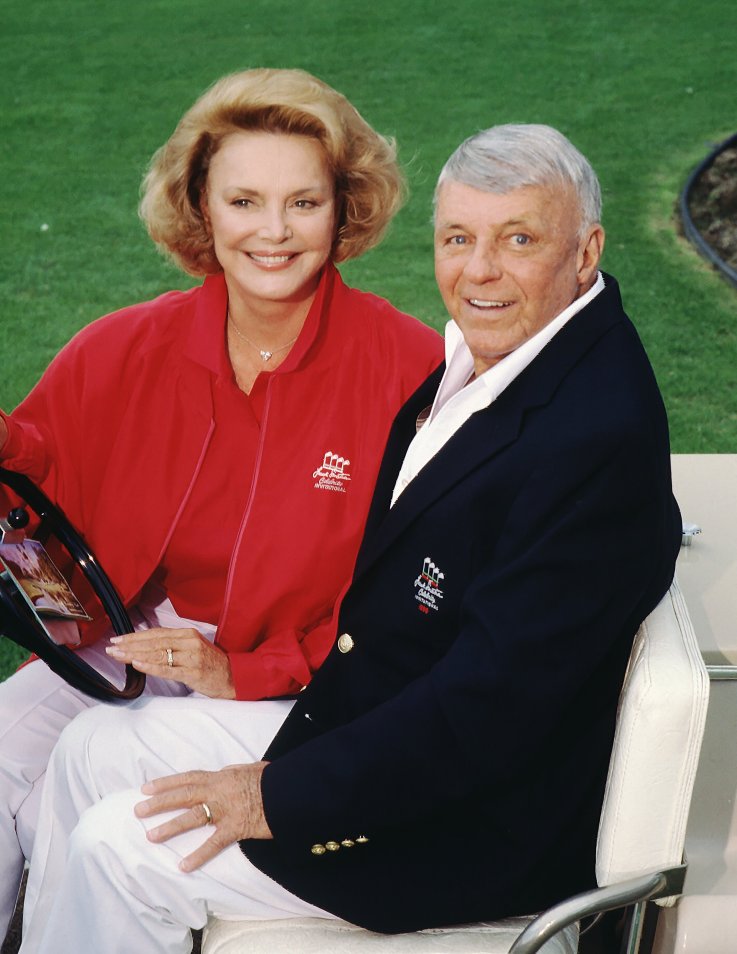 Barbara and Frank Sinatra pose for a portrait in 1994 in Palm Springs, California.
Getty Images/Harry Langdon
"When we finished the album, we thanked everyone that we could think of. We even thanked the bartender at the Four Seasons hotel for staying open and waiting for us to come and have a drink," Cattaneo said. "If he had done any assistance, I would certainly have thanked him, too."
Oppedisano is not mentioned in the album's liner notes—a fact Oppedisano himself acknowledges in his book. But Oppedisano wrote that executives at Capitol gave him platinum and gold records after the success of Duets and its successor, Duets II. Oppedisano wrote that he also received a copy of the Duets album cover from LeRoy Neiman, the artist who created it.
But Weisman said he doesn't recall Oppedisano being in the studio during the album's recording—and Cattaneo said it wouldn't have mattered if he had been there.
"If he was in the room, he wouldn't dare open his mouth," Cattaneo said. "He was [Sinatra's] valet, nothing else. He had no input or right to say anything."
When contacted for comment, Scribner staunchly defended Oppedisano's book.
"Scribner stands firmly behind Tony Oppedisano's memoir Sinatra and Me: In the Wee Small Hours," the statement said. "Mr. Weisman's criticisms are without merit," the publisher added.
An official webpage promoting the book identifies Oppedisano as "the man closest to the famous singer during the last decade of his life," who was with Sinatra when he died.
Though biographer James Kaplan wrote in his two-volume Sinatra biography that there are conflicting accounts as to whether Sinatra's wife, Barbara, was alone in the room at the time of Sinatra's death, Weisman told Newsweek it was his understanding that Oppedisano was there when Sinatra passed.
"Listen, there's no question in my mind that Tony O. spent a lot of time with [Sinatra]," Weisman said.
Both Weisman and Oppedisano write in their memoirs of Sinatra's charisma, friendship and the legacy he left behind. His lasting impact is evident in the passion through which they defend their memories, with Weisman speaking out strongly against Oppedisano's retelling, and Oppedisano dedicating the project to Sinatra himself.
Weisman is aware of the interest in Sinatra's life and music that persists more than two decades after his death. For those who didn't know Sinatra personally and are curious to learn more about him, Weisman said he hopes they will seek out stories about Sinatra's life from a wide array of biographers.
"If Tony O.'s book is the first Sinatra book they read, they should read a couple other Sinatra books after," Weisman said, adding that "certainly there are a lot" of Sinatra biographies from which to choose.
"I would tell them to read some additional Sinatra books and make their own opinion," he said.