Al Franken Accused of Forcefully Kissing and Groping Radio Anchor on USO Tour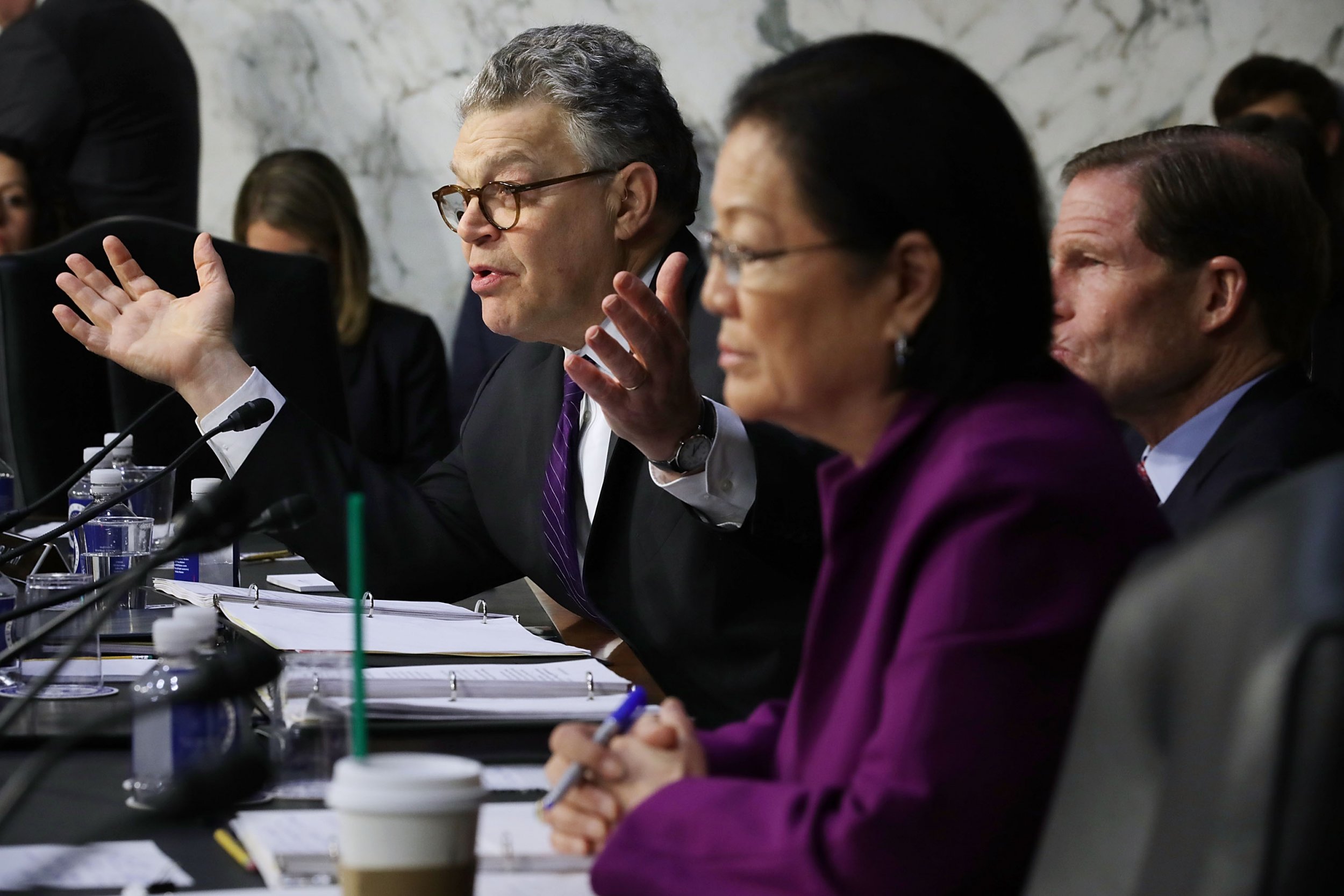 A radio anchor on Thursday accused Democratic Senator Al Franken of forcefully kissing her and grabbing her breasts while she was asleep during a USO trip to Afghanistan in 2006.
Leeann Tweeden, a model and anchor for the Los Angeles radio station 790 KABC, tweeted out her story and a picture of Franken grabbing her with the caption "I've decided it's time to tell my story #MeToo."
Tweeden wrote how Franken, a former Saturday Night Live star and writer who later was elected to the Minnesota Senate seat in 2008, had written skits for the USO shows that included a part where she had to kiss him.
Tweeden said she thought she would just turn her head away to add to the skit's comedic effect, but then Franken repeatedly said they had to "rehearse" the kiss before taking the stage.
"He repeated that actors really need to rehearse everything and that we must practice the kiss," Tweeden wrote. "I said 'OK' so he would stop badgering me. We did the line leading up to the kiss, and then he came at me, put his hand on the back of my head, mashed his lips against mine and aggressively stuck his tongue in my mouth."
Tweeden said she felt "disgusted and violated." She didn't want to "cause trouble" in the "middle of a war zone," but she told others on the tour about Franken's actions.
Tweeden explained that on the return trip to Los Angeles on Christmas Eve, Franken grabbed her chest while she slept—and he was caught on camera.
"It wasn't until I was back in the U.S. and looking through the CD of photos we were given by the photographer that I saw this one," she wrote and showed the picture.
Tweeden continued, "I couldn't believe it. He groped me, without my consent, while I was asleep. I felt violated all over again. Embarrassed. Belittled. Humiliated."
Franken replied in a statement, "I certainly don't remember the rehearsal for the skit in the same way, but I send my sincerest apologies to Leeann. As to the photo, it was clearly intended to be funny, but wasn't. I shouldn't have done it."
The accusations come as Washington and Hollywood deal with growing scandals about men in power sexually assaulting or harassing women. Republicans are wrangling over allegations against Alabama Senate candidate Roy Moore, and dozens of GOP members have said he should step aside from the December 12 special election.
Franken's past work as a comedian has come under fire before for its sexual content.
In a New York magazine feature story from 1995, Franken made several rape jokes about a fellow SNL cast member. He later apologized for the jokes.
"And, 'I give the pills to Lesley Stahl. Then, when Lesley's passed out, I take her to the closet and rape her,'" Franken said, describing a skit he was considering. "Or, 'That's why you never see Lesley until February.' Or, 'When she passes out, I put her in various positions and take pictures of her.'"