Who Is Frankie Muse Freeman? Civil Rights Activist Dies At The Age Of 101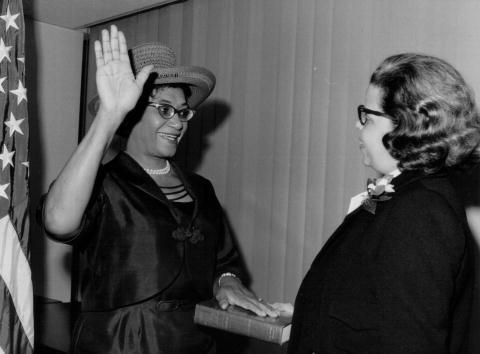 Frankie Muse Freeman, a civil rights activist and the first woman to be appointed to the United States Commission on Civil Rights, has died at the age of 101.
Freeman's death was confirmed by her daughter, Shelbe Patricia Bullock on Friday, the St. Louis Post-Dispatch reported.
"She went peacefully with her family beside her," said Bullock, according to the Post-Dispatch. "We ask for privacy until Sunday so we can plan services. She was a marvelous, warm woman, and we want to send her off in a good way."
Many people were saddened by her death on social media but thanked her for her leadership and her legacy.
"Sad to hear of Frankie Muse Freeman's passing. A civil rights hero, she was the first woman Commissioner appointed to @USCCRgov, and served for 16 years. We are proud to continue her legacy," tweeted Catherine E. Lahmon.
Freeman, also known as "Frankie Freedom," was raised in a segregated town in Virginia. She knew she wanted to become a lawyer since she was young. Eventually, she became a civil rights attorney who fought to end segregated housing and promoted equal rights in St. Louis and nationwide during the civil rights movement.
She was also the lead attorney in the court case Davis v. St. Louis Housing Authority in 1952, which helped in ending racial segregation in public housing in St. Louis. "Frankie Freedom" became an assistant attorney general of Missouri and staff attorney for the St. Louis Land Clearance and Housing Authorities from 1956 to 1970.
Freeman became the first woman to join the U.S Civil Rights Commission in 1964, which investigates discrimination complaints, collects data on discrimination, and advises lawmakers and the president on equal protection and the issues of discrimination. She served on the commission for 16 years.
She was also an active member and longtime board member of the United Way and was part of the leadership of the Girl Scouts.
In 2007, her footsteps were added to the International Civil Rights Walk of Fame at the Martin Luther King Jr. National Historic Site. Four years later, she was named St. Louis' Citizen of the Year in 2011. In November, a statue of Freeman was placed in Kiener Plaza in St. Louis in her honor.