Franklin Graham Compares 10 Republicans Who Voted to Impeach Trump to Betrayal of Christ
Evangelist Franklin Graham compared 10 members of the GOP to Judas Iscariot on Thursday after they voted to approve President Donald Trump's second impeachment.
Graham, the head of the non-profit organization Samaritan's Purse, has been a longtime supporter of Trump's presidency. Rifts between the evangelical community and Trump have developed after recent events, including a January riot at the U.S. Capitol. Trump's impeachment in the aftermath of the riot at the U.S. Capitol did not change Graham's support of the president, leading Graham to draw parallels between Trump's impeachment and the betrayal of Jesus Christ as described in the Bible.
"Shame, shame on the ten Republicans who joined with @SpeakerPelosi & the House Democrats in impeaching President Trump yesterday," Graham tweeted. "After all that he has done for our country, you would turn your back & betray him so quickly? What was done yesterday only further divides our nation."
Graham elaborated on his opinion in a Thursday Facebook post, detailing why he believed Trump was actually impeached.
"But the House Democrats impeached him because they hate him and want to do as much damage as they can," Graham wrote. "And these ten, from [Trump's] own party, joined in the feeding frenzy. It makes you wonder what the thirty pieces of silver were that [Democratic House] Speaker [Nancy] Pelosi promised for this betrayal."
In the Bible, Judas Iscariot was paid 30 pieces of silver by the Pharisees to betray Jesus, who was tried and punished before being crucified by the Romans.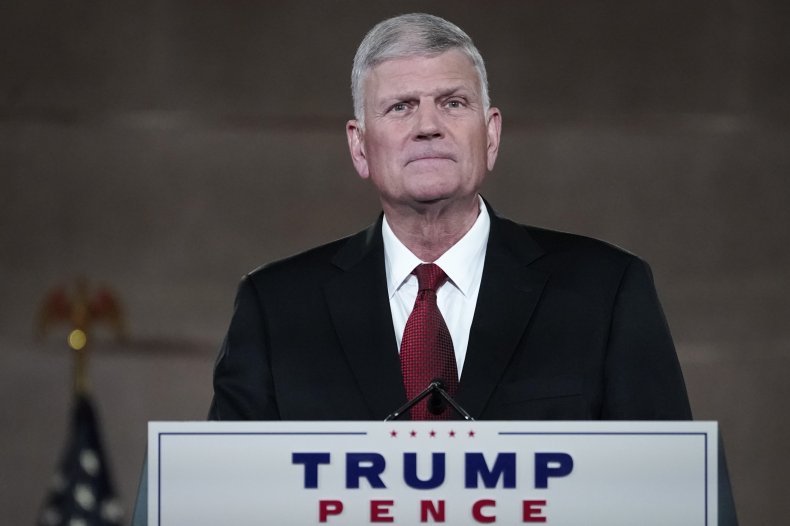 Members of the House voted 232-197 to impeach Trump on the grounds of "inciting violence against the Government of the United States" after thousands of his supporters marched on the Capitol building following a speech given by Trump at a Stop the Steal rally. Five individuals died as a result of riot-related violence.
In her Tuesday statement announcing her decision to break party lines and vote in favor of Trump's impeachment, Wyoming Republican Liz Cheney cited Trump's actions connected to the Capitol riot.
"There has never been a greater betrayal by a President of the United States of his office and his oath to the Constitution," Cheney wrote.
Some evangelicals held fast to their support of Trump after the riots. Texas Baptist pastor Robert Jeffress tweeted that even after the riot, he did not regret supporting Trump throughout his presidency.
"Great talks today with President @realDonaldTrump and @VP @Mike_Pence," Jeffress tweeted on Tuesday. "When reporter asked if I regretted my support I said "Absolutely not! Most pro-life and religious liberty President and VP in history!"
Trump's repeated claims that widespread election fraud turned off some evangelicals including televangelist Pat Robertson, who said that Trump was laboring under a delusion by alleging that he had actually won the election.
"With all his talent, and the ability to raise money and draw large crowds, the President still lives in an alternate reality," Robertson said on a December 2020 episode of his syndicated program The 700 Club.
Robertson added that Trump would be best served by conceding the election to President-elect Joe Biden.
"He's fired people, he's fought people and he's insulted people, and he keeps going down the line, so it's a mixed bag," Robertson said. "And I think it would be well to say, 'You've had your day and it's time to move on.'"
Trump made strong inroads into the conservative Christian community. In January 2020, he launched a coalition called Evangelicals for Trump. A number of evangelical leaders announced their support for Trump, with Graham saying in December 2020 that Trump would "go down in history as one of the great presidents of our nation."
After Trump was widely found to complicit in inciting the Capitol riot, the National Association of Evangelicals (NAE) decried Trump. "The mob at the Capitol was provoked by leaders, including President Trump, who have employed lies and conspiracy theories for political gain," the January statement read. "Evangelicals are people who are committed to truth and should reject untruths."
Newsweek reached out to the NAE for further comment.