Franklin Graham Says Gay Pride Rainbow Flags 'Offensive' to Christians, Applauds US Embassy Ban
Prominent Evangelist Franklin Graham thanked President Donald Trump and the U.S. State Department for helping deny embassies' requests to fly the rainbow flag during Pride Month.
The son of late U.S. evangelist Billy Graham and current president of the Samaritan's Purse took to Facebook Saturday to applaud Trump and U.S. Secretary of State Mike Pompeo for "making the decision not to fly the gay flag over our embassies" in June. Thousands of his more than 7 million social media followers appeared to support Graham's claim that rainbow-adorned gay pride flags are "offensive" to Christians and much of the country.
State Department sources last week reportedly confirmed the agency had denied multiple diplomatic requests to fly the rainbow pride flag on official embassy flagpoles this month in honor of LGBT Pride Month.
"I want to thank President Donald J. Trump and Secretary of State Mike Pompeo for making the decision not to fly the gay flag over our embassies during June in recognition of gay pride month. That is the right decision," Graham, 66, wrote on Facebook over the weekend.
"The gay pride flag is offensive to Christians and millions of people of other faiths, not only in this country but around the world. The U.S. flag represents our nation—everyone—regardless of race, religion, or sexual orientation," the North Carolina native added.
LGBTQ activists say the recent decision to reportedly deny embassies in Brazil, Germany, Latvia and Israel from flying the rainbow pride flag on official flag poles is just the latest affront to gay rights since Pompeo took over the State Department in April 2018.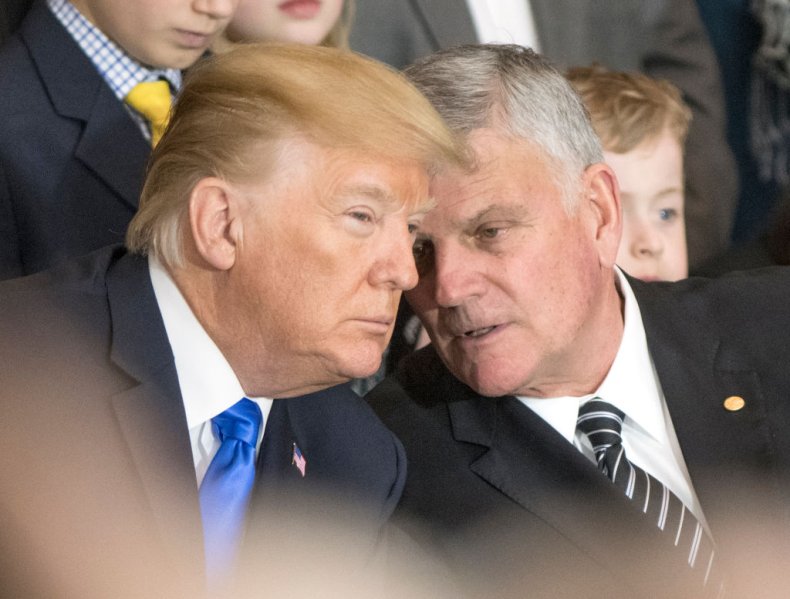 Dozens of top replies of the more than 30,000 responses to Graham's Saturday Facebook post also applauded the State Department and Trump for pushing gay people, as one poster said, "to realize the sin that they are all doing and turn from the wicked ways!"
"God meant the rainbow for a promise to his creation. Satan is very good at taking what God meant for good & turning it to evil. The Gay Pride- rainbow. Pride also being a sin against God—- we are not better or greater than HE!" wrote another Graham supporter.
Graham frequently weighs in on Twitter and Facebook over social issues he claims are an affront to Christian conservatives. Last month, Graham told openly gay South Bend, Indiana, Mayor Pete Buttigieg that God has laws and standards against what he described as the sin of being homosexual.
In that April 23 Facebook post criticizing Buttigieg, Graham expressed his religious and ethical opposition to same-sex marriages and his belief homosexuality is a sin. Both opinions have been touted and defended by another Indiana politician, Vice President Mike Pence.
"God's Word defines homosexuality as sin, something to be repentant of, not something to be flaunted, praised, or politicized," Graham wrote. "Mayor Buttigieg says he is a gay Christian and he wants to unite people behind him. I'm sure there will be many people who will want to follow. But as a Christian I believe what the Bible says."
One of Graham's hometown newspapers, the Charlotte Observer, responded with a scathing editorial board piece decrying "the gloriously growing irrelevance of Franklin Graham." The newspapers' editors said it was "a typically ripe bite of bigotry from Graham" to request Buttigieg repent for being publicly gay.
The move against the rainbow flags appears to stand in contrast to Trump's recent comments that he intends to launch a "global campaign to decriminalize homosexuality." Trump became the first Republican president in history to announce the White House would "celebrate LGBT Pride Month."