Franklin Graham Blames Ignoring 'God's Guidelines' for Sexually Transmitted Infections
Noted Evangelical preacher and faith leader Franklin Graham linked an uptick in sexually transmitted infections like gonorrhea, chlamydia, and syphilis to extramarital sex and homosexuality.
According to the Centers for the Disease Control and Prevention, the combined number of cases of gonorrhea, chlamydia and syphilis have risen for the fifth year in a row to an all-time high. The organization issued a report on Tuesday that stated 2.4 million cases of those three diseases alone were diagnosed in the United States last year.
In a Facebook post Tuesday, Graham commented "There's a price to pay, and it is a very heavy price. God made us male and female and gave sex for us to enjoy inside a marriage relationship between a man and a woman—not two men, not two women. The Bible says that anyone who sins sexually, sins against their own body. How true. What's the protection the world is looking for? It's simple—follow God's guidelines. Have only a monogamous relationship with your husband or wife."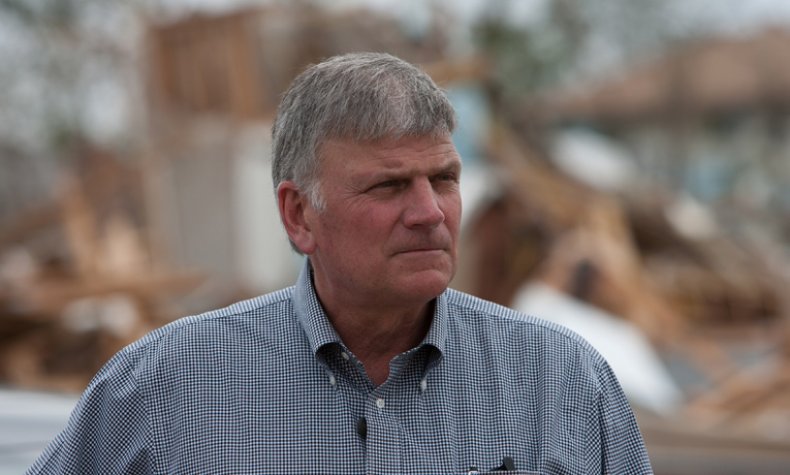 The CDC report does not indicate religion, or lack thereof, as a factor in STI diagnosis. Some explanations for the increased diagnosis rates are the efforts of local governments to more aggressively screen for the diseases, as well as a decline in treatment options as new strains of antibiotic-resistant gonorrhea are found.
Recent research also indicates that condom use among the sexually active population is decreasing. Condoms are the only effective barrier against gonorrhea, chlamydia, and syphilis.
David Harvey, executive director of the National Coalition of STD Directors, released a statement on Tuesday blaming ongoing funding cuts for local education programs for the rise in STI cases, saying "We have an STD crisis in the U.S. because prevention programs were sold short for years."
Graham, who is president and CEO of the Billy Graham Evangelistic Association as well as Christian relief agency Samaritan's Purse, has long been known for making anti-gay statements. In 2014, he praised the draconian "gay propaganda" law passed in Russia and publicly lauded Vladimir Putin for "protecting children from any homosexual agenda or propaganda."
Graham was also a fervent supporter of President Donald Trump—whose extramarital sexual activity has been the subject of public debate during his campaign and first term in office—remarking that divine intervention led to his election. In 1997, Trump was interviewed by Howard Stern and spoke about his dating life, saying that not getting any STIs was "like Vietnam, sort of. It is my personal Vietnam. I feel like a great and very brave soldier."