Franklin Graham Ripped for Saying Trump Would Return Documents if Asked
Evangelist Franklin Graham is under fire for saying government agents could have just asked former President Donald Trump to return the boxes of classified documents seized from his home instead of searching his Mar-a-Lago residence.
Graham's comments on the conservative Real America's Voice network surfaced Monday on Twitter. Allies of Trump have called the FBI search a politically motivated overreach. Graham's comments came days after the Justice Department released an affidavit stating that Trump's team had been notified Mar-a-Lago was not authorized to store classified documents.
"It's frightening to see government agents going to a former president's home and going through his personal files; going into it, breaking into his safe and taking things that they want," Graham told the network. "If they felt that he had something that belonged to the government, they certainly could have asked him and then he would have returned it."
GOP Representative Adam Kinzinger of Illinois tweeted, "They asked for months. But you know that. 'Tribe over truth' is not in the Bible."
The Justice Department on Friday released a redacted affidavit earlier used to justify the search to a federal magistrate judge. The document stated that a department lawyer contacted a member of Trump's legal team on June 8, stating that his Mar-a-Lago resort in Florida was not suited to store classified information. The letter requested the preservation of boxes that had been moved from the White House.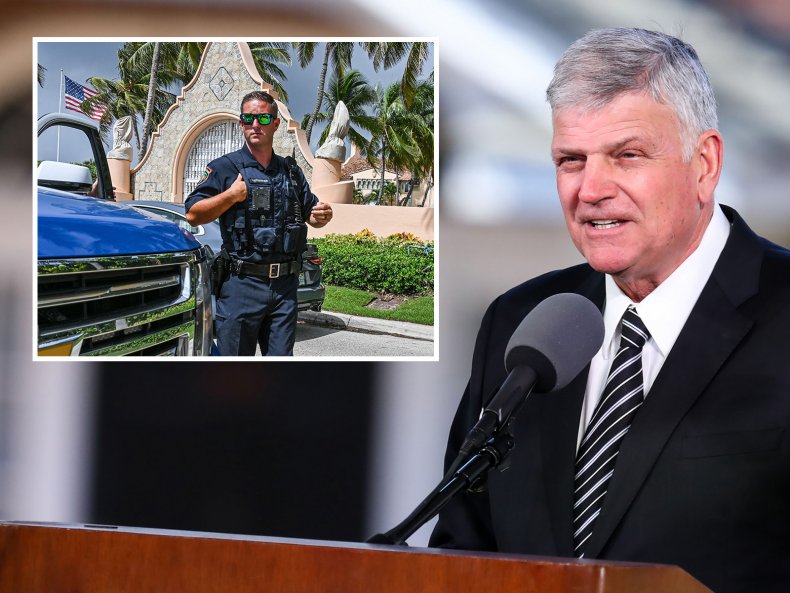 "As I previously indicated to you, Mar-a-Lago does not include a secure location authorized for the storage of classified information," reads the letter. "As such, it appears that since the time classified documents were removed from the secure facilities at the White House and moved to Mar-a-Lago on or around January 20, 2021, they have not been handled in an appropriate manner or stored in an appropriate location."
Trump's legal counsel acknowledged receiving the letter, according to the affidavit. The affidavit further stated that FBI agents found 184 classified documents recovered from Mar-a-Lago earlier this year. The National Archives and Records Administration sought help from the FBI in retrieving 15 boxes containing classified documents, according to The Washington Post.
"They did ask," former NBA coach Stan Van Gundy responded to Graham in a tweet. "He didn't return the documents. Franklin Graham should try to have some idea what he's talking about."
Writer and podcaster Hemant Mehta reacted to Graham with a tweet taking a jab at MyPillow CEO and Trump ally Mike Lindell.
"Franklin Graham is giving Mike Lindell a run for the money in the race for dumbest person with the largest platform," he said.
Actor Billy Baldwin tweeted: "Franklin Graham's church should be taxed for his grotesque partisan politics."
Graham's remarks echo those of Trump, who has insisted he did nothing wrong by taking documents to his private residence after leaving the White House.
After the FBI carried out the court-approved search of Mar-a-Lago on August 8, Trump took to his Truth Social platform, calling it a "weaponization of the Justice System" and the latest effort to unfairly hobble his political prospects.
"After working and cooperating with the relevant Government agencies, this unannounced raid on my home was not necessary or appropriate," Trump said in his post.
Newsweek has reached out to Graham for comment.