Christian Evangelist Franklin Graham is Selling Pro-Trump 'PRAY FOR 45' Shirts Online
Franklin Graham, the Christian evangelist son of religious icon Billy Graham, has announced he's selling new pro–Donald Trump T-shirts that state "PRAY FOR 45."
"There's a way every one of us can make a difference for our nation," Graham said on his Facebook page in a post that linked to the shirts. "We can pray for our president and our leaders, as God's Word instructs us."
The shirts, which sell for $15.99, are in response to "IMPEACH 45" shirts that were briefly sold at Walmart this month, according to Graham's post. A spokesperson for the retailer told USA Today at the time, "These items were sold by third-party sellers on our open marketplace and were not offered directly by Walmart." But that didn't stop Graham from taking action.
"God is the hope for our country, and our leaders, including President Donald J. Trump, need our prayers," his post added. "The bottom line? Prayer can make America great!"
Profits from the shirt, which is the only piece of apparel sold on Graham's website, will "help support worldwide evangelism through the Billy Graham Evangelistic Association."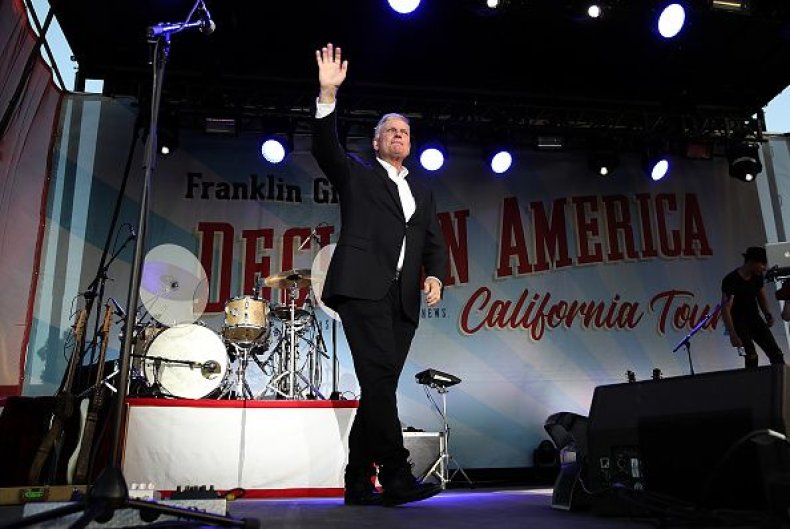 Trump captured an overwhelming majority of evangelical support during the 2016 election, including 80 percent of the white evangelical vote, according to FiveThirtyEight.
A Public Religion Research Institute poll in April found the community's support for Trump had not waned since the election. Seventy-five percent of white evangelicals held a "favorable view" of the president, the highest it had ever been, according to the poll.
Graham has been a vocal supporter and defender of the president since he took office and even read a prayer at Trump's inauguration. "Mr. President, in the Bible, rain is a sign of God's blessing," Graham said in reference to the inclement weather. "And it started to rain, Mr. President, when you came to the platform. And it's my prayer that God will bless you, your family, your administration, and may he bless America."
Graham has even suggested that God is responsible for taking Trump to the White House. "I believe he's President of the United States for a reason. I believe God put him there," he told CNN in January. "He seemed to do everything wrong as a candidate and he won. I don't understand it, other than God put him there."
Graham added that Trump is "a changed person" and that he'd "never seen anybody get attacked like he gets attacked."