Frat That Wore Swastikas Suspended Amid Rise in Antisemitism at Colleges
A fraternity has been suspended by the University of South Florida after photos of members displaying swastikas surfaced online in what is the latest example of antisemitism on college campuses.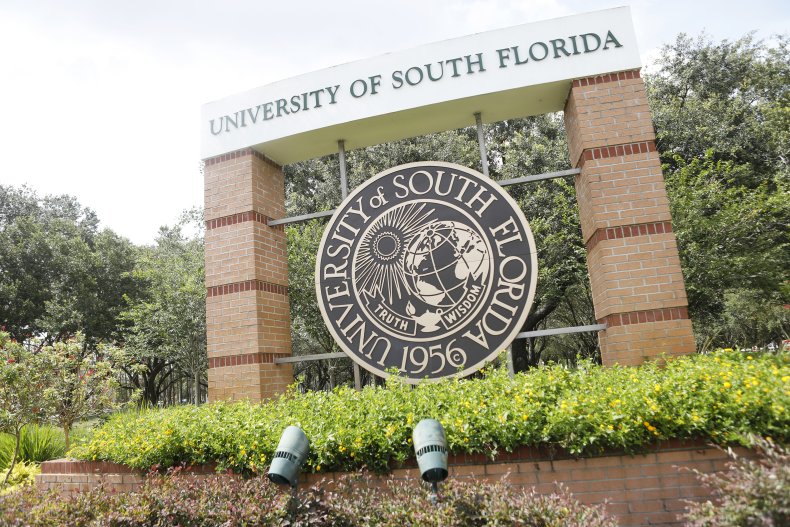 The move comes after members of the Pi Kappa Phi fraternity were spotted in photographs from a February 11 off-campus "bid-party" with swastikas either on their clothes or bodies, according to the Jewish News Syndicate (JNS). One of the individuals reportedly sporting a swastika was a Jewish pledge, as someone had drawn it on his head.
Originally, the fraternity was suspended by the university alleging that hazing and underage drinking took place at the gathering in question, according to the Tampa Bay Times. However, an email sent out by the university did make mention of "inappropriate objects" placed on the clothes or bodies of those students hoping to gain entry into the frat.
USF Hillel, a Jewish organization at the university whose aim is to "enrich the lives of Jewish undergraduate and graduate students," said it was "deeply disturbed" after learning of the swastika incident, that the matter made a "mockery of the Holocaust," and stated "the use of hate symbols and the trivialization of genocide is unacceptable" in a statement on social media.
Additionally, in a second statement posted online, following reports of the incident, USF Hillel mentioned that it had received an "outpouring of support for our campus community" which has been "meaningful and greatly appreciated."
This Tuesday, school officials will determine whether the suspension remains or is changed or lifted. Officials are scheduled to meet with a fraternity representative.
However, that isn't the only recent incident of antisemitism displayed on a college campus. Police at Indiana University are looking into antisemitic social media messages directed at Jewish fraternities and students, according to WTHR in Indianapolis.
One of the messages, which the university referred to as "disgusting," said "take them back to gas chambers where they belong. Boycott all the Jewish houses."
At the University of Illinois, reports came over the weekend of antisemitic flyers on campus, per the Associated Press. It's unclear what was written on the documents but they were reportedly placed across the campus in Champaign-Urbana in "plastic bags filled with small rocks."
Antisemitic flyers were also recently found at Williams College in Massachusetts. The racist flyers were found at the school's library, placed inside of history books, the AP reported. They contained Bible verses, the Star of David, a photo of the Confederate flag, and an image of Confederate General Thomas "Stonewall" Jackson.
In response for comment from Newsweek, the University of South Florida sent the following letter to Pi Kappa Phi, informing the fraternity of its suspension. It read in part:
"Dear Pi Kappa Phi,

Student Conduct and Ethical Development (SCED) has received information regarding an incident that occurred on February 11, 2022 11:00 PM at Off Campus-Tampa. Specifically, Pi Kappa Phi Fraternity hosted an off-campus Bid Party in which associate members of the organization were required to wear white shirts. Guests were given sharpies and told to engage with the associate members and then write on their shirts. Associate members had inappropriate objects (penises and a swastika) drawn on their shirts and/or body parts. Alcohol was present at the event and consumed by associate members.

Based on the received report, Pi Kappa Phi is formally charged with the following conduct violation(s) of the USF Student Code of Conduct:

USF Student Code of Conduct/Alcohol/Alcohol 4 - Hosting or sponsoring a gathering at which the underage consumption of alcohol may or has occurred.
USF Student Code of Conduct/Hazing/Hazing 1 - Hazing includes, but is not limited to pressuring or coercing an individual(s) into violating state or federal laws; any brutality of a physical nature, such as whipping, beating, branding, exposure to the elements, forced consumption of any food, liquor, drug, or other substance, or other forced physical activity that could adversely affect the physical health or safety of an individual(s); or any activity that would subject an individual(s) to extreme mental stress, such as sleep deprivation, forced exclusion from social contact, forced conduct that could result in extreme embarrassment, or other forced activity that could adversely affect the mental health or dignity of an individual(s). Additionally, any hazing that results in permanent and/or serious bodily injury or death."
The letter went on to detail that the fraternity is suspended; what the fraternity is and isn't allowed to do during this period; and that the president of the frat has been requested to attend a meeting that will decide whether the suspension will remain in place, be lifted or modified in some way.
The dean of USF, Danielle McDonald, also submitted a letter detailing the recent alleged antisemitic activities from Pi Kappa Phi. It read in part:
Dear USF Community,

In recent days the university was notified of several concerning allegations involving students in our community. These incidents include:

The placement of a swastika symbol on a member of a fraternity.
A post on social media anonymously accusing a member of a sorority of racist behavior.
An anti-Semitic post on social media that minimized the tragedy of the Holocaust that was purported to have been posted by a member of a fraternity.
Retaliatory behavior from the fraternity and the sorority involved.

Actions such as these are reprehensible and deserve our condemnation.
McDonald went on to state how the Student Conduct and Ethical Development is currently investigating the situation and will soon render a decision. The dean also indicated that there has been some retaliation following the incident, which she said will also not be tolerated.
McDonald also asked people to wait until the review process is over and more information comes out before making judgment as some people have been wrongly accused.
The dean concluded the email stating that the university welcomes all forms of diversity and that discrimination of any kind does not have a place on campus.
Update 3/1/2022, 10:36 AM ET: This story has been updated with letters about the incident provided to Newsweek by the University of Florida.