The Fraternal Order of Police, a national organization of law enforcement officers, implored Donald Trump to end the violence that marred the U.S. Capitol on Wednesday.
"The images coming in from the United State [sic] Capitol Building today are heartbreaking to every American. "We call on President @realDonaldTrump to forcefully urge these demonstrators to stop their unlawful activity, to stand down, and to disperse," the collective wrote in a message shared to Twitter, which prefaced a formal statement attributed to Patrick Yotes, its president.
"The actions of some of these demonstrators are endangering our elected officials, Congressional staff, ordinary citizens, and the law enforcement officers on the scene," Yotes added in his statement. He used "lawlessness" to describe the insurgency and commented on behalf of the Fraternal Order of Police, "We urge everyone involved to reject the use of violence and to obey the orders of law enforcement officers to ensure that these events are brought to a swift and peaceable end."
The organization's call to action trailed several hours of chaos at the Capitol, where hordes of Trump supporters gathered in a collective and hostile dissent. Hundreds of the sitting president's followers came to Washington, D.C., from across the nation this week, at Trump's behest, to protest the outcome of November's general election.
Despite an absence of evidence to suggest that President-elect Joe Biden earned his victory unlawfully, Trump has steered an ongoing push to challenge the race's results for nine weeks, without success. Wednesday's initial pro-Trump rally, and subsequent discord at the Capitol building, took place as federal lawmakers voted to certify Biden's Electoral College win.
A group of Republicans, spanning both congressional chambers, moved to reject the electoral vote count on the basis of Trump's unsubstantiated fraud allegations. Since majorities in the Senate and House must vote against the count in order to prompt further actions, the opposition is not expected to elicit any significant change. Congress halted debates on Wednesday afternoon as protesters charged the Capitol building, but voting resumed later in the evening once authorities confirmed the building was secure.
Photos and videos that surfaced on social media Wednesday afternoon showed protesters swarming the federal complex, carrying American flags and displaying signs that read, "Stop the Steal." The slogan grew out of Trump's baseless claims that Democrats plotted to fraudulently prevent him from returning to the White House for a second term. Violence mounted quickly, with protesters engaging in aggressive clashes with local police and some breaking into the Capitol itself. One woman was fatally shot and multiple injuries were reported.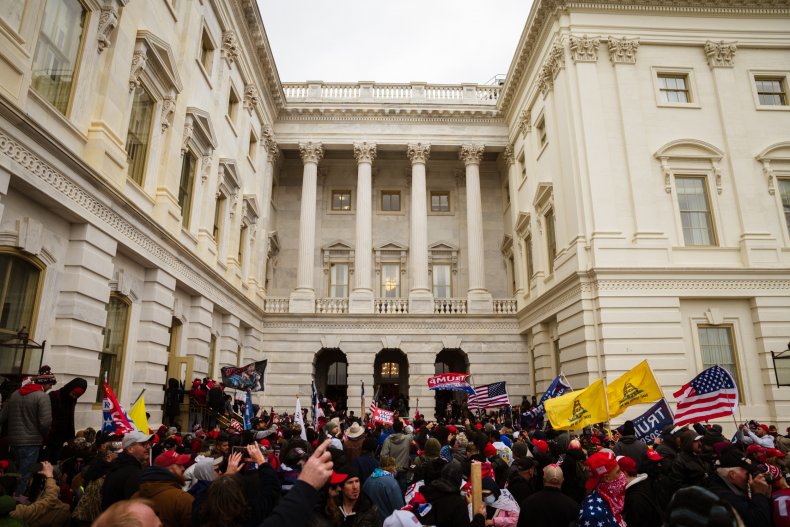 Trump asked those overtaking the Capitol to "remain peaceful" in a tweet Wednesday afternoon, additionally reminding conservatives of their place as "the Party of Law & Order." He later addressed individuals responsible for the destruction in a video message that various social media companies, including Twitter and Facebook, removed from their platforms.
In it, the sitting president calmly told the mob to "Go home. We love you." Many found the remarks inappropriate, disturbing and starkly different from those expressed in response to demonstrations against police brutality and racism that erupted earlier this year.
Newsweek reached out to the Fraternal Order of Police for further comment but did not receive a reply in time for publication.