Fraternity House at Georgia College on Lockdown Following Coronavirus Outbreak
Fraternity house residents at Georgia Institute of Technology are under lockdown due to an outbreak of the novel coronavirus reported among its members.
The college, commonly referred to as Georgia Tech, confirmed 33 new COVID-19 cases on Saturday, at least 17 of which were linked to one Greek house on campus. In statement shared alongside Georgia Tech's latest daily virus update, school officials noted that a "cluster of Greek housing residents" living at the same off-campus address previously tested positive for the respiratory illness.
The college administered diagnostic tests to all residents of the affected fraternity house and designated the space "an isolation location," according to Saturday's statement.
"Residents who have not tested positive will relocate elsewhere to quarantine until they can return safely to normal activities," the statement added. Georgia Tech said it will notify individuals possibly exposed to the virus through contact with fraternity, per the state health department's requirements. It additionally asked those who recently spent time with any Greek house residents to undergo virus testing, provided by the college at no cost to students, faculty and staff.
Georgia Tech did not name the fraternity house reporting the bulk of this weekend's new virus cases. Earlier updates from the administration confirmed other COVID-19 infections connected to Greek housing, and whether those cases originated from the same residence is unclear.
The residence placed under lockdown appears to be George Tech's Sigma Phi Epsilon fraternity, which detailed a "spike in COVID-19 cases" in its own independent statement, released on Saturday. It confirmed fraternity house residents were in isolation since mid-way through last week, several days after the organization hosted rush activities for prospective members.
"For the past several days, we have dealt with a spike in COVID-19 cases among our members," the fraternity wrote on Instagram. "As of three days ago, our house was locked down to non-residents, and we have been working closely with our Alumni and Volunteer Corporation, the Officer of Fraternity and Sorority Life, and George Tech Administration to test all other members of our chapter and to isolate those positive members, in compliance with requests from administration."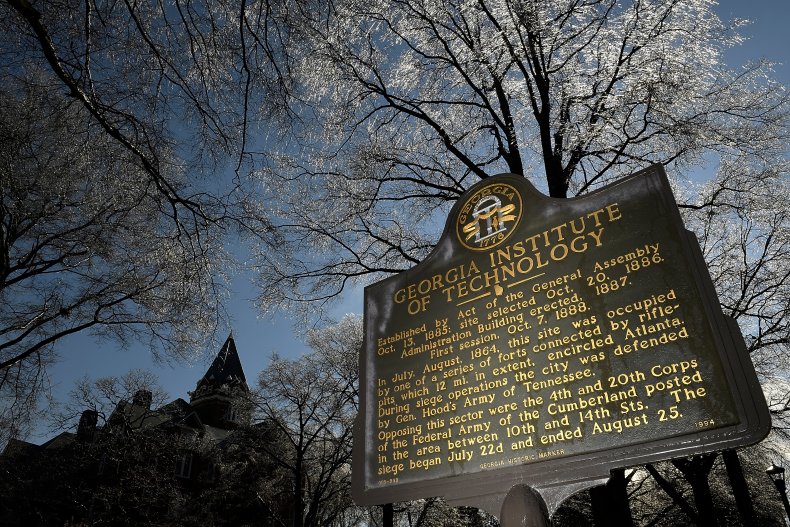 In Instagram posts shared prior to the start of Georgia Tech's fall semester last Monday, Sigma Phi Epsilon advertised recruitment events scheduled to take place between August 15 and August 17. The fraternity offered virtual and in-person rush activities, it said on social media.
Nathan Cung, vice president of programming for the fraternity's Georgia Alpha chapter at Georgia Tech, told Newsweek the organization is assisting county health officials to notify others who could have been exposed to the virus, including students who participated in Sigma Phi Epsilon's recruitment. Cung said initial rush meetings were conducted virtually between August 12 and August 14, followed by in-person events on August 16 and 17.
Overall, at least 251 positive COVID-19 cases were reported to the administration Georgia Tech since the pandemic began in March. The college confirmed roughly 150 of those cases among students and staff between March and July.
Georgia health officials confirmed a resurgence of positive cases diagnosed statewide throughout the summer, and a handful of school districts are currently managing local outbreaks reported since students started returning to classrooms earlier this month. Fulton County, where Georgia Tech is located, has confirmed the highest concentration of COVID-19 cases in the state.
Newsweek reached out to Georgia Tech for comments but did not receive a reply in time for publication.
Updated at 4:54 p.m. ET to include Cung's comments.