Kicking fraternities off campus may seem like an easy way to curb bad and, at times, deadly behavior, but experts warn that it's not a simple–or realistic–solution. Along with not guaranteeing student safety, removing fraternities from universities affects their ability to function.
"Fraternities are not a counterculture," John Hechinger, author of True Gentlemen: The Broken Pledge of America's Fraternities, told Newsweek. "They're central to college life, particularly in big, public universities. They provide housing, are big donors and college presidents that take on fraternities can lose their jobs."
Over the past month, at least seven schools suspended fraternities after accusations of hazing and violating alcohol and conduct policies, and four people died in fraternity-related deaths.
Misbehaving isn't a new aspect of fraternity culture, and at least one death has been reported annually for nearly 60 years. What is different in the modern world is the ability to cast a far-reaching spotlight on incidents and amplify public calls for change, which some say means a fraternity-free campus. While several schools, including Princeton and Swarthmore, have halted Greek life, experts told Newsweek that people shouldn't expect the policy to become widespread.
Hechinger said no one is "seriously" considering an overall ban, partially because of the financial hit the school would take. Fraternity members often have greater loyalty to their alma maters, and as alumni they can be major donors. While researching his book, Hechinger found that former fraternity and sorority members made up only 20 percent of alumni at Indiana University but accounted for 60 percent of the school's donations.
As a business, universities require money to function, and alumni can be extremely influential. Nicholas Syrett, author of The Company He Keeps: A History of White College Fraternities, told Newsweek that administrators don't want to make moves that will anger their most involved alumni. Also, at a school with a strong Greek community, anti-fraternity policies could cause issues.
"There have been cases where university administrators have talked about putting policies in place that alumni see as problematic, and they've threatened to or withdrawn donations," Syrett said.
While it's tempting to say universities are not kicking fraternities off campus because of corporate greed, it's not just the money that drives higher education institutions to keep them. Getting rid of fraternities could also cause significant problems in student housing.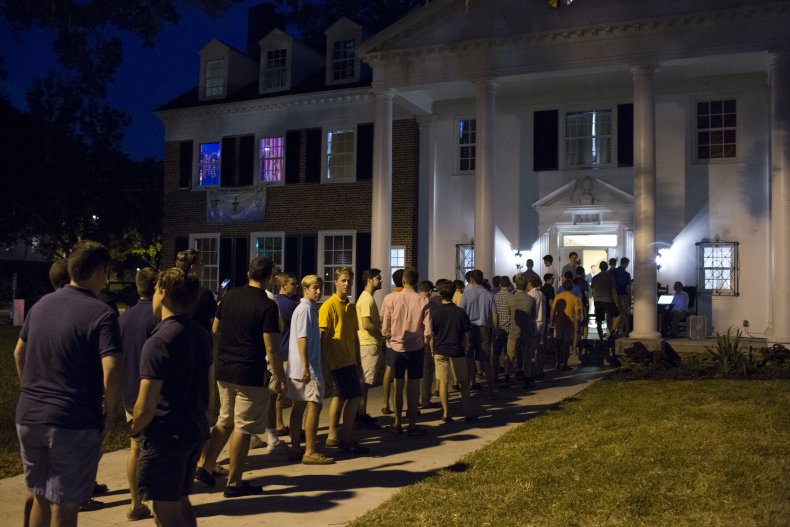 The number of students who take advantage of fraternity housing varies by campus, but fraternity houses regularly have at least 40 members living in them. When multiplied by the number of fraternity houses, that's potentially hundreds of students who wouldn't otherwise have a place to live.
The fraternity or an alumni corporation often owns the property, and while the university could buy the house to alleviate concerns about student housing, that's not always a viable solution. It could take a hefty check, and that's only if the owner is willing to sell, which, Syrett said, could not be the case. "I think they would see it as a threat to the fraternity themselves, and in some ways it would be," he explained.
Eliminating fraternities from a campus isn't only a problem in terms of money and housing. Experts said it might not even be the best solution. Universities have some control over what fraternities do because they are a recognized student organization, and the administration can work with the fraternities' national organizations when there's a problem.
"The biggest nightmare for a school is to not recognize Greek life, have them move off campus and have students join anyway," Hechinger said. "Then you have no say on what they're doing."
In the past week alone, a former fraternity member at Louisiana State University (LSU) was sentenced to five years in prison for a hazing death, and seven from Ohio University were indicted for a student's death, which prosecutors charge was the result of hazing. The University of Arizona said the Theta Chi fraternity would no longer be recognized after a former pledge claimed he suffered a chemical burn during a hazing incident.
"Students are coming to college with what they learned about hazing in their backpack," Franklin College professor Hank Nuwer told Newsweek, referring to hazing on high school athletic teams. "They're not worried about it, and they have an expectation that it isn't college unless they go through it."
Todd Shelton, chief communication officer for the North American Interfraternity Council, a trade association representing 65 fraternities, told Newsweek hundreds of thousands of students nationwide have benefited from being in a fraternity. However, tragedies deserve "scrutiny," he said, and, along with fraternities' individual policies, the NIC supports stricter hazing laws and the passage of the federal End All Hazing Act.
Introduced in Congress in June, the act has bipartisan support and would require universities to dedicate a webpage to information about disciplinary actions that student organizations face over hazing.
Disclosures about student misconduct aren't ever beneficial to the university's brand, according to Eric Schiffer, a brand and reputation management expert, who characterized the webpage as "window dressing." To show parents and students that a university isn't the enemy but the protector, schools should bring in a respected attorney to lead an investigation and provide recommendations for solutions, he told Newsweek.
"It's excruciatingly difficult for universities who must market, in part, to parents when they have deaths, and in certain cases a homicide, on campus under their watch," Schiffer said. "This sends a message to parents that the university's environment is dangerous and could spell impending doom to their children."
Nuwer has studied fraternity drinking trends for decades and told Newsweek that yanking fraternity chapters can cause the behavior to go underground while being "just as fervent." To prevent hazing-related injuries and deaths, which often involve alcohol, all three experts agreed that drinking needs to be regulated.
"Frats have basically become the de facto bartenders on campus," Hechinger said. "If you had a bar operating where year after year people were dying or there were sexual assaults, the bar would be shut down."
Banning alcohol at fraternities won't eliminate drinking, but Hechinger likened the approach to how authorities have tackled smoking. Making it difficult to smoke has reduced the behavior, and Hechinger said the same would be true for drinking if universities started cracking down.
Syrett said that by getting alcohol out of fraternity houses and moving parties into a public place, such as a bar or restaurant, students would be safer because fraternity members would no longer be responsible for regulating consumption.
Banning alcohol has proved successful at sorority houses, according to Nuwer, and although such a policy is challenging to enforce in fraternities that don't have a live-in supervisor, several have implemented the ban. Phi Delta Theta has had an alcohol-free housing policy for nearly 20 years, and beginning in fall 2020, Beta Theta Pi, Sigma Phi Epsilon and Delta Upsilon will also implement bans.
Still, having an alcohol-free policy on the books is only successful with follow-up by the chapter, and Nuwer noted that it only takes "one chapter to defy it and a young man is dead."
In 2017, Max Gruver, a Phi Delta Theta fraternity pledge at LSU, died after a night of extreme drinking at the fraternity house. After active members forced him to chug liquor, Gruver was in "visible need" of emergency care, according to a lawsuit filed by his parents, but it was hours before he was taken to a hospital, where he was pronounced dead.
Four former students were criminally charged for being involved in his death. On Wednesday, Matthew Naquin, 21, who was found guilty of negligent homicide in July, was sentenced to five years in prison.
Regardless of the headlines fraternity behavior inspires or public pressure, experts are firm in their belief that a college experience free of Greek life isn't going to happen anytime soon.
"As bad as this is, I don't think they're in danger of being eliminated or shut down," Hechinger said.