Frats, Sororities File Lawsuits Against Harvard, Decry Single-Gender Clubs Policy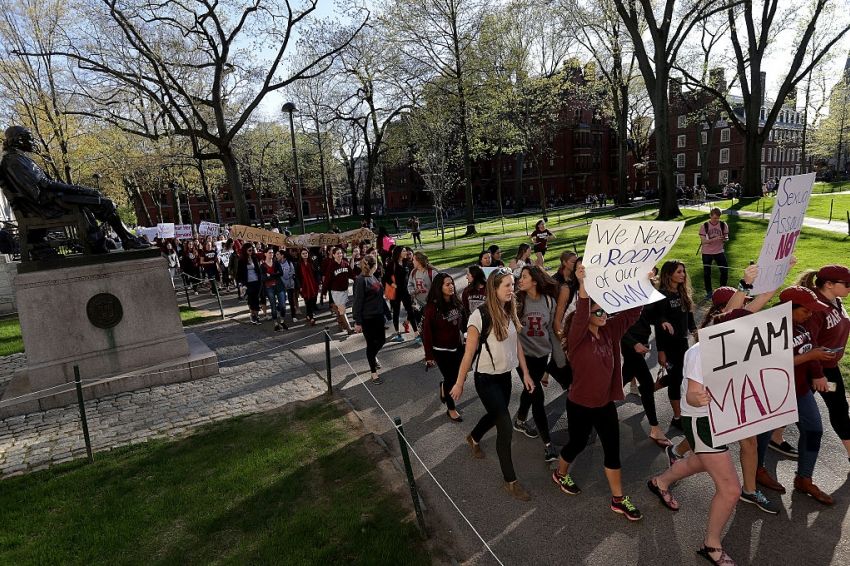 Harvard fraternities, sororities and three students filed lawsuits against Harvard in federal and state court on Monday, decrying the school's policy that a student involved in a single-sex club may not hold leadership positions on campus – or be seriously considered for fellowships and scholarships, The Chronicle of Higher Education reported.
The organizations allege Harvard discriminates against them under the policy, but Harvard officials originally said they instituted the policy two years ago to check "secretive all-male groups known as 'final clubs,'" which are increasingly scrutinized, as the Associated Press and The New York Times reported.
The new policy was borne of a 2016 Harvard report that accused campus clubs of "deeply misogynistic attitudes" and a correlation to sexual assault problems, wrote the AP.
The policy applies to all groups that have complied and opened their membership to all. Among the arguments the lawsuits pose is that the policy especially harms women's groups, causing many to disband or either accept men.
"These students are being punished simply for joining private, off-campus, lawful organizations," said Laura Doerre, former international president of the Kappa Alpha Theta sorority, at a news conference Monday. "They are being punished for being women who simply want to have an association with other women."
One recent Harvard graduate, Rebecca Ramos, cited a "culture of fear" exists among current and former members of single-gender clubs. Ramos is a former president of the Zeta Phi chapter of Delta Gamma, which disbanded earlier this year rather than become coed. The issue allegedly follows graduates into interviews for law school or fellowships, she said, adding that some are afraid to admit they were members in a club.
The plaintiffs filed two lawsuits, one in a Massachusetts court and another in federal court. The lawsuits allege that Harvard policies are "sexist in the extreme," violating Title IX sex discrimination law and the U.S. Constitution, as reported in Campus Reform, a Leadership Institute publication.
"The common thread that ties together all of Harvard's ever-shifting justifications for the sanctions policy is sexism," reads the federal lawsuit, quoted the Campus Reform. "Harvard's views that all-male organizations cause sexual assault because they are all-male and that there is no value to all-female or all-male organizations, are sexist in the extreme."
National sororities Kappa Alpha Theta and Kappa Kappa Gamma, who formed coed groups this year, and national fraternities Sigma Chi and Sigma Alpha Epsilon filed the lawsuits. The fraternities say they have struggled to recruit new students and have faced financial difficulty with fewer dues-paying members.
Sigma Alpha Epsilon's local chapter is also a plaintiff in the federal suit, plus three unnamed male students. The suit, among other accusations, says two of the students were unfairly denied campus leadership roles.
The National Panhellenic Conference, representing 26 sororities, and the North American Interfraternity Conference, representing 66 fraternities, support the lawsuits.
The AP reported that former past U.S. presidents were members of the so-called "secretive all-male groups" under the microscope, but did not identify the presidents.