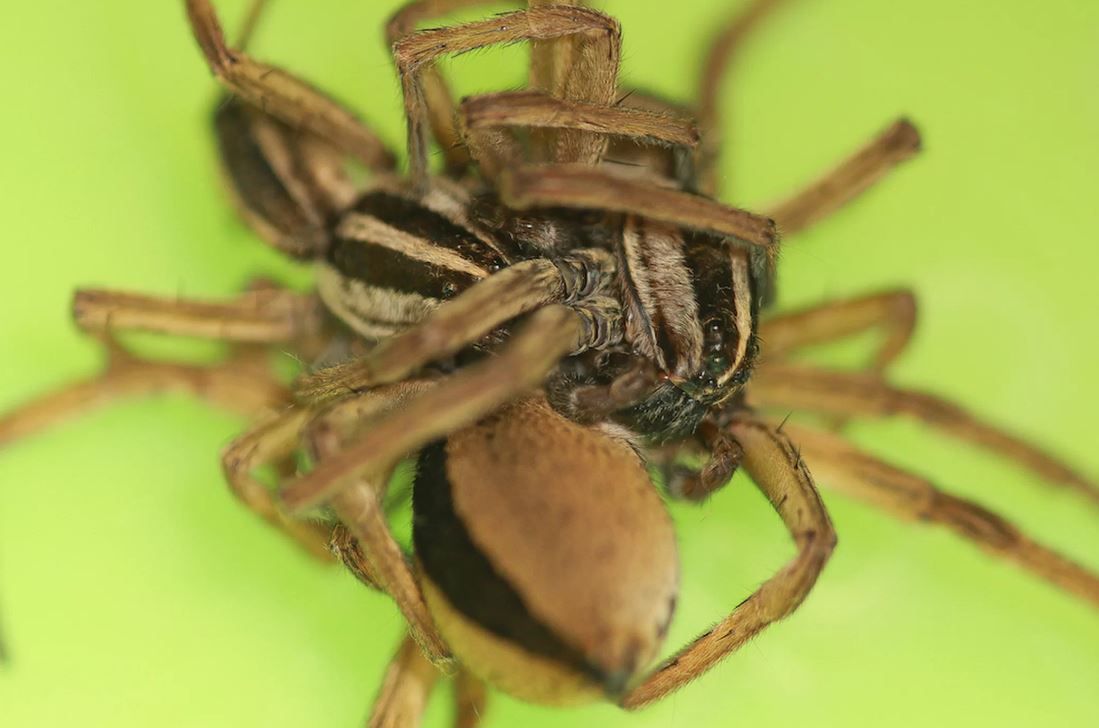 On a fall night a couple years ago, arachnologist Matthew Persons canvassed his yard in central Pennsylvania, on the prowl for wolf spiders. Peering into the grass with his head lamp, he saw what looked like a pair mating. Upon closer look, it was rather a spider ménage à trois: two males mating with a female, 24 legs all in a tangle. Over a three-week span, he witnessed three such threesomes, each consisting of two males and one female. Only rarely have other spiders been observed to have three-way matings, says Persons, who is with Susquehanna University.
This odd behavior may be a result of the difficult task facing the males of this species, the dotted wolf spider (Rabidosa punctulata), and its relatives: They must woo and mate with a member of the opposite sex that's often intent on cannibalizing them, Persons says. This leads to interesting behavioral adaptations, and these threesomes appear to benefit the second male, or perhaps both males, by making it less likely that they will be eaten, as the female is doubly distracted and subdued. The behavior also allows the second male to avoid courtship, and still potentially pass on his genes. "It's easier [for] a lazy male," Persons says. Normally a female must assess and accept the male, but not in this case, he adds.
Ann Rypstra, a zoology professor at Miami University of Ohio who wasn't involved in the research, says the finding was "very surprising," since normally males fight over females, and females attack unwanted males. She suggests the arrangement could possibly have benefits for females as well. "There is some evidence from other spider species that they can sort sperm—perhaps this strategy gives the female more diversity for her potential offspring," Rypstra says.
Persons observed the first two triads mid-copulation, but for the third, he witnessed the whole process, as described in a study published this month in the Journal of Arachnology. It began with a male on the lawn doing a little dance and making vibrations, hallmarks of the wolf spider courtship repertoire. Meanwhile, a second male watched from a distance. The female appeared receptive, releasing silk that studies have shown are imbued with pheromones, chemical messengers that signal a female's level of interest. The first male approached and mounted, and about 30 seconds later, the second male jumped on top. At this point, Persons, slid the threesome onto a piece of plastic and photographed the proceedings under a macro lens.
One of the odd things about this observation is that the two males didn't seem to fight, which is what Persons would've expected; the males actually took turns, which is made possible by the female spider's anatomy. Females have two spermatheca (which translates to "sperm house"), reproductive organs that are penetrated by a male's pedipalps—hairy, leg-like appendages near the mouth that store sperm. In each threesome, the males could take turns putting the pedipalp into the female's spermatheca. One grouping lasted nearly 45 minutes after discovery, another an hour, and the third took more than four hours.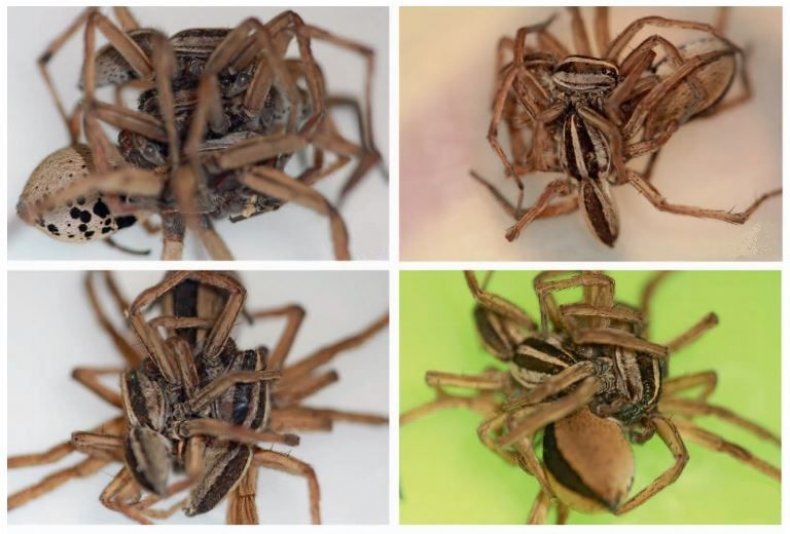 The study fits into other work by Persons examining ways that males try to avoid being cannibalized. Some will bring a nuptial gift to females, and mate with while the female is distracted by eating. Others will mate with females that have recently shed their skin, while their mouthparts and still soft and less harmful. Some males even inseminate immature females before they can grow larger fangs, Persons says.
Asked how spiders experience sex, Persons laughs. It was previously thought there weren't nerve endings in the pedipalps to allow sensation, but recent research shows that they are indeed innervate with nerves. (Less is known about nerves in the spermatheca.) These nerves may help the male to feel their way around the female's often complex reproductive structures. "But whether or not that has a pleasurable sensation, who knows?" he says.