Parkland Dad Fred Guttenberg Hopes Sandy Hook Lawsuit Ruling Means Gunmakers Will No Longer 'Get Away With Doing Nothing'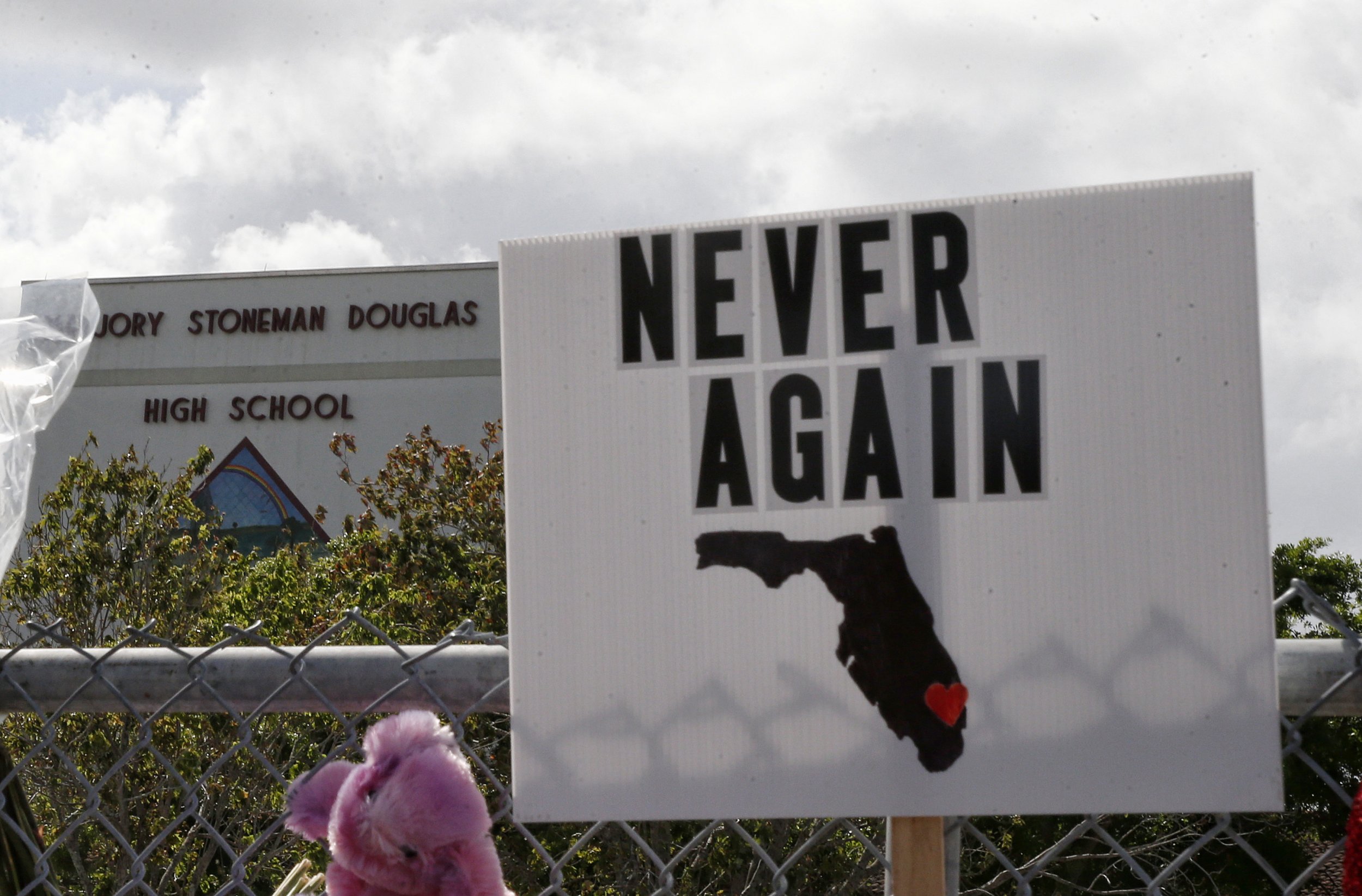 When news of the Connecticut Supreme Court's ruling on a lawsuit filed by families of Sandy Hook shooting victims reached Fred Guttenberg many miles away, he rejoiced, knowing the impact it could have on gun safety and his own fight.
Guttenberg's 14-year-old daughter, Jamie, died on February 14, 2018, when a former student opened fire at Marjory Stoneman Douglas High School in Parkland, Florida, taking 17 lives. About three months later, Guttenberg filed a lawsuit against American Outdoor Brands, the company that made the rifle used by the suspected shooter, and Sunrise Tactical Supply, the store that sold it to him.
From the beginning, the lawsuit has been an uphill battle and winning it would mean overcoming the Protection of Lawful Commerce in Arms Act (PLCAA), a federal law that's more than a decade old and protects the firearm industry from lawsuits. On Thursday, however, Guttenberg got a jolt of hope when the Connecticut Supreme Court ruled that federal law didn't shield a firearm manufacturer from state law.
"I was thrilled," Guttenberg told Newsweek. "These gun manufacturers get away with doing nothing because nobody has been able to hold them accountable. If you want to change the way gun safety is handled in this country, have them have to deal with the liability of what they're doing and it'll change."
On Thursday, the Connecticut Supreme Court ruled that nine families of victims of the shooting at Sandy Hook Elementary School in 2012 could sue Remington Arms, the manufacturer of the firearm that was used by the shooter, Adam Lanza. The suit had been previously dismissed by a lower court on the grounds that PLCAA barred them from pursuing litigation. While the court predominately agreed with a lower court's decision, it ruled that the plaintiffs could argue before a jury that Remington Arms had violated a state law that regulates marketing and trade practices.
"The regulation of advertising that threatens the public's health, safety and morals has long been considered a core exercise of the states' police powers," the court ruling stated.
Guttenberg called Thursday's ruling a "big step" in the direction of change that could possibly set a precedent for his own suit, adding that his lawyers were "aggressively studying" the court's opinion. His lawsuit, which was filed in Broward County, Florida, awaits a judge's ruling on whether it can move forward.
His lawsuit doesn't ask for monetary damages, at least not yet. It's asking the judge to certify that PLCAA doesn't apply to the case, and that victims of gun violence be allowed to sue the entities they believe bear responsibility for what happened on February 14, 2018.
American Outdoor Brands and Sunrise Tactical Supply, the defendants in the suit, filed a motion to dismiss the case, and Guttenberg, admittedly, thought it would be a relatively quick ruling. But after more than two months, no decision has been made. Guttenberg hopes Thursday's ruling in Connecticut means a decision in his own case could be coming soon.
As the parent of a child killed in a school shooting and as someone who's navigated the legal arena, Guttenberg said he knew how "torturous" the process could be. In his case, he expects a long road ahead, but it's a road that he's ready to travel down.
"The thing about gun violence is nothing happens quickly. Holding people accountable is hard, and it's an unyielding process of one step forward, two steps back, two steps forward, one step back," Guttenberg explained. "But you've gotta be persistent and you've gotta stay with it because it's the only way we're gonna force the money that unfortunately has influenced this process for too long to matter less and to get something done."
Holding people accountable goes beyond just getting rid of PLCAA. Guttenberg said it's also about enacting meaningful legislation, which for him includes instituting background checks and red flag laws and increasing the age to purchase a firearm to 21.
For the past few days, Guttenberg has been in Washington, D.C., speaking with legislators and advocating for the passage of Jamie's Law. Jamie's Law would require background checks for the sale of ammunition, a measure that Guttenberg said would keep it out of the hands of people who shouldn't have it.
Right now, Guttenberg said, legislators on either side of the aisle were not doing enough to stop gun violence, and he advised Democratic senators to not allow the Senate to be the place where good legislation "goes to die."
While Guttenberg's dedication to gun reform is deep-seated and personal, looking back, he said he regretted not pursuing it before his daughter was killed. Before February 14, 2018, he was no more clued in to the gun violence and legislation in America than any other person.
"I would get very upset for families and people who dealt with it and I was, unfortunately, someone who did nothing about it," Guttenberg said. "It's actually probably a guilt that I will live with the rest of my life, that I did not put my voice into this before February 14."
Moving forward, Guttenberg said he would hold "anyone accountable who doesn't do what I think they should be doing on this topic," regardless of their political affiliation.