Mr. Rogers Was Apolitical But His Wife Thinks Trump is 'Pathologically Ill'
It wasn't a beautiful day in the neighborhood for everyone in Latrobe, Pennsylvania where President Donald Trump held a campaign rally on Thursday.
While dozens of supporters filled out the airport hangar where Trump delivered a speech condemning his Democratic opponent Joe Biden and the "radical left-wing mob," there was at least one person connected to the city who disapproved of him being there: Mr. Rogers' widow, Joanne Rogers.
Latrobe is the hometown of the late children's television star Fred Rogers, who hosted the beloved children's program Mister Rogers' Neighborhood on PBS for 31 seasons. In an interview with The Daily Beast released Friday, his wife noted that Fred Rogers wasn't vocal about his political views but she was free to share her discontent over the president, who wailed against rioters and looters and attacks on law enforcement in a town that raised her husband to be honest, kind and compassionate towards others.
"I think he's just a horrible person," Joanne Rogers said.
The 92-year-old claimed she would "probably go into mourning" if Trump is re-elected in November. "I can't even imagine. I would feel so badly," she said.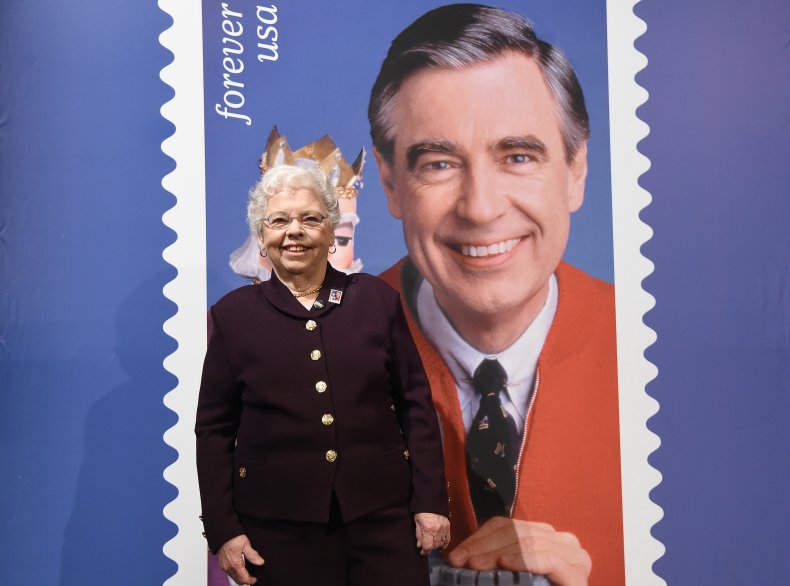 As for why she felt so strongly about Trump, Joanne Rogers claimed it was likely because the real estate mogul "seldom tells the truth."
"If he does, it's just a fluke, I think. But the fact [is] that I can't believe anything he says, not even the simplest thing," she continued. "This man is pathologically ill. Mentally ill."
Although Fred Rogers was a lifelong Republican, he refrained from speaking on politics and sharing his personal beliefs because of the nature of his show. With his program intended for kid viewers, Joanne Rogers claimed her husband refused to talk about politics because he didn't want to complicate things for his audience, who may have had parents with opposing views.
Joanne Rogers, on the other hand, has spoken out against Trump since he was first elected into office in 2016. Speaking with Nightline in 2018, the mother-of-two suggested that if her husband were still alive today—he died in 2003—he may have been more inclined to open up on his politics simply because Trump goes against everything that he stood for.
"We have somebody leading us right now who is not a forgiver," she said of Trump at the time. "His values are very, very different from Fred's values - almost completely opposite."
When asked if she thought her husband would sound off on the presidency and the many controversies occurring under his leadership, Joanne Trump said, "I think he might have to."