Freddie Gray Protests Unite Baltimore Gang Members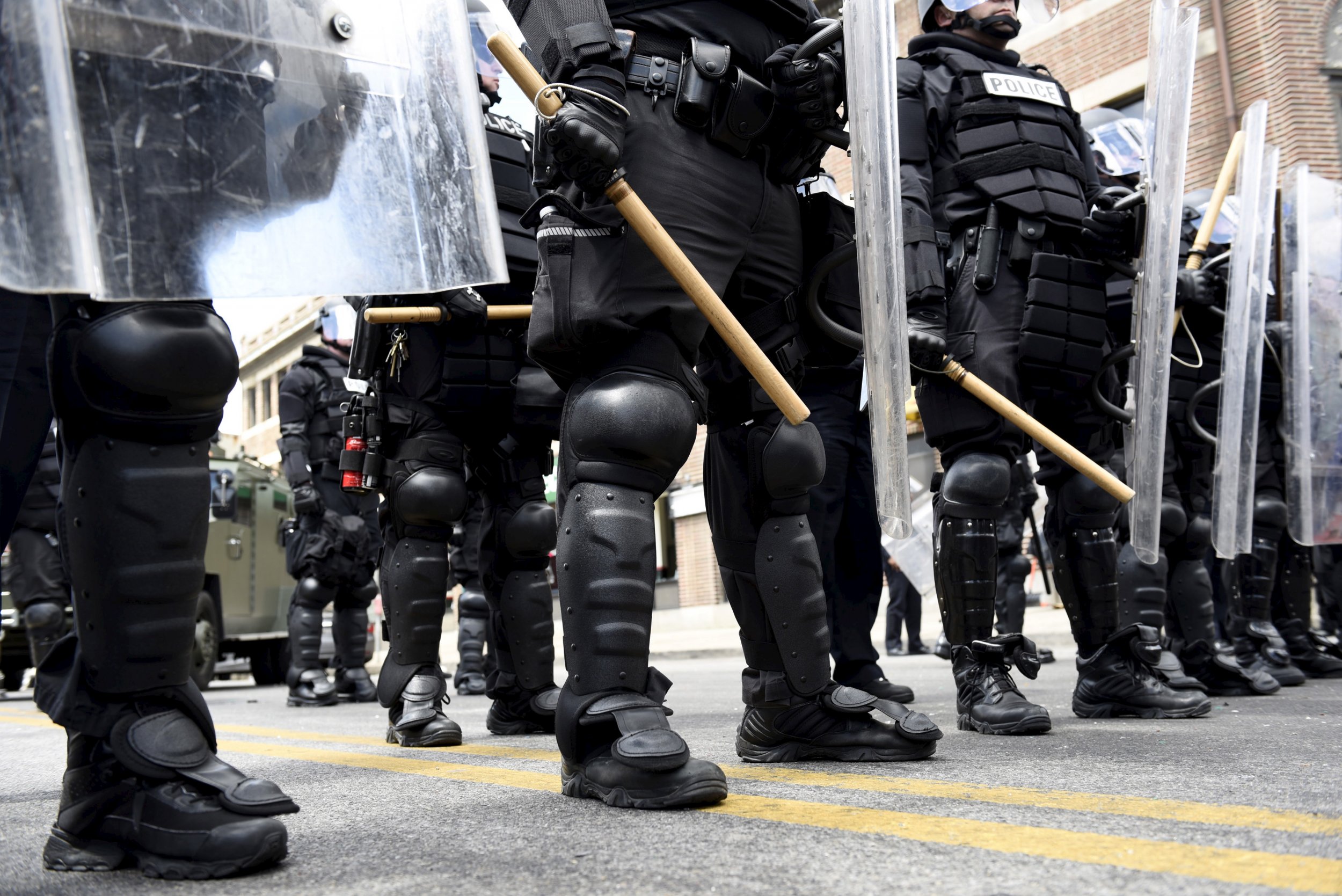 BALTIMORE—Standing atop a West Baltimore rooftop Tuesday, Crips gang member "Benzo" Woodard stared down at a group of armor-clad riot police, picked up an empty Snapple bottle, and hurled it toward the cops.
"Y'all feel threatened?" Benzo shouted, the bottle landing near a police squad car and shattering against the pavement. "That's how we feel every damned day."
Benzo, 22, was among a group of roving gang members who'd attacked police, damaged businesses, and set vehicles ablaze during Baltimore's riots Monday and scattered unrest Tuesday—acts he said were retribution for years of unprovoked police violence, harassment, and the deaths of young African-American men like Freddie Gray, 25, who died of spinal cord injuries while in police custody April 19.
"You can't kick on a dog all day, then get mad when he bites," Benzo said of criminal acts committed by Crips and other gang members here during the past week.
A Baltimore native and self-professed marijuana dealer, Benzo had a more personal motive for targeting cops, too. About two years ago, he said, a narcotics officer repeatedly punched and elbowed him in the face during a drug sweep, all while Benzo was handcuffed. As a result, he's now blind in one eye.
"The police been out here beating on us, killing us like dogs," Benzo said after making his way down from the roof, his sightless eye cloudy and irritated from pepper spray wafting down the street, his good eye scanning the avenue behind him for any police in pursuit. "They [the police] created this situation. They made us radical."
Several gang members involved in Monday's riots—self-described "soldiers" with Baltimore gangs that include the Bloods, Crips, Gangster Disciples, Black Guerilla Family, Young Gorilla Family, Purple City, and Highlandtown Soldiers—likened their experiences with police in recent years to those of radicalized young Muslims abroad; young men who'd been driven to extremism by American military actions in the Middle East.
But instead of being radicalized by errant drone strikes and civilian casualties, these young African-Americans said they were driven to gang membership by mistreatment at the hands of local law enforcement.
"You beat on somebody long enough, they going to become radical in their actions," said "Wes" Hollis, a self-identified West Baltimore Bloods member who admitted to participating in Monday's riots. "A leads to B."
The issue of local gangs driven to potential anti-police violence was thrust into the spotlight Monday, after Baltimore police said their intelligence unit "received credible information that members of various gangs including the Black Guerilla Family, Bloods, and Crips have entered into a partnership to 'take out' law enforcement officers."
At least 20 cops were hurt in Monday's unrest, authorities said, but it's unclear how many of those injuries, if any, were linked to encounters with gang members.
Baltimore's criminal underworld is among the most crowded in America, with about 2,600 known gang members and 170 criminal street gangs active here as of 2006, according to a report issued that year by Baltimore City's Criminal Justice Coordinating Committee. Police have attributed hundreds of homicides—and the operation of scores of heroin, cocaine, and marijuana operations—to Baltimore gang members in recent years.
A Baltimore County Police official involved in intelligence-gathering efforts against local gangs said that so-called "urban radicalization," spurred in part by conflicts with police and endemic poverty, had helped lead thousands of young men to embrace gangs and drug-dealing.
"The devastation gangs have caused in Baltimore is incalculable," said the official, who spoke on condition of anonymity.
Gang members appeared to be in the thick of this week's unrest, too, even as some Bloods and Crips leaders appeared in public with city council members Tuesday to condemn anti-police violence and issue pleas for peace. Those gang leaders said they could not control the behavior of every gang member in the city, but urged their brethren not to destroy property or target police.
"If they do, they're not acting in our name," said one self-identified Bloods leader, "Wiz" Onande, of East Baltimore.
This week didn't mark the first time street gangs have participated in—and appeared in public together—during violent unrest. Similar gang-related violence, and shows of unity, occurred during the Los Angeles riots in 1992, the Cincinnati riots in 2001, and unrest in Ferguson, Missouri last year.
Riots have also served as recruiting opportunities for American street gangs. The first Crips and Bloods sets were formed, in part, as a reaction to the 1965 Watts riots in Los Angeles, anti-police riots that left 34 people dead and more than 1,000 injured.
Benzo said that while Baltimore's gang members might be split on whether to wage attacks on police, he wasn't buying into the calls for peace.
"You got some people, some [gang members] saying that's the way," Benzo said. "But a lot of us don't forgive. Freddie Gray ain't here to forgive."
Kevin Deutsch is a criminal justice reporter with Newsday in New York and author of The Triangle: A Year on the Ground with New York's Bloods and Crips.