'Freddy Fazbear's Pizzeria Simulator' Custom Night Office Teased
Freddy Fazbear's Pizzeria Simulator gets its Custom Night update soon, the perfect send-off for Five Nights At Freddy's 6 and the William Afton saga. In a new teaser on the official Scott Games site, franchise creator Scott Cawthon revealed the patch's office design. It's got a little bit of everything from the series' past games.
In a related Steam Community post, Cawthon left a brief message for his fans regarding the nostalgia-fueled aesthetic. "You should see a lot of familiar items! This office uses props from every office in the game series," he wrote Thursday night. "As you can see; two doors, two vents and two giant hoses hanging from the ceiling. So, six ways that death can come swiftly!"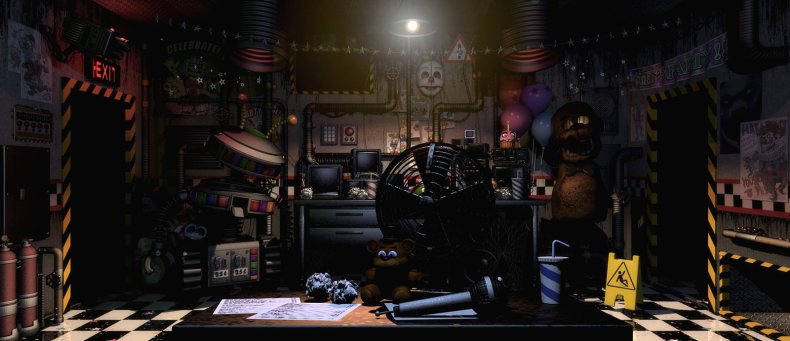 There's a lot to unpack in such a crowded space, but it's hard to ignore returning staples like the aged desk fan from the original Five Nights At Freddy's, the vent setup that debuted in Five Nights At Freddy's 2, the Ennard mask from Sister Location and even a full 3D render of Candy Cadet from the latest installment. Hardcore gamers might call this sort of thing an asset flip, but, for the Five Nights faithful, it's the best kind of flip to close out this significant chapter in a larger story. It metaphorically "puts the pieces back together" in one big mess of fan service.
Cawthon spoke of his office design plans in a post earlier this week as well:
"While Custom Nights have never really focused on being scary (they are too chaotic), I still thought it was important to focus on atmosphere and to keep things close, claustrophobic and familiar. I wanted this to feel like a classic Custom Night, so I built the office with that in mind."
If that's his vision for the space, he certainly accomplished that goal. The weathered feel of the original game is alive and well, but it's accented with new items from more recent chapters of lore.
Beyond aesthetics, we still don't know how the Custom Night update for Freddy Fazbear's Pizzeria Simulator actually plays. Cawthon revealed the patch's full roster of 50 animatronics last week, but it remains to be seen if all those deadly characters can be unleashed on the player at once. Should that be the case, this final Custom Night homage would definitely be its most difficult incarnation yet.
Development on the Custom Night update for Five Nights At Freddy's 6 began shortly after Cawthon announced he'd be seeking help from a larger publisher to create future games for his virally popular horror series. The upcoming patch, then, aims to be Cawthon's last gaming project as a solo developer. With that in mind, he's pulling out all the stops to thank fans for their four years of support.
A release date for the Freddy Fazbear's Pizzeria Simulator Custom Night update has not been announced. The full game is free to download on Steam.
What are your thoughts on the Custom Night office? Does it end Five Nights At Freddy's 6 on a high note? Tell us in the comments section!