Frederick Douglass Statue Coordinator Suggests Vandalism May Be 'Retaliation' for Toppling Confederate Monuments
One of the men behind erecting a statue of Frederick Douglass in Rochester, New York, is questioning the motives behind tearing it down on the anniversary of the abolitionist's famous speech "What to the Slave Is the Fourth of July?
On Sunday, Rochester police found the statue at the Genesee River gorge, about 50 feet from its pedestal in Maplewood Park. The statue is one of 13 that were placed throughout the city in 2018 and the second to be ripped from its base in the past two years.
Carvin Eison, co-director of the Re-Energizing the Legacy of Frederick Douglass Project, was one of the leaders on erecting the statues. When viewing it in the larger context of a national movement to remove monuments and statues tied to slavery, he wondered whether the two events were connected.
"What comes of this? Is this some type of retaliation because of the national fever over Confederate monuments right now?" Eison told WROC. "Very disappointing, it's beyond disappointing."
People have long pushed for the removal of Confederate monuments and statues because they glorify those who supported slavery. Such calls were reignited following the death of George Floyd, a Minneapolis man who died in police custody on Memorial Day, and in the past month, more than 15 statues were removed by protesters or local and state officials.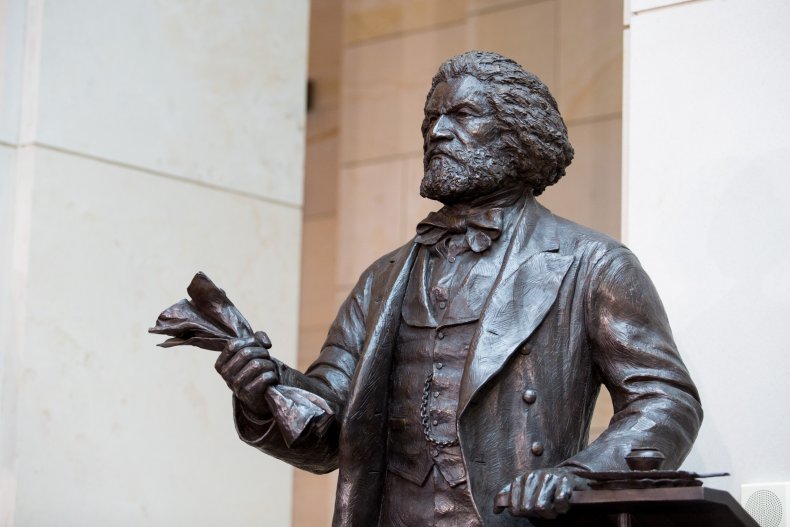 Eison told Newsweek he could only speculate as to the motives behind the vandalism based on his experience and the current climate in the country. But, given that the destruction was done on the anniversary of Douglass' speech, it was "impossible to complete disconnect" the two.
Rochester police are still investigating Sunday's vandalism. Newsweek reached out to the department for comment but did not receive a response in time for publication.
Maplewood Park is a site along the Underground Railroad, a system that Douglass used to help bring slaves from the south to freedom. Sunday was the 168th anniversary of a speech Douglass gave in 1852, a decade before the abolition of slavery, criticizing celebrating Independence Day while Black people were enslaved.
While white Americans celebrated freedom, Douglass said, the Fourth of July to a slave is a "day that reveals to him, more than all other days in the year, the gross injustice and cruelty to which he is the constant victim."
In December 2018, two St. John Fisher College students were charged with criminal mischief for removing a statue of Douglass from its base. John Boedicker, one of the two students charged, denied it was racially motivated and said it was a drunken mistake, WROC reported. The two students pleaded guilty in April and were required to pay $10,000 in restitution, participate in a phone call with one of Douglass' relatives and write a report on The Narrative in the Life of Frederick Douglass, WHAM reported.
"I would like to believe it's not that, it was just some kids," the Reverend Julius D Jackson Jr., told WROC, referencing the possibility it was racially motivated. "But it wouldn't surprise me if it's some retaliatory, something going on."
It's possible Sunday's vandalism was also a drunken mistake, Eison told Newsweek, but he suspected Douglass' speech anniversary was a motivating factor. When it comes to that "kind of hate and cowardice," he said the only reply was to continue educating people and standing up for and promoting Douglass' and the community's ideals.
"It's an act of cowardice and the worst kind of behavior," Eison said. "And all we can do is recognize that the ideas are so strong and so well-formed and so cogent that the destruction of one monument cannot be diminished by acts of vandalism."
Officials replaced the Douglass statue within a week of it being vandalized in 2018 and Eison told Newsweek the statue vandalized on Sunday will also be replaced, possibly within a week. Erecting a new monument quickly, he said, shows whoever is responsible that people will not be deterred from celebrating Douglass.
"They can topple over this monument, they could go topple over all of them, this monument will still stand because the ideas behind it are bigger than the monument," Eison said.
This article has been updated with additional comments from Carvin Eison.