Nothing beats getting something for free, and don't 7-Eleven know it.
On Wednesday, the convenience store will celebrate 7-Eleven day—otherwise known as its birthday, July 11. If you visit your local (participating) 7-Eleven store you can grab yourself a free small Slurpee drink from between 11 a.m. and 7 p.m., while supplies last.
The Slurpee deal will kick off "seven deals in seven days." After Wednesday, 7-Eleven will offer patrons the chance to try new fresh food items including sandwiches and brownies. 7-Eleven senior vice-president Raj Kapoor said it was as much a celebration for its customers as it was for the 91-year-old chain.
"Free Slurpee day may be the most anticipated day of the year for millions of 7‑Eleven customers and new customers alike," Kapoor said. "7‑Eleven Day is a celebration, not only of our birthday, but more importantly, of our customers. I encourage everyone to look around the store, grab an old favorite like a Big Bite hot dog to enjoy with their free Slurpee drink or maybe try something they haven't. We have lots of delicious new choices in stores."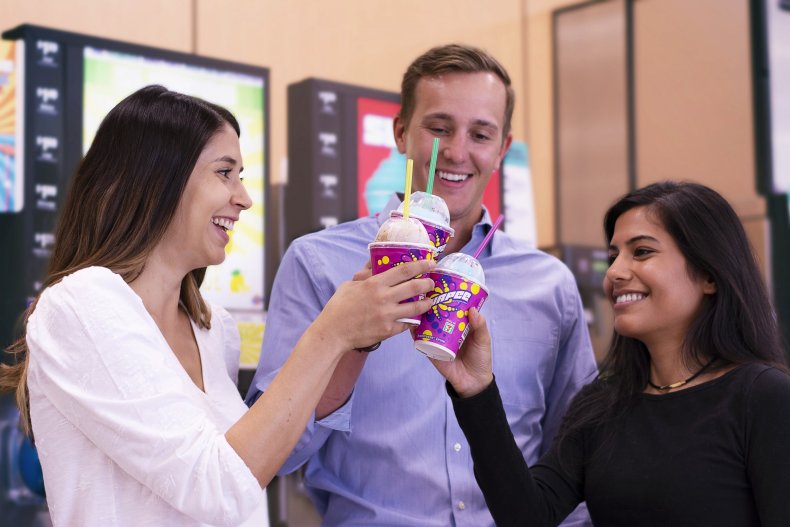 Big Bite hot dogs will also be sold for $1 on 7-Eleven's birthday and one week later on National Hot Dog Day (July 18). According to the company, 7-Eleven is the largest convenience chain in the world.
And if you can't make in store on Wednesday, there is plenty on for the rest of the week:
July 12: Free 7-Select Pure water with purchase of a BODYARMOR sports drink.
July 13: Free Big Gulp fountain drink with purchase of a share-size Snickers candy bar.
July 14: Free 7-Select popcorn with purchase of a 20-ounce Smartwater.
July 15: Free single-size Reese's candy with purchase of a share-size bag of 7-Select Gummies.
July 16: Free 20-ounce Coca-Cola with purchase of any flavor Cheez-It baked snack crackers.
July 17: Free single-serve bag of 7-Select chips with purchase of any fresh sandwich.
July 18: Free single-serve 7-Select tortilla chips with purchase of any 7-Select nuts.
On Tuesday, Chick-fil-A ran its own freebie promotion. Despite not celebrating Fried Chicken Day on Friday, the chain has embraced Cow Appreciation Day. Anyone who arrived in store dressed like a cow, ringing a cowbell or dressed "udderly crazy" was given a free entree. Children will earn themselves a free kids meal.
The chicken chain has celebrated Cow Appreciation Day for 14 years straight and had 1.8 million people participate last year.