Carl's Jr Halloween 2019 Deal: Where and How to Get a Free Plant-Based Beyond Burger Today
Carl's Jr is offering customers a free Beyond Burger today, October 31, 2019. Customers visiting participating Carl's Jr locations in Los Angeles should use the phrase "Beyond Halloween" to claim a free Beyond Famous Star burger or Beyond BBQ Cheeseburger with the purchase of any large drink.
The Beyond Famous Star Burger is a 100 percent plant-based Beyond Burger patty on a Carl's Jr Famous Star build. It comes with pickles, lettuce, tomato, onion, mayonnaise, and special sauce, and sells for $6.29. According to Forbes, Carl's Jr.'s Beyond Famous Star burger, "has been the chain's most successful burger launch in the past two years, with more than 4.5 million sold to date, many to new customers."
The Beyond BBQ Cheeseburger is also made with the plant-based Beyond Burger, but is "charbroiled over an open flame." It comes topped with melted American cheese, two crispy onion rings and with BBQ sauce on a toasted seeded bun. The Beyond BBQ Cheeseburger also typically sells for $6.29 and was introduced to Carl's Jr restaurants earlier this month. Prices may vary depending on location.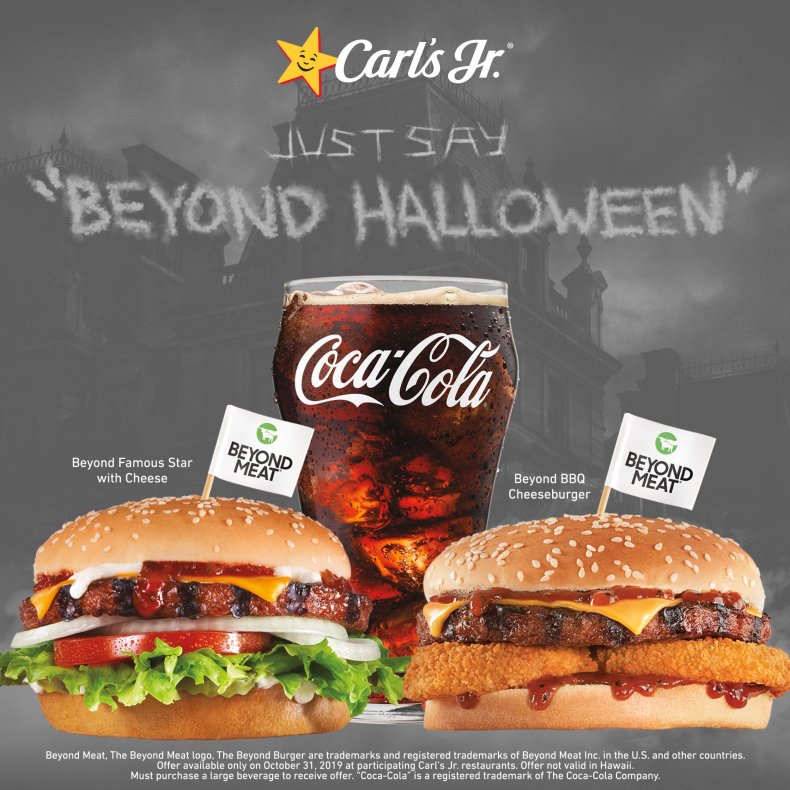 The protein in the Beyond patty comes primarily from peas, but also mung bean and rice. It's soy, gluten, and GMO-free. However, while the Beyond patty is plant-based, neither of the burgers are vegan as they contain egg, cheese, and mayo. They are cooked on a charbroiler with beef so there may cross-contamination.
While these burgers are not vegan-friendly, Carl's Jr says that they are a healthy alternative for meat-eaters. For example, The Beyond Famous Star Burger contains 30mg of cholesterol whereas the original Famous Star Burger with Cheese has 75mg of cholesterol. The plant-based patty has more protein, with 30g compared to the beef version of 28g.
There are more than 20 Carl's Jr stores in Los Angeles, so LA residents are sure to be able to find a participating location near them.
Carl's Jr is an American fast-food restaurant chain established in 1941 as Carl's Drive-In. In the 1950's, the first Carl's Jr opened, and the chain now has more than 1,200 restaurants. Carl's Jr is known for its charbroiled beef burgers.
Beyond Meat is a food company producing plant-based alternatives to meat. According to Beyond Meat, the plant-based protein is more environmentally friendly than meat: "A peer-reviewed Life Cycle Analysis (LCA) conducted by the University of Michigan compared the environmental impact of the Beyond Burger to a ¼ lb. U.S. beef burger. The result? A Beyond Burger uses significantly less water, land, energy, and generates fewer Greenhouse Gas Emissions (GHGE) than a beef burger."