Is Trump Taking Away Free Birth Control? What You Need to Know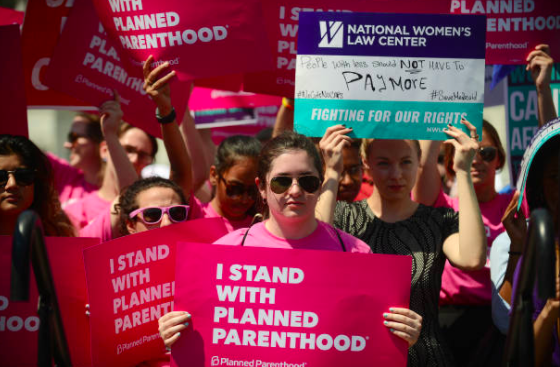 The hashtag #ThxBirthControl began to trend on Wednesday after the Trump administration repealed laws from Barak Obama's Affordable Care Act last month. Now, some employers are permitted opt out of birth control coverage. Contraceptive advocates took to Twitter to write why free and affordable birth control was essential to women's health.
"Today, we will be sharing stories from patients, volunteers, and supporters as we say, 'Thanks, Birth Control!'" Planned Parenthood tweeted on Wednesday. "Birth control is under attack, and we need everyone — business leaders, artists, activists, and civilians — to stand up for women and join the fight for reproductive rights."
The nonprofit famously provides reproductive health care.
Thousands joined in with Planned Parenthood, saying why birth control was important to them. But one question remained: Is President Donald Trump going to take away free birth control?
The Trump Administration moved to deny insurance coverage for contraception in the name of religious freedom. "We will not allow people of faith to be targeted, bullied or silenced anymore," the president said in the Rose Garden in May.
The Department of Health and Human Services made a mandate that allowed employers to remove contraception services if they went against their religious beliefs or moral convictions.
"No American should be forced to violate his or her own conscience in order to abide by the laws and regulations governing our health care system," said Caitlin Oakley, a spokeswoman for the Department of Health and Human Services.
Under the Affordable Care Act, an estimated 55 million women had access to birth control without co-payments, the New York Times wrote. After the Trump Administrations new rule, hundreds of thousands of women could lose those benefits.
The Trump administration denied women would struggle to pay for birth control.
"Today's outrageous rules by the Trump Administration show callous disregard for women's rights, health, and autonomy," Fatima Goss Graves, president and CEO of the National Women's Law Center, said in a May press release. "By taking away women's access to no-cost birth control coverage, the rules give employers a license to discriminate against women. We will take immediate legal steps to block these unfair and discriminatory rules."
Because of the new mandate, some women could lose "coverage or payments for contraceptive services."
"The government's legitimate interests in providing for contraceptive coverage do not require us to violate sincerely held religious beliefs" or moral convictions, they said.
Follow me on Twitter @mariamzzarella