'Free Britney' Supporters React To Star's Touching Instagram Post With Sons
Britney Spears fans routinely study the pop star's Instagram, with the Free Britney movement always searching for clues in her posts.
Now the singer has posted a rare photo with her two teenage sons, providing unique insight into their relationship amid increased speculation on the conservatorship that controls her life.
"It's so crazy how time flies .... My boys are so big now," the 39-year-old posted to Instagram on Monday.
The "Lucky" hitmaker is mom to Sean Preston, 15, and Jayden, 14, with her ex-husband Kevin Federline.
She shared two versions of the same photo, with one edited to include clouds and an orange sunset sky.
In her lengthy caption, Spears continued: "I know ... I know ... it's very hard for any mama especially a mama with boys seeing them grow up so fast !!!! Talk about enough to make you go to your knees ... GEEZ !!!!
"I'm extremely lucky because my two babies are such gentleman and so kind that I must have done something right !!!"
The star, who is the subject of a new high-profile documentary, Framing Britney Spears, went on to explain that she hadn't posted photos with Sean Preston and Jayden for some time because they are teenagers who find posing in photos with their mom embarrassing.
"I haven't posted pictures of them for some time cause they're at the age where they want to express their own identities and I totally get it .... But I went out of my way to make this cool edit, and guess what .... They're finally letting me post it !!!"
She added: "Now I don't feel left out anymore and I'm gonna go celebrate .... Oh s*** I guess cool moms don't do that ... Ok I'll just read a book instead !!!!"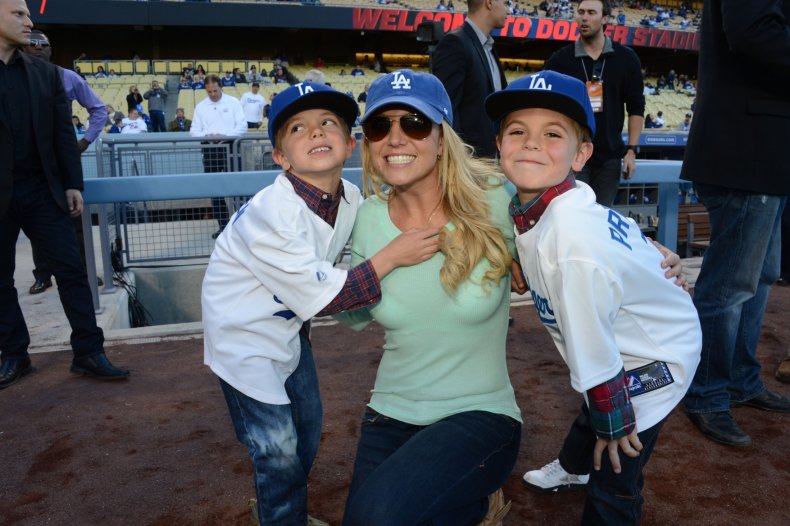 The post has unsurprisingly prompted comments from fans about Spears' custody situation.
"you deserve to have custody of them and your freedom," reads one comment, while another person wrote: "We know this is not Britney posting."
In October 2007, a court granted Spears' ex-husband Federline sole physical custody of their sons due to Britney's "habitual, frequent and continuous use of controlled substances and alcohol" at the time, according to the judge, per StyleCaster.
In January the following year, Federline was given "sole legal custody and sole physical custody" of their children with Spears allowed visitation rights after an incident where police were called to her home when she did not relinquish the boys to their father—this is around the time when she was placed under the conservatorship by her father.
Most fans' responses to the post are positive, with many just happy to see Spears happy spending time with her boys.
"So happy to see you guys together!" reads one comment, while another responded: "Love seeing you with your boys!!!!!" Another added: "This makes me so happy."
Last week, the lawyer representing Spears' father Jamie Spears, spoke about the reasons why the pop star is under conservatorship, amid increasing concern for her welfare.
"I understand that every story has a villain, but people have it so wrong here," lawyer Vivian Thoreen said during a Good Morning America appearance.