Project 100 Is Handing Out Free $1,000 Cash Payments to 100,000 Low-Income Americans
Tekei Durogene, 34, was struggling to work her reduced hours from home without childcare for her three kids when the single mom from North Carolina got a notification that she was selected to receive a $1,000 cash payment with no strings attached.
Instinctively, Durogene thought it was a scam and started researching. But it wasn't. Now her bills for April are paid, her freezer is full of food, and her mind is—temporarily—at rest. The donation came to Durogene from GiveDirectly, a charity that transfers cash to people in need.
"It was tough, so I was really appreciative of being selected. It came right on time. Soon as I got it, I paid my bills. I didn't want to fall into debt," Durogene, who works in community management at a business that supports low-income families, told Newsweek.
GiveDirectly is launching Project 100, a program to raise and then distribute $100 million in the form of $1,000 payments to low-income families struggling through the effects of the coronavirus pandemic as the economy crashes into recession.
It has partnered with Propel, a software company that runs the Fresh EBT app that helps people receiving food assistance via SNAP to manage their benefits, and another charity, Stand for Children, to deliver Project 100.
The project has a variety of high-profile and wealthy backers, including Ariana Grande, Google, Julia Louis-Dreyfus, Andrew Yang, the Schusterman Family Foundation, Stacey Abrams, and many more.
Abrams, who ran as the Democratic candidate for Georgia governor in 2018, said on Tuesday's edition of MSNBC's Morning Joe show that she is involved in Project 100 "because I know that those direct cash payments can save lives today."
Through the Fresh EBT app, Project 100 identifies some of the neediest households on SNAP in the zip codes worst-affected by the coronavirus pandemic, and notifies the families lucky enough to be selected that they can claim a $1,000 payment.
It comes on top of the government's stimulus checks worth up to $1,200 per adult and $500 per child to help households cope with the current crisis, in which around 10 percent of the American labor force lost their jobs in just three weeks.
GiveDirectly CEO Michael Faye said Project 100 has raised around $55 million since early March towards its target.
He said giving people cash empowers them with the freedom of choice and autonomy to direct that money wherever they see fit. They are, after all, best-placed to know where it should be spent.
"It is not one size fits all. It does not assume that everybody has the same needs. It does not assume that I know more about what those needs are than they do themselves," Faye told Newsweek.
"Right, left; famous, not famous: Everyone is coming to cash. And I think that's a really powerful moment worthy of reflection."
Faye said speed is essential in getting cash to people who need it, which is why donations to GiveDirectly do not hang around in its accounts for long. The $11 million raised this week is in the bank and it will leave again on Tuesday.
"I can't underscore enough how much speed matters. There was a woman we spoke to who had 45 cents left in her bank account so every day matters in getting this out," he told Newsweek.
"We're basically getting it out within a week, which I think is so important. You often see during these crises large funds get raised and they don't get distributed as quickly as they get raised. And that is just sad, right?"
Faye is confident Project 100 will hit its $100 million target. And when it does, it will keep going.
"If 1 percent of people in the U.S. all gave $1,000, essentially redirecting the [stimulus] checks they might receive, that would be a total of $3 billion that we could give out to recipients," Faye said.
"Three billion sounds like a big number but when it's just 1 percent of people giving a thousand bucks, it's quite doable actually."
The payment took just two days to reach Tekei Durogene. Once she had settled her rent and utility bills without falling behind, Durogene could buy her youngest son, 5, some workbooks to continue his education while under lockdown.
"I was able to spend a little extra on things that I can use, but before I didn't want to take a chance because I didn't want to buy nothing that I didn't essential need because I wasn't sure how much I had," Durogene told Newsweek.
"It really helped out. I'm very grateful and thankful. I look upon it as a blessing."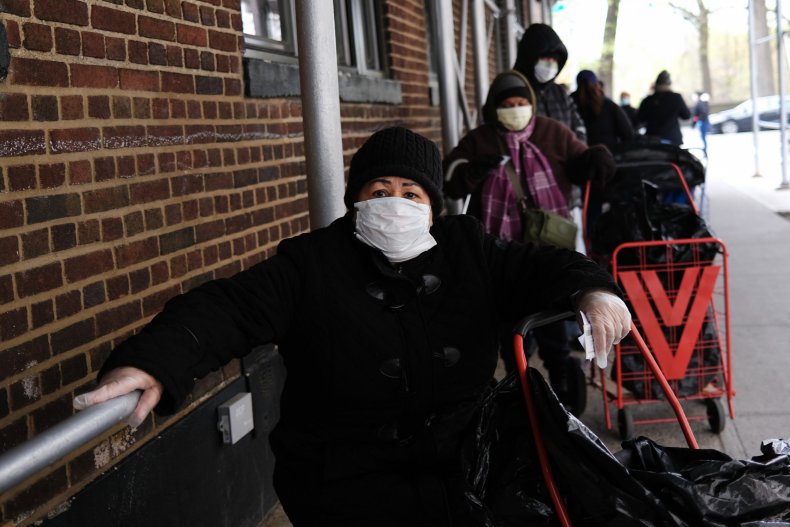 This article was updated to add a comment by Stacey Abrams and clarify the list of backers.