'I Created a Free Clothes Store in My School'
When I was in 4th grade in 2019, a friend of mine told me that she needed some clothes. She has five brothers and always had hand-me-downs and she just wanted some girl's clothes. She came from a single parent home with limited resources, so I decided that day I would give her clothes that I had outgrown and I filled a bag with 20 different items, including shorts, pants, shoes, a duffel bag and a coat; anything girly I had. I am one of the tallest girls in my class so I was ready to give some clothes away and I wanted to help her.
The next day, I told my friend I had a surprise for her and then I gave her the bag of clothes in the school bathroom. She started crying, and I realised then that I could do this to help other people. I decided that I wanted to help the whole school and create a Kindness Closet; a free clothes store for kids at my elementary school, Shreve Elementary School, in Ohio. So I went to my teacher and asked if I could bring the idea to the principal, who also thought it was a good idea. He told me that we just needed clothes, space and to work out how to organize everything.
I'm 11 now, but the idea actually came about before the pandemic hit, so it wasn't until around December 2020 that I started going to local businesses for donations. My principal printed out letters for me to explain the closet and ask for contributions and then my mom and I went and dropped them off around Shreve, the community that we live in, and the neighboring city of Wooster. The letter said that if the businesses were willing to help, these were the items that we needed to be donated.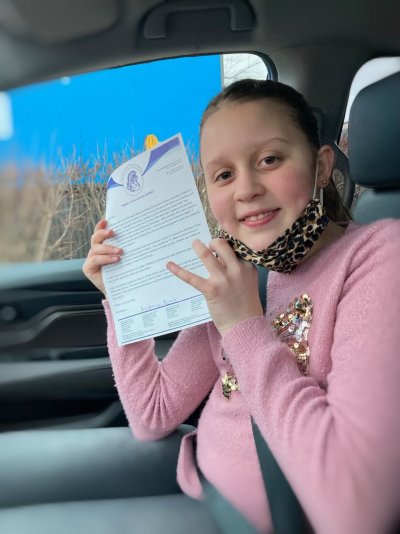 We had everything from shirts, pants, dresses and shoes to storage and shelves donated and some stores gave me a credit so we could go in and pick out clothes for the closet ourselves. My school goes from preschool to 6th grade so I was looking for lots of different sizes.
We do take slightly used clothes for the Kindness Closet, but I also have $1,200 that has been donated and the plan is to use the money to buy new clothes whenever we need to restock the closet and buy additional storage. But so far, it's been very well stocked.
There was nothing in my school like this before; I created the Kindness Closet from scratch. It first opened to students in April 2021 and it's been open for the few months since I started 6th grade in the fall. It's located in my school office, and though the room is not very big, there is a lot of storage. We have spots for dresses, pants, shirts, shoes, lunch boxes, coats, gloves and book bags, and the space is divided into separate boy's and girl's sections. There's also a bathroom attached, where people can change.
I really wanted to keep the Kindness Closet confidential, so I have referral sheets that people can sign and give to their teacher. They hand in the sheet to the office and then they can go into the closet and pick out whichever items they want, like in a store. Sometimes I do see students wearing items I recognize in the hallway and it's really nice to see kids are actually using the closet I created.
So far, five or six kids have used the store each week and if students need to, they can come back as many times as they want. If a kindergartener uses the closet then the school has a policy that it is then automatically open to any other siblings they have at the school. There are a lot of people in our area on unemployment benefits because of the pandemic, so I think the Kindness Closet has made it easier for people.
After putting in all these hours gathering, cleaning and folding the clothes, I'm happy to see that it's being used and not just sitting there empty. But I'm not sure whether the other students know it's me who created the Kindness Closet, even though I do morning announcements about it in school. Teachers have reached out to my mom since it's been open though, and told her how pleased they are with it and that they have seen an improvement in kids' self confidence. My dad works at a school nearby and he has told me he wants to put a Kindness Closet in at his school, too.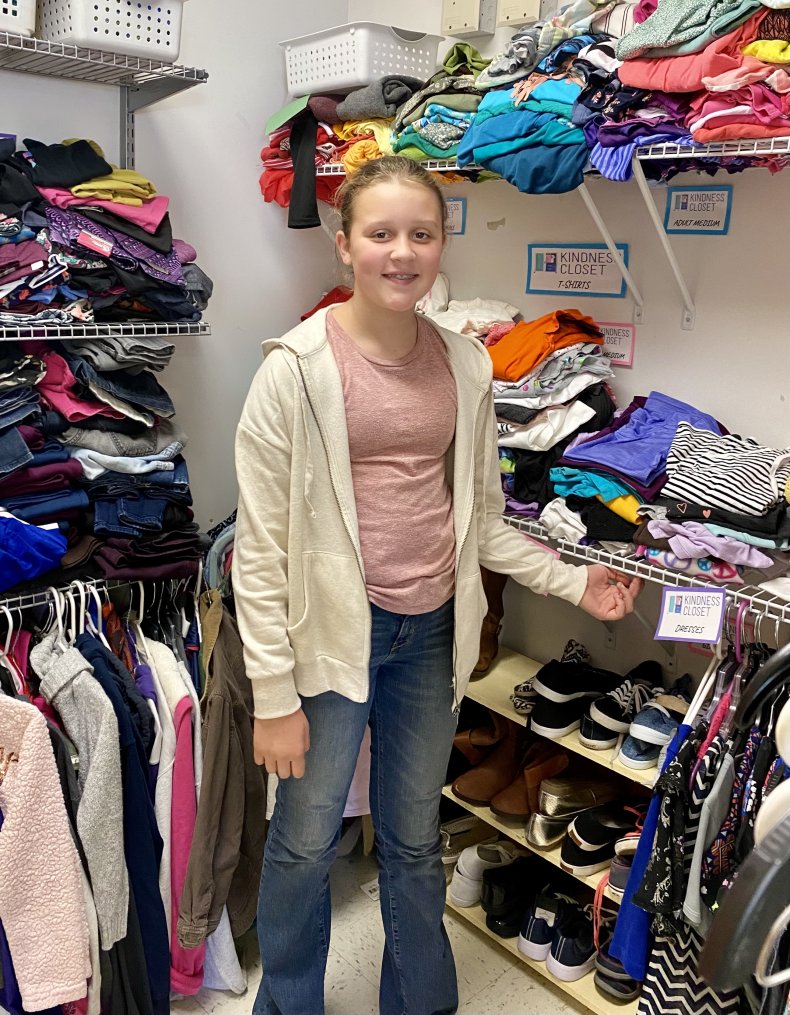 A new school is being built in my area and is set to open in the 2024/2025 school year. It will take students from kindergarten through 12th grade and in the plans they are working on a way to make a bigger Kindness Closet that is open to the entire school district. They will add in some proper dressing rooms and it will be open to everyone.
I'm in the current Kindness Closet every day so it feels a little small to me, but my principal has promised me that the Kindness Closet will definitely be bigger in the new school!
The Kindness Closet was created without any money from the school really; I got businesses and people in our community to help out. So I would say to other kids who want to do this: try and make it happen. Don't wait. Go to someone in your school and ask if they think it would be a good idea. They can only say yes or no. I hope the Kindness Closet will catch on in many other schools.
Andi Musser is 11 years old and a 6th grade student at Shreve Elementary School in Shreve, Ohio and the founder of her school's Kindness Closet. She lives with her family in Shreve.
All views expressed in this article are the author's own.
As told to Jenny Haward.
Additional details in this article were provided by Jessica Musser.