'We Opened a Free Grocery Store in a School'
For years, I helped celebrities start and run non-profit organizations. I remember I would often say to them that the people who were standing in line for a turkey at Thanksgiving for a charity event were also hungry in April. People are not just hungry at one time during the year.
Then I moved to Atlanta, Georgia in 2013, and as I was driving through downtown I saw hundreds of people experiencing homelessness. I realized I had to do what I had been telling others to do for so long. I went home and posted on Facebook that I was going to go out every Sunday and provide soul food to feed people experiencing homelessness, and that people were welcome to volunteer.
I started that in October 2013 and I would hold them in parks, parking lots and sometimes in buildings where senior citizens were living. A video of these pop up restaurants I was hosting went viral on Facebook in 2016 and I remember reading through the comments and seeing people asking which restaurants were donating the food. It was actually me taking donations and making enough pasta and chicken to feed up to 500 people. I then started researching what happens to excess food and I was blown away by how much food goes to waste while people are going hungry. I then started thinking I should get food donated.
At that time, we were building a lot of technology and services, like apps, for people that have enough, but no one seemed to be thinking much about the people who don't know where their next meal is coming from. So, I launched my company, Goodr, in 2017.
We started doing free pop up grocery stores in Atlanta in 2017 and then we began doing them around the country in 2020 because the need was so great during the pandemic. We work with partners like the NBA, Porsche and Accenture to provide food to families and offer vegan foods, fresh fruit and vegetables and many other options. Our focus is on dignity and having options for those who need it.
The idea is that people don't get a lot of dignity in this space. Most of the time at a food bank, people are given a box or a bag of food and they are thankful, but what if they don't eat that food, or they are vegan? That really matters. Sometimes parents are also going into food banks with their kids. So we were really aware of the child's experience. One mom told me that her daughter said: "I loved that grocery store that was outside, that was such a good one."
Then, earlier in 2021, the rapper Gunna (Sergio Giavanni Kitchens) came to me wanting to do something for the "back to school" period for the area of Atlanta he grew up in. I pitched the idea of a free grocery store to him. I told him we should create something really sustainable that's going to last for years to come.
Gunna then gave me the names of the schools he went to and because I thought that middle school age was a really unique age to start this in, I went in to speak with the principal of Ronald E. McNair Middle School first. He told me that so many of the kids at his school are only really kids during school hours. Outside of the classroom, they are often in adult situations, perhaps taking care of their brothers and sisters.
I visited the free clothes closet and food pantry the school had and there were random canned goods like butter beans, and the clothing looked like goodwill donations, with heels and suits for men. They were not items I felt kids would need or want. My attitude then was: let's do this.
One of my good friends is an interior designer, so I brought her to see the space and told her that I was going to need clothing racks, shelving for food, and space for refrigerators, freezers and toiletries to be stocked. She came up with the design and Gunna and his team approved it. We built the store out in three weeks.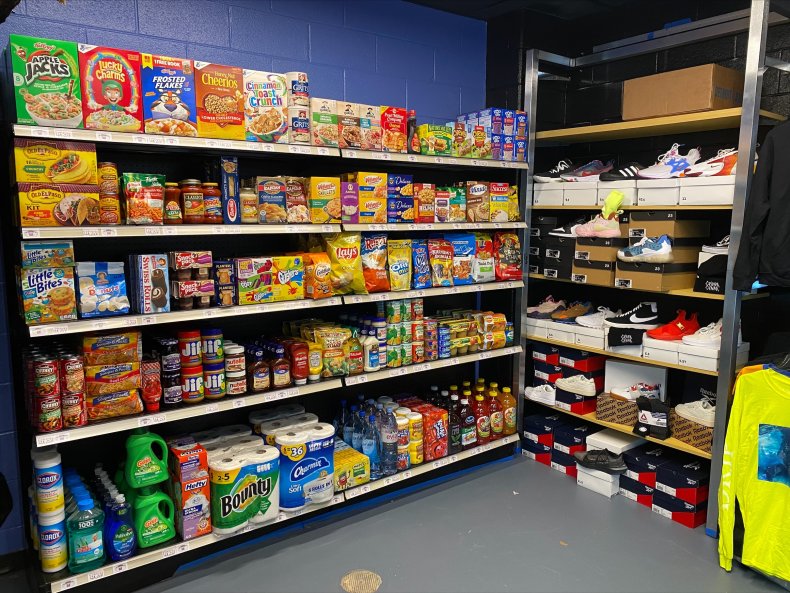 The most expensive part was the actual store fit out. We had to put in new ceilings, new flooring, paint the space and bring in the refrigerators and freezers. But because at Goodr, we do so many pop up grocery stores, I already knew the type of stock we needed to have, like vegan options, alternative meats, fruits and vegetables and staple goods. Having talked to the principal, what also stood out was that we needed to have food, like chicken pot pies and pizzas, that the kids could cook on their own.
Gunna's Drip Closet And Goodr Grocery Store officially opened in Ronald E. McNair Middle School on September 16 and Gunna came to the school that day. The energy level was at 1,000; the students were so excited.
Gunna spoke during the morning announcement, said who he was and that he was from the area and had been to the school. He said that he wanted the students to stay focused and motivated, told them he had something for each of them, and explained that no one was going to be left behind. We gave all of the students at the school reusable grocery bags filled with merchandise from Gunna. This was to create an even playing field so no kid would feel ashamed to be seen with a grocery bag. Gunna also donated 50 pairs of tennis shoes to the special needs wing of the school.
When he saw the store for the first time at the ribbon cutting that day, Gunna said it was amazing and everything he had wanted. He had brought his mom, Ms. Kitchens and she said how proud she was of her son, and that she would have loved to come to a store like ours and take items home for her four boys, who all attended the school.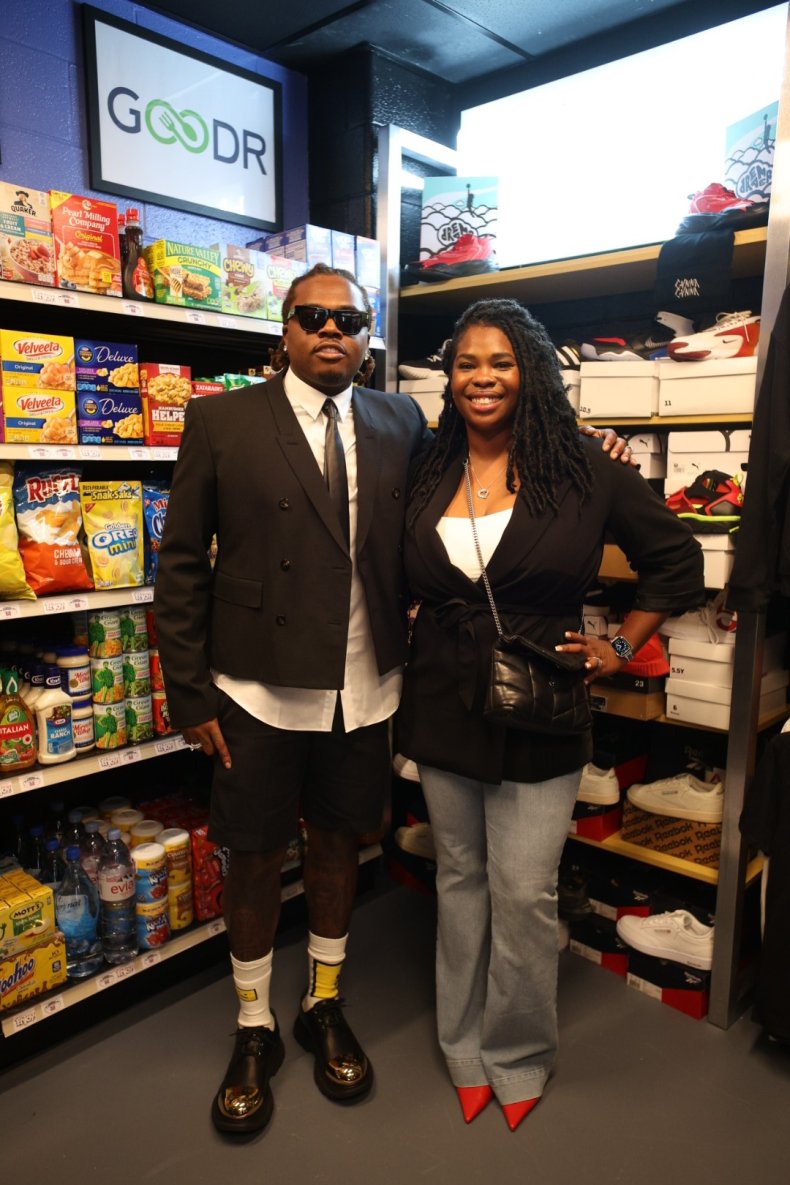 The store is funded entirely by Gunna, and then Reebok and Footlocker came in to provide the shoes that are available in the store. We also built an app and a website, so that people can go online, register and book a shopping time. They then go to the front office at school, where we have trained the staff—one of whom is the school guidance counselor—to escort the individual in the store.
Kids and their parents can come in, and staff too. As we were building the store, one of the school janitors said it was amazing and asked if she could use it. So we talked to the principal and decided that anyone who is tied to that school, and in need, can use it as a resource.
The store is open one hour before classes start and an hour after classes end, so it's open during school hours, not class hours. That's important in case a parent needs to come in before or after work.
In our first week we had 45 shoppers and we're now getting five to eight shoppers a day. We allow registered individuals to fill up their reusable bag in the store— people are able to fill up with quite a few items. Our first customer was crying. They had been able to get chicken breast and all the ingredients to make chicken alfredo.
What was exciting to me was that we had all these cool shoes and clothes, and I thought that everyone would come and get all the clothing first. In the first week, almost 100 percent of the requests were for food, though we have had young girls and their moms getting feminine hygiene products. People can come as often as they want to come. We just believe that if there is a need they will request an appointment. As long as people register, they can come in.
Every month we spend $2,000 restocking the store but we listen to the school counselor on what the needs are. She told me that she has a lot of plus-size girls in the school. We had some plus-size clothing, but maybe not enough, so that's something we've learned.
The reaction so far has been really good. Some families have been feeling they shouldn't take too much, so staff are encouraging them to take what they need. It's really been working.
My own parents had me young, at 20 and 21, and we struggled. I can vividly remember seeing my mom's car getting repossessed when I was in middle school. My dad was running down the driveway as a tow truck was taking the car away. Middle school kids really are cognisant of what is happening in the home and if their parents aren't making ends meet.
So I absolutely want to see these free grocery stores in other cities. The next one will most likely be in Jackson, Mississippi. A friend of mine has a very successful company and wants to bring this concept to her old school. But we're also talking to school districts and hoping that other celebrities will want to build a free grocery store in their old school too.
I knew this store was going to be life changing. I had the vision and the dream of how I wanted it to be, but until it opened, I didn't know what it was going to achieve. To see the feedback so far has been amazing. We've also had lots of messages on social media. One woman messaged me and said: "You don't know how much you've just changed my life."
These families are really happy and that makes me happy.
Jasmine Crowe is a social entrepreneur, TED speaker, and CEO of Goodr. Find out more about Goodr at goodr.co or follow Jasmine on Twitter @jasminecrowe. Her children's book '"Everybody Eats" is available to pre-order here everybodyeatsbook.com.
All views expressed in this article are the author's own.
As told to Jenny Haward.