'Free Guy' Ending Explained: Is There a Post Credit Scene After 'Free Guy'?
Free Guy creates a whole new world in which non-player characters (NPCs) suffer the fate of most NPCs—where they are pushed around by the players. However, one NPC, Guy (played by Ryan Reynolds), wants to break free from the way of life he has always known.
In so doing, a whole world is opened up to him which he never knew existed.
However, he uses this world to show how, if you want to, you can choose to bring kindness and light rather than violence and chaos.
As the film progresses, his changes are clear in the real world which runs alongside a second storyline about coders Millie and Keys (Jodie Comer and Joe Keery) fighting for justice for their game.
The universe made in Free Guy definitely has a potential for further movies, but the ending could make things difficult.
Ahead are spoilers for Free Guy.
Is There An End Credits Scene In Free Guy?
There is no end-credits scene for Free Guy, which opens up some interesting possibilities.
Unlike its Disney mates in the Marvel Cinematic Universe (MCU), post-credit scenes tease upcoming movies. Usually, these teasers confirm character returns or new storylines, however, there is nothing of the sort at the end of Free Guy.
As a result, one could suggest this means Free Guy is a standalone movie, and nothing will come after.
However, the ending of the film brings about an entire new world in which more danger could be afoot for Guy if the wrong people get involved.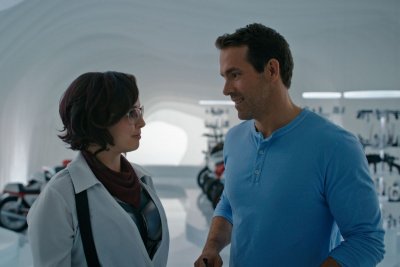 At the end of the movie, Guy has become fully cognizant thanks to Millie and Keys' code, which has helped the NPCs to become self-aware.
He knows he is not technically real, and despite a reboot of the servers and an existential crisis, he has come to the point where he needs to truly put his nice-guy personality into action for the sake of his fellow NPCs.
Millie's character Molotov Girl tells him the proof of their work can be found at the edge of Free City, hidden by water.
Antwan (Taika Waititi) was too lazy to hide the fact he stole their work, as snippets of their efforts can be seen in reflections all around the city.
Keys, from inside Antwan's office, sneakily creates a bridge which Guy and Molotov Girl can use to run through the water on the edge of the city to find their work in the shape of a waterfall.
However, Antwan has his minions try and fight them, first by removing the players, including Molotov Girl, then by introducing a muscular version of Guy (also played by Ryan Reynolds and Aaron Reed) called Dude to try and beat him into submission.
Guy distracts him and runs, while in the real world Keys has set the footage on a livestream so the world can see their work.
Antwan will not accept defeat, however, and goes to axe the servers so no-one can see the truth.
As Guy runs to the waterfall in the real game, Millie manages to stop Antwan from destroying their work and the waterfalls are revealed to the world.
The film ends with Millie and Keys working on their own game, a utopia in which NPCs live as real people and players can watch and interact with them in a friendly manner.
Guy connects with his best friend Buddy (Lil Rel Howery) before revealing to Molotov why he was able to come to life: because he met Molotov Girl, a version of Millie.
It becomes clear whoever made Guy only comes alive when he is with Millie as well, revealing Keys' true feelings.
While the storyline may seem complete, the new world of the video game has only really just begun, and anything from a hacker to another video game magnate could provide fodder for another story if the makers were so minded.
At the moment, however, fans will have to be content with Free Guy as it is, before thinking of franchises.
Free Guy is in movie theaters on August 13