'Free Guy' Video Game: Is It A Real Game?
Free Guy is a movie set largely inside a video game, called Free City. The game is similar to many you have seen before, where players must take part in missions from robbing a bank to punching a non-player character (NPC) in the face for seemingly no reason whatsoever.
However, the story of this video game centers around Guy (played by Ryan Reynolds) who suddenly realizes perhaps he does not want to be kicked in the face or told what to do all the time by the players (known in the movie as the Sunglass People.)
His adventure captures the hearts of many players, and allows those in the real world to get closer to the truth about the origins of the game and its creators Millie and Keys (Jodie Comer and Joe Keery.)
The game shares many elements with some classic online favorites. But is it real?
Is Free Guy Based On A Real Game?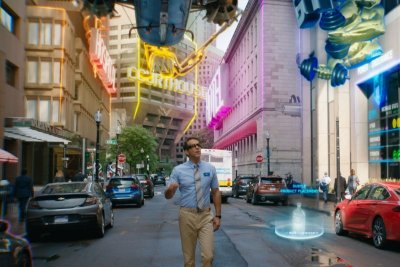 Free Guy itself is not a real game, even within the film as it is known as Free City.
However, one game which co-writer Matt Liebermann has mentioned is Grand Theft Auto as being an inspiration for the game.
Having said this, the true game on which Free City is built had a more utopian feel, unlike many games out there.
He told The Hollywood Reporter: "I thought of the movie as just like, 'What if you got the cheat codes to life?'
"What if you could like walk around and suddenly see power-ups wherever you go and they give you magic abilities or money or wish-fulfillment—and sort of backed into it that way."
He said his game, a game where you enjoy living life rather than trying to ruin other's lives, came from feeling a "karmic weirdness that just never felt right" after beating up NPCs in games like Grand Theft Auto.
The movie's director Shawn Levy agreed with his colleague Liebermann in finding the wish-fulfilment aspects of the film rewarding in its own way, and unlike other superheroes.
He wanted the film to be "less violent" and nihilistic than fans would have been expecting, saying: "I feel like I have always been a casual gamer, not hardcore, but what I always loved about gaming is the aspiration.
"You get to choose the avatar that you wish you were and you get to do things physically that we can't do in real life."
While this is part of the inspiration for the games which exist within Free Guy, the movie itself is more than a video game, according to the film's star.
Reynolds told the BBC: "It's interesting to me. "Everybody says 'it's a movie based on a video game'. I really don't think Free Guy is a video game movie.
"That's like saying Titanic is a movie about boatmanship. It's a movie about so much more. But I loved the narrow target we had to hit to create a world which felt authentic to gamers, and then still smuggle this other story into that."
The Plot of Free Guy
ATTENTION: Ahead are some mild spoilers for Free Guy.
Free Guy has two plotlines which are very much linked, with one taking place outside of the game.
In this story, Millie (Jodie Comer) is playing the game Free City over and over to try and find something particular in the game.
She believes this will prove how major video game entrepreneur Antwan (Taika Waititi) stole code created by her and her friend Keys (Joe Keery) on which he based his game.
This would be illegal, and she needs to find out the truth.
Meanwhile, in the game itself, Guy (Reynolds) is an ordinary bank teller who notices people in sunglasses are often a bit unkind to the regular people in the city.
After spotting Molotov Girl (Millie's character) he decides he wants to know more about life, nabbing some sunglasses and trying to prove how you can win points by being a regular nice person, rather than through stealing and being violent to the NPCs.
Soon, their two paths collide and it turns out they can work together to save Free City.
Free Guy is in movie theaters on August 13.