Häagen-Dazs Free Cone Day: This Is How You Can Get Free Ice Cream Today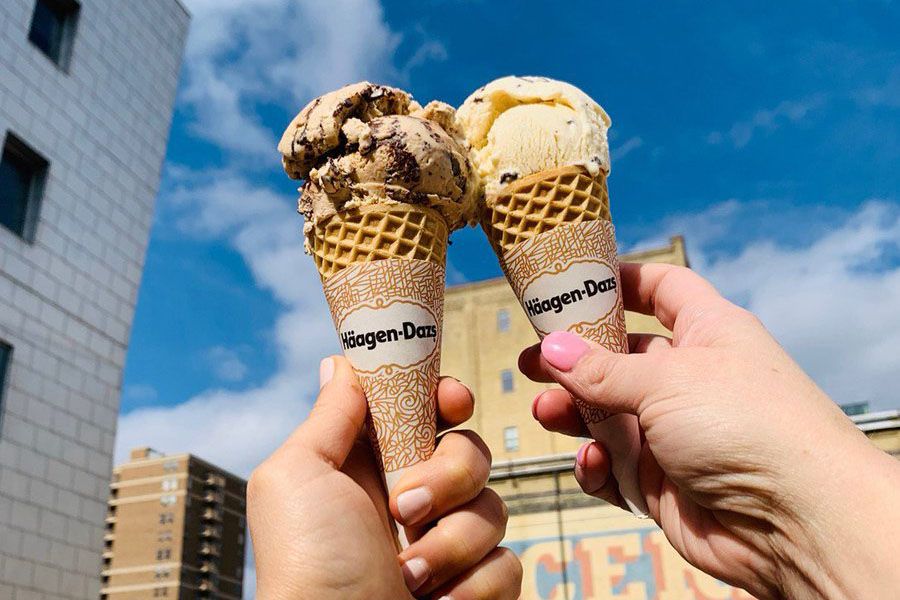 Häagen-Dazs' Free Cone Day is back today (May 14). Available at participating stores from 4:00 p.m. to 8:00 p.m., the day is dedicated to honey bees, which in recent years have seen their populations disappearing.
This year, the company is offering customers the chance to get their hands on another free cone through its new loyalty program, "Häagen-Dazs Sweet Rewards!," Americans can download the app and receive another free mini cone or cup after their first purchase.
For more than 50 years, Häagen-Dazs has been selling ice cream. It was founded by Reuben Mattus who wanted to change the industry for the better; at the time others were pumping ice cream with air. He started off with just three flavors.
It wasn't until 1966 that the company launched its strawberry flavor. It took Mattus six years to perfect the flavor, searching for the right "red berries" for the ice cream. Then, Mattus' daughter Doris opened the first shop in Brooklyn Heights, which is still standing today.
Häagen-Dazs has been supporting honey bees through its Häagen-Dazs Loves Honey Bees initiative. To date, it has donated more than $1 million to education and research. According to the company, honey bees contribute to making ice cream flavors such as rocky road, mango and strawberry. If the populations vanish, so will the flavors.
The company created a VR film, The Extraordinary Honey Bee, which follows honey bees and shows audiences how they contribute and how important it is that the world saves them. The footage was shot in Chowchilla, California, at the orchard where the Häagen-Dazs® sources its almonds.
The company has also started phasing GMO ingredients out of its products. Today these flavors—vanilla, vanilla bean, strawberry, rum raisin, chocolate chocolate chip, pineapple coconut, coffee, chocolate, and chocolate peanut butter— do not include GMO, according to the company.
Customers can also buy non-diary flavors such as chocolate salted fudge truffle, mango, raspberry and strawberry sorbet. The website also had a section dedicated to recipes, ranging from products such as Flourless Chocolate Cake and Peppermint Bark Bombe.
You can find your local store by using the locator on the Häagen-Dazs website.