Free Press Takes on Trump: The Best Lines From Editorials in Response to 'Enemy of the People' Attack
President Donald Trump has repeatedly attacked the media during his time in the Oval Office, calling the free press "the enemy of the people." On Thursday, the media fought back.
Over 300 news organizations across the country participated in writing editorials defending the role of the free press and condemning Trump's ongoing assault on journalism. In a column entitled "A Free Press Needs You" the New York Times editorial board wrote: "News reporters and editors are human, and make mistakes. Correcting them is core to our job. But insisting that truths you don't like are 'fake news' is dangerous to the lifeblood of democracy. And calling journalists the 'enemy of the people' is dangerous, period."
Here's what else newsrooms across America had to say.
On Donald Trump's Toxicity:
"In such a toxic environment, Trump's declarations undermine not just journalists and news organizations but the communities and democracy we endeavor to serve. It is an attempt to blur the difference between fact-based news gathering, and the lies and propaganda that spread like wildfire through social media. Ultimately, engaged citizens must play the vital role in distinguishing one from the other as they choose their elected leaders and shape civic life."
"Just as he has made enemies of women, Muslims, Latinos, and African-Americans, Trump has calculated that it is to his political advantage to isolate skeptics in the press and declare them 'enemies of the people.' At a campaign rally in Grand Rapids, Michigan, in December 2015, he sarcastically set his limits where his view of the press was concerned. 'I would never kill them, but I do hate them,' he said. 'And some of them are such lying, disgusting people.'"
"Even when Trump's term ends, the effect of his rhetoric is a stain that has bled through onto these hardworking people and will be difficult to scrub away."
"It is not the role of news reporters to abandon objectivity and respond in kind when they are attacked. But it is imperative for those of us who value the First Amendment to point out that this type of rhetoric puts at risk journalists—and democracy itself."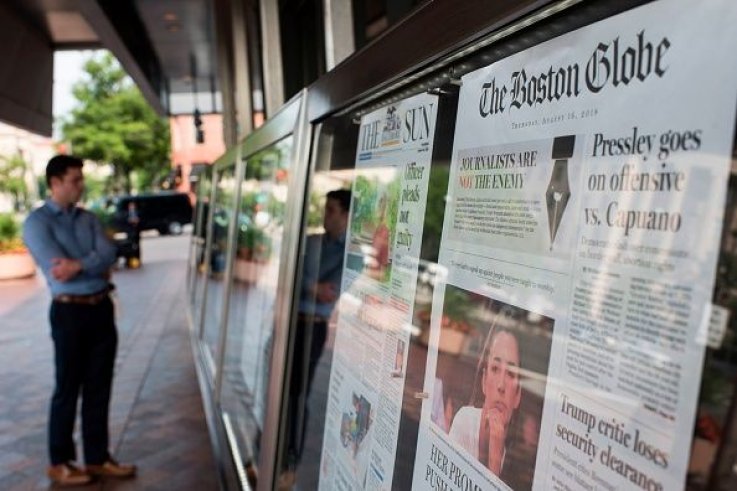 On The Media's Mistakes:
"Yes, members of the press sometimes get facts wrong. When they do, they are held accountable by their news organizations as well as others in the industry, and far more often than not, the error is acknowledged in the form of a timely correction. The same cannot be said about this president."
"He's right—errors of omission do occur. Sometimes there's simply not space to print all the news or time to get all the reporting done. And yes, sometimes stories or facts are bypassed due to the natural bias that everyone carries with them. Journalists are fallible, but the reporters and editors who work to bring you your news are not conspiring to misinform."
"If the president sees inaccurate reporting, he should and has the right to call it out and draw attention to the facts. We won't pretend that every story that has appeared in all of the various outlets that cover the presidency has been without fault. But we also won't pretend that there isn't a larger issue at stake here involving a free inquiry by a free press that gets to the very foundation of our republic."
On the Importance of a Free Press:
"We all—as citizens—have a stake in this fight, and the battle lines seem pretty clear. If one first comes successfully for the press as an 'enemy of the American People,' what stops someone from coming next for your friends? Your family? Or you?"
"'The liberty of the press is essential to the security of freedom,' wrote John Adams. For more than two centuries, this foundational American principle has protected journalists at home and served as a model for free nations abroad. Today it is under serious threat. And it sends an alarming signal to despots from Ankara to Moscow, Beijing to Baghdad, that journalists can be treated as a domestic enemy."
"The Constitution doesn't call journalists enemies or divide Americans into us and them. Distrust is not easy to dismantle. But journalists at The San Diego Union-Tribune and nationwide will keep advocating for a free and fair press. With this president. And the next. And the next. And the next. And all who follow."
Free Press Takes on Trump: The Best Lines From Editorials in Response to 'Enemy of the People' Attack | U.S.