Free Rodney Reed Petition Nears 3 Million Signatures As Scheduled Execution of Death Row Inmate Approaches
The scheduled November 20 execution date for Rodney Reed, a death row inmate charged with murder, has spurred the creation of a petition asking the governor of Texas to free him, which has accrued nearly 3 million signatures.
The petition concerns Reed, 51, a Texas man charged with the 1996 rape and murder of a woman named Stacey Stites who was then 19. The two were in a consensual relationship at the time, although Stites was engaged. He was arrested for her murder in 1997, and has been on death row since 1998. His conviction was largely based on the fact that DNA evidence matched a "small amount" of sperm found in Stites's body to Reed, according to the petition page. Nevertheless, Reed's supporters say that he is innocent of the crime, and they allege that the Reed was not given a fair trial and that the sentence was racially charged.
"On November 20th, Texas is scheduled to execute an innocent man for a rape and murder he did not commit," the petition reads. "Mountains of evidence exonerates Rodney Reed. All of that evidence was kept from the all white jury that convicted him. Instead, the evidence implicates the victim's fiancé—local police officer Jimmy Fennell—who has a history of violence against women, including being convicted for kidnapping and sexual assault soon after Rodney was wrongly sent to prison."
The petition concludes with a call to action, saying that a "huge public uproar" could force the government to stay Reed's execution.
According to the Innocence Project, a nonprofit with the goal of exonerating wrongfully convicted death row inmates that has taken up Reed's case, there are several reasons why Reed should not be executed this coming Wednesday.
For example, the Innocence Project holds that Reed's sentencing was "racially charged." Reed is black, Stites was white, and the jury that convicted Reed of the murder was composed entirely of white people.
Further, the Innocence Project stated that Fennell, was himself imprisoned for kidnapping and sex crimes, and he has already admitted to the murder.
"On October 29, 2019 Arthur Snow, a former member of the Aryan Brotherhood and prison mate of Jimmy, disclosed a conversation in which Jimmy confessed to murdering Stacey Stites," the Innocence Project staff wrote. Snow alleges that Fennell confided to him that he "'had to kill [his] n*****-loving fiancée.'"
Besides that, the weapon used for the murder has never been DNA tested, and three forensic experts who testified at Reed's original trial have admitted that they made errors in their testimonies.
The Innocence Project links to the petition to stop Reed's execution, and it also has also created an interactive web feature about the case.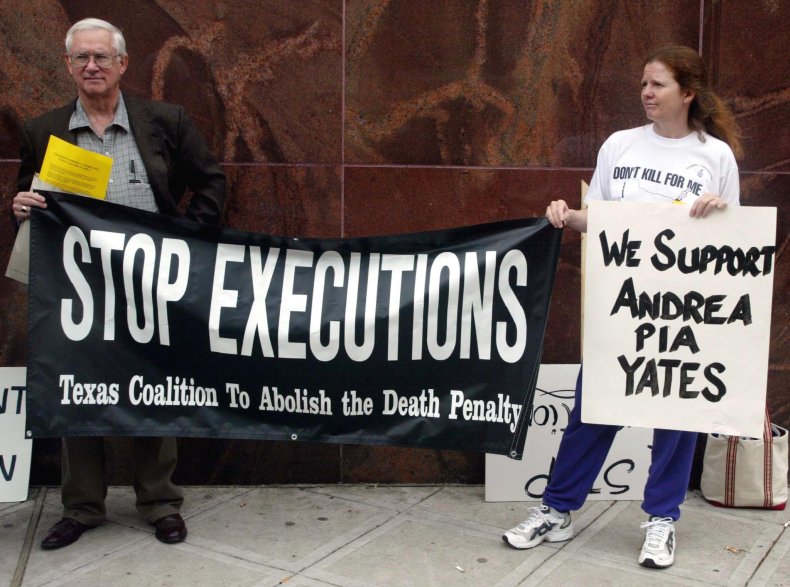 The case has attracted attention from national media, including The New York Times and The Washington Post. Kim Kardashian West has taken up the cause of exonerating Reed and urged Texas Governor Greg Abbot to exonerate him.
Television host and psychologist Phil McGraw featured Reed's case on an episode of his show, Dr. Phil, that included interviews with families involved with the case and Reed himself.
"I am absolutely innocent of this case," Reed said at the conclusion of his interview with McGraw. "I absolutely had nothing to do with Stacey's death. I want to be a father to my kids. I want to be a grandfather to my grandchildren.… I want to be a part of my family and my friends' lives."
Following the interview, the live studio audience on the episode of the show dealing with Reed's case voted in a poll on whether they believed Reed was guilty or not guilty. Ninety-nine percent voted "not guilty."
"I don't think it's a question of whether he's guilty or not guilty," McGraw said on his show after his one-on-one interview with Reed. "I think the question is: Has he had a fair trial with a full airing of all of the evidence? And I think the answer to that question, in my opinion, is not just no, but hell no."