'Free Solo' Star Alex Honnold Mourns Death of Brad Gobright After Climber Falls at Sendero Luminoso: 'So Crushing'
Rock climbers across the world have paid tribute to Brad Gobright after the renowned American free solo climber fell to his death on Wednesday.
The 31-year-old California native was descending a cliff face in northern Mexico before coming loose and falling roughly 1,000 feet to his death, authorities said.
He was described as "one of the most accomplished free solo climbers in the world" by Rock and Ice magazine and a number of companions in the sport have since shared heartfelt messages in memory of the man.
Among them was Alex Honnold, a leading free climber who features in the Oscar-winning documentary Free Solo. He described Gobright as a "gem of a man."
"[Gobright] was such a warm, kind soul—one of a handful of partners that I always loved spending a day with," Honnold wrote on Instagram.
"I suppose there's something to be said about being safe out there and the inherent risks in climbing but I don't really care about that right now. I'm just sad for Brad and his family. And for all of us who were so positively affected by his life. So crushing.
"Brad was a real gem of a man. For all his strengths and weaknesses (like his insanely strong fingers, or living out of a Honda Civic...) at the core he was just a good guy. I guess there's nothing really to say. I'm sad. The climbing world lost a true light. Rest in peace."
Among Gobright's many accomplishments, one of his most renowned was his setting of a speed record for climbing The Nose on El Capitan in Yosemite national park in California in 2017.
His death came after completing a two-day climb on the El Potrero Chico peak near the northern Mexican city of Monterrey.
He was abseiling a cliff face known as the Sendero Luminoso alongside fellow climber Aidan Jacobson, 26, before an unknown accident occurred.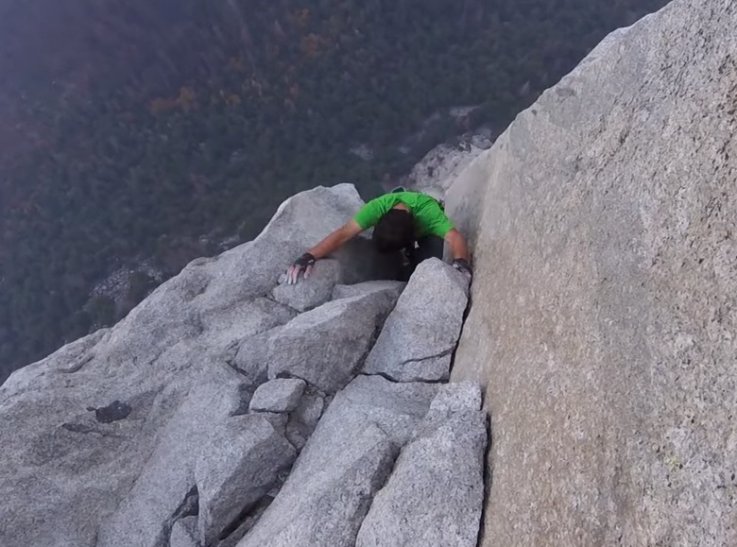 Brad Gobright pictured climbing the El Capitan in Yosemite national park in California in 2016.
Screengrab
The pair had been using a technique known as "simul-rappelling" to descend the face—a method where the weight of the two climbers is counterbalanced by each other as they descend from a central point.
Jacobson told Outside website that he "felt a pop," before the two started dropping. Jacobson crashed through a bush that cushioned his fall, but Gobright fell down along the naked rockface.
"It was basically a blur," Jacobson said. "He screamed. I screamed. I went through some vegetation, and then all I remember is seeing his blue Gramicci shirt bounce over the edge."
Others who paid tribute to Gobright included Alice Hafer, one of his former climbing partners, and Conrad Aker, who led The North Face climbing team for 26 years until 2018.
"He was an amazing person—more driven and psyched than anyone I've ever known," Hafer wrote on Instagram.
"He had a magic about him on the rock, unlike anyone I've ever met. He was so supportive and encouraging, always pushing me harder and believing in me.
"I can't believe that not even a few weeks ago he was sitting next to me as we drove home from Arizona. I'll cherish those moments always."