A neighborhood is baffled as free Uber Eats deliveries keep arriving at a house, with residents forced to put up a sign asking drivers not to drop off food.
While free snacks may sound like a dream, for one house the constant deliveries are proving something of a mystery, seeing them resort to handing out takeaways to their neighbors.
A nearby resident shared a snap of the home-made sign outside the house to Reddit on Tuesday, under user name u/RC123TheyCallMe, where it's already amassed more than 55,000 upvotes.
"To get Uber Eats to stop delivering unordered food," the dad captioned it.
The snap reveals a large blue sign attached to a string tied between the banisters of the stairs leading up to the front door.
It says: "Uber Eats stop delivering here! We are not ordering food."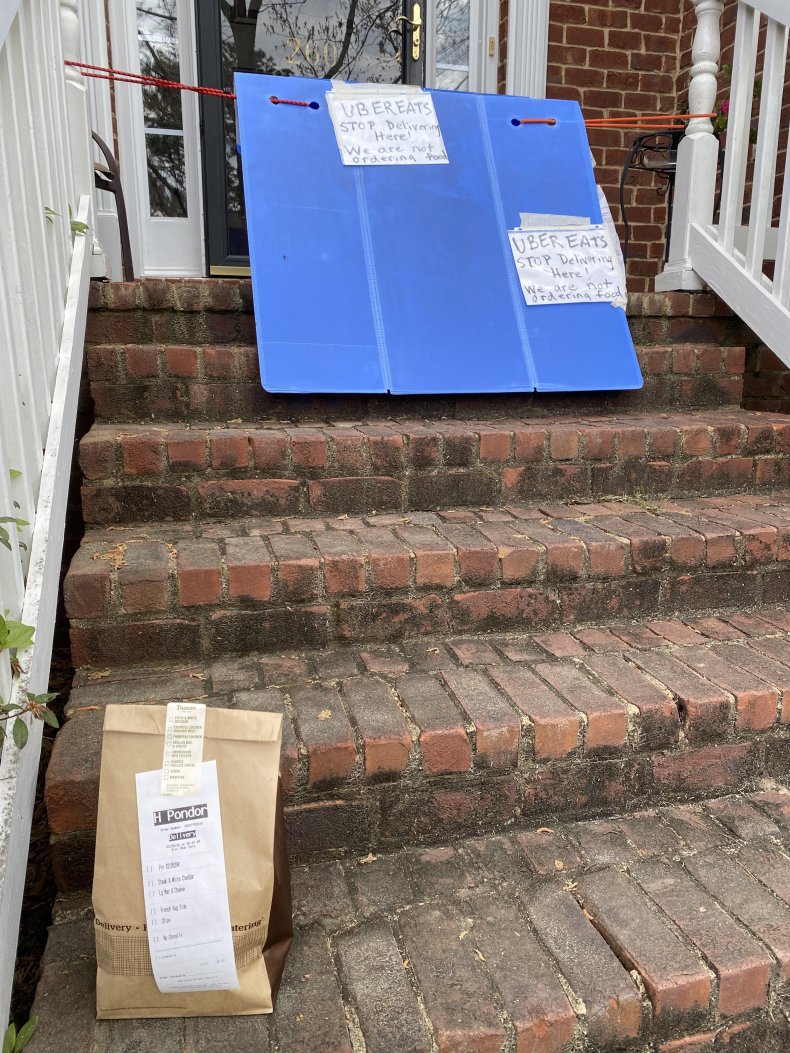 Although the sign doesn't seem to be doing its job, as a bag of food has been placed at the bottom of the steps.
The receipt revealed a steak and white cheddar sandwich, large mac and cheese and chips from Panera had been sent over.
In the comments, the dad revealed their neighbors couldn't eat the food as they were vegan, and had no clue who was sending it, adding there was speculation the resident was "being harassed in an elaborate way".
He said "it's a mystery," adding: "They just keep delivering food to my neighbor's house. Over a week now..."
"My neighbors have used social media to let the neighborhood know there's free food. It just keeps coming..." They claimed the recipient has been walking around handing food out to the neighborhood as the deliveries piled up.
And responding to whether they have a common address, he revealed: "It's actually a lengthy and unique street name."
RC123TheyCallMe, in South Carolina, told Newsweek: "My neighbors are vegan and all these deliveries are for meats and cheeses they cannot eat. It's a very weird problem to have."
They claimed the food has been coming from small local restaurants as well as big chains, including McDonald's and Arby's—and addressed to someone new each time.
The parent said: "One day last week our neighbors rang my doorbell and gave my daughter one of the orders from McDonald's with 90 chicken nuggets, plus one Quarter Pounder meal with a Hi-C drink.
"On Monday of last week I saw three separate Uber Eats drivers drop off large orders from three separate restaurants for three separate customer names all within a few minutes of each other. The orders have come mostly during the day around meal times steadily since early last week.
"Again, my neighbors are vegan and all deliveries have meat and cheeses—they can't eat what's being delivered. Kind of creepy actually."
He added it's "pricey," saying: "Some Redditors speculate it's financed with stolen credit card numbers. My neighbors said they will be contacting the police."
Fellow Redditors were equally baffled by the random deliveries, as they debated the harassment theory, cited an elaborate prank and even someone unknowingly ordering food to the wrong address as potential explanations.
Xentralesque thought: "That's a fairly strange problem to have, but I think I'd just eat it or post it to a local 'free stuff' group."
Walterach thought: "Jim Halpert level of prankstery."
RevengencerAlf asked: "I'm curious who gets dinged when the person who ordered the food gets a refund for not getting it."
NedTheInbredMule reckoned: "Maybe I'm just paranoid, but I'd be super suspicious of free food left at my door."
Juxtap0s advised: "Oh man just find the next homeless person you see and start handing it out."
RobertAPetersen pointed out: "With Door Dash the food is paid for before delivery tho. If someone's harassing them they're losing money doing it."
Bobbyqribs thought: "Yeah, I'm confused by this tactic.... I'll go answer the door for free food."
Jinksy93 pointed out: "Expensive way of harassing someone."
TheTrueFlexKavana wrote: "It's going to be hilarious if you check your credit card statement only to realize your kid has been ordering food on your card unbeknownst to you."
While someone else claimed a similar incident had happened before, with iThinkergoiMac saying: "I've heard about this as a form of harassment. It's really hard to stop, which is why it's effective. You just keep sending delivery after delivery, and the recipient just gets interrupted all the time.
"Specifically, I heard about this on the Darknet Diaries podcast, where someone had an IG username someone else wanted. They tried to buy it, but the owner didn't want to give it up. Sending the owner's parents constant pizza deliveries over the course of months finally did it. It sounds funny, but it's super annoying in reality. No idea if that's what's happening here, though."
It's episode 97 of the podcast, released last year, and called The Pizza Problem. A man revealed people were so desperate for his social media handles, @JW, they persistently sent pizzas to his family, among other methods.
And Thekmanpwnudwn pointed out: "This tactic worked pre-food app times. When the pizza/Chinese places hired their own delivery drivers and you paid in cash when it reached your house.
"This put you in the predicament of either paying for food you didn't want, or turning it away and eventually being blacklisted by all the delivery options in your area."
Uber Eats is a popular food delivery service available in 6,000 cities, with website Business of Apps claiming it generated $4.8 billion in revenue in 2020.
Internationally it's the most popular food delivery app, with 66 million users, and it controls 29 per cent of the global food delivery market.
Newsweek reached out to Uber Eats and the South Carolina State Law Enforcement Division for comment.