Freed Al Jazeera Journalist Feels 'Incredible Angst' for Colleagues Left Behind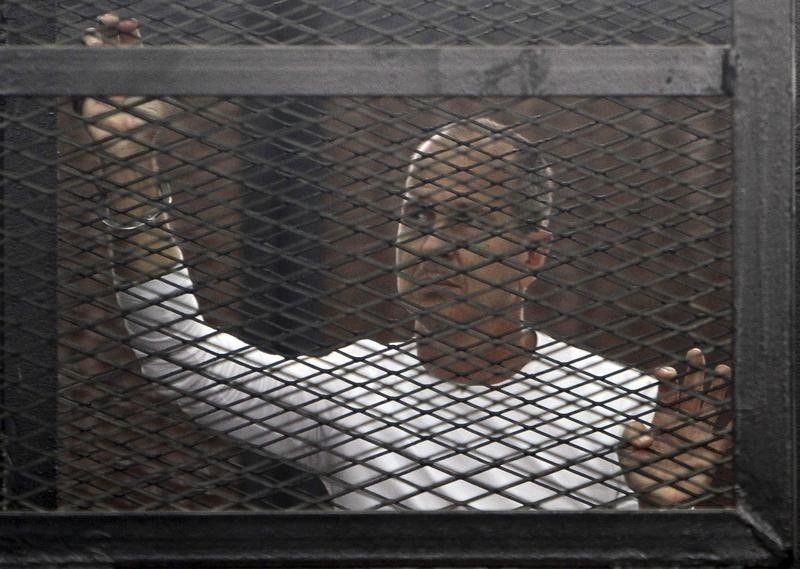 DOHA (Reuters) - Al Jazeera journalist Peter Greste said on Monday it was a great relief to be freed from prison in Egypt, but that he felt "incredible angst" about leaving two colleagues behind in prison.
Greste was released on Sunday after 400 days in a Cairo jail. He had been sentenced to seven years on charges that included aiding a terrorist group, security officials said.
"This (release) has been like a rebirth," he said in an interview on Al Jazeera, his first public remarks since he was freed. He is in Cyprus for a few days until he travels home to Australia.
Mohamed Fahmy, a Canadian-Egyptian, and Baher Mohamed, an Egyptian national, remain in prison. They were jailed for between seven and 10 years on charges including spreading lies to help a terrorist organisation - a reference to the now outlawed Muslim Brotherhood.
Egyptian authorities accuse Qatar-based Al Jazeera of being a mouthpiece of the Muslim Brotherhood, the Qatar-backed movement which President Abdel Fattah al-Sisi toppled in 2013 when he was Egypt's army chief.
An Egyptian court sentenced 183 Muslim Brotherhood supporters to death on Monday on charges of killing police officers, part of a sustained crackdown by authorities on Islamists.
MORE RELEASES SOUGHT
United Nations Secretary-General Ban Ki-moon welcomed Greste's release and hopes that the cases of Fahmy and Mohamed "will also be resolved shortly," U.N. spokesman Stephane Dujarric told reporters on Monday.
"The secretary-general again underscores the importance of safeguarding freedom of speech and association in Egypt," Dujarric said.
Egypt's Interior Ministry said on its Facebook page that Sisi released Greste under a decree issued in November authorising him to approve the deportation of foreign prisoners.
Greste said if it was appropriate for him to be free, it was right for his two colleagues to be free, adding that he had only found out about his release order an hour before he was allowed to leave prison.
"I wasn't expecting it at all … I can't tell you the real sense of that mix of emotion, between a real sense of relief and excitement, and also real stress in having to say goodbye to my colleagues," said Greste, who described the two men as "family".
He called for the release Fahmy and Mohamed, who Greste said had suffered the most in prison because he had missed the birth of his child. A security source said on Sunday that Fahmy was expected to be released and deported to Canada within days.
"For Egypt, this has been a big step forward, I hope Egypt keeps going down this path and releases the others," he said.
Asked what he would most like to do now, Greste said: "Watching a few sunsets. I haven't seen one of those at all for a very long time. Watching the stars, feeling the sand under my toes. The little things."
"You realise it is those little beautiful moments of life that are really precious, and spending time with my family of course. That's what's important, not the big issues."