Canadian authorities have begun seizing donations made to the Freedom Convoy protesters but are facing difficulty with a particular kind: cryptocurrency.
The right-wing Freedom Convoy protests against COVID mandates, among other things, were brought to an end roughly a month ago. The Canadian government assembled a task force to hunt down the crypto donations, composed of agents from the Ottawa Police Service (OPS), Ontario Provincial Police (OPP) and the Royal Canadian Mounted Police (RCMP). So far, however, the task force has managed to confiscate only about 30 percent of the bitcoin donations, according to Crypto Slate.
Roughly 20.7 bitcoins were donated to the protests, worth just shy of $885,000 U.S., using the exchange rate as of Tuesday morning. The task force had, as of March 18, seized only 5.96405398 bitcoins from the organizers, according to CBC News, or just under $255,000 U.S.
In February, a Canadian judge ordered that the digital wallets holding the crypto donations to the convoy be frozen. At least one wallet provider, Nunchuk, refused to do so, citing the software's inability to handle such a task and the decentralized, anonymous nature of cryptocurrency.
"We do not hold any keys," the company tweeted on February 19. "Therefore, we cannot freeze our users' assets. We cannot prevent them from being moved. We do not have knowledge of the existence, nature, value, and location of our users' assets. This is by design."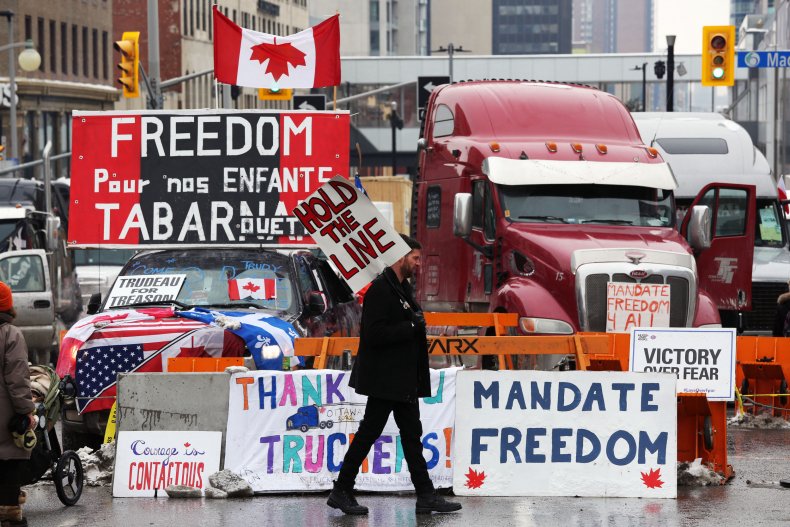 Monique Jilesen, an attorney working a class-action lawsuit against the Freedom Convoy, told the CBC that the unseized cryptocurrency had been moved around various wallets and ultimately split up and distributed to hundreds of other digital wallets. For now, it is unknown who the wallets belong to and what the funds are being used for.
"I presume, although I don't know, in part that was done in order to distribute the wallets," Jilesen said. "They've taken one big wallet, moved it into hundreds of smaller wallets, and then they hand the passwords to that smaller wallet to the ultimate recipient."
While declining to officially acknowledge the task force to the CBC, the RCMP did provide a statement saying that the task force has the authority to seize digital currency.
"As part of its capabilities and plans to tackle crypto crime and track crime-related transactions, the RCMP generally uses a variety of police procedures, as well as collaborating with applicable law enforcement partners," the statement said.
Newsweek reached out to the Ontario Provincial Police for comment.