Freedom Convoy Organizer Resigns From Party That Denied Protest Involvement
Tamara Lich, one of the Freedom Convoy organizers, has resigned from her position in the Alberta-based Maverick Party—a federal political party formerly known as "Wexit Canada" that pushes for the independence of Canada's western provinces.
Last week, in its first statement claiming success for the protest held in Ottawa, the party announced it had accepted Lich's resignation "with regret," citing her commitment to remain at the nation's capital "until all [COVID] restrictions are lifted."
The Maverick Party told Newsweek that it has "no role in the Freedom Convoy." The group had also previously denied any direct involvement in demonstrations.
"Tamara resigned from the Maverick Party board to focus on the Freedom Convoy. From what we understand, she has no plans to return until restrictions are lifted, therefore unable to contribute to the Board," the party told Newsweek.
"Tamara is one of the original members of the Maverick Party Governing Council, has been an integral part of our success, and we thank her for her tremendous contribution," Maverick Party President Val Meredith said in a February 2 press release.
Lich, a former fitness instructor and Saskatchewan native, has been described by protest leaders as "the spark that lit the fire" of the demonstrations that have taken over Ottawa's downtown core over the last 12 days and continue to have a prominent presence that has left officials and locals scrambling to contain.
She was listed as the organizer behind the controversial GoFundMe page that was frozen by the crowdfunding platform as well as one of three defendants in a class-action lawsuit filed by Ottawa residents about the noise disruptions that have echoed through the city since January 28.
She was also involved in the "Yellow Vest" protests and the smaller "United We Roll" truckers' protest convoy of 2019, which both opposed the federal government's energy and environment policies.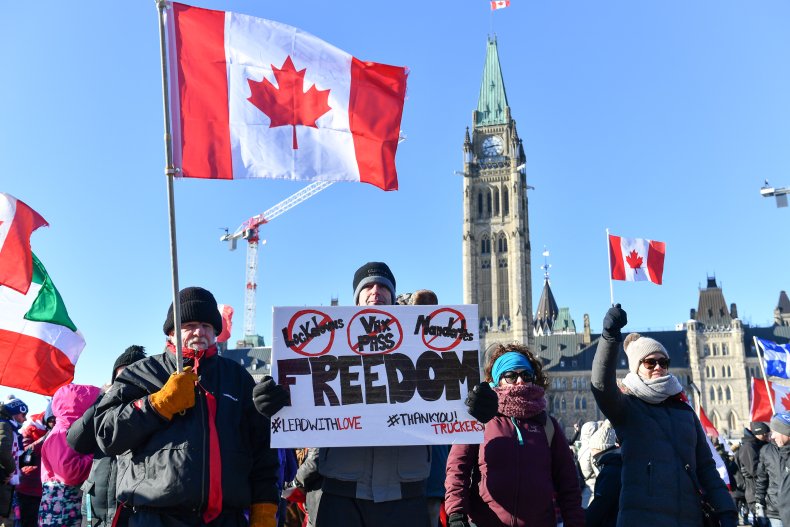 The Maverick Party initially formed in early 2020 as a response to the Wexit movement that emerged shortly after Canada's 2019 federal election, in which Prime Minister Justin Trudeau was re-elected.
"Maverick strives to achieve greater fairness and self-determination for western Canadians through constitutional change, or the creation of an independent nation," the party states on its website.
On February 2, the Maverick Party's interim leader, Jay Hill said, "The trucker's convoy deserves credit for advancing the need for greater freedom for all Canadians and restoring our economy and jobs lost during the past 24 months."
"Over the past two years the Maverick Party has remained steadfast in our support of freedom, and opposition to mandates that pit Canadians against one another," Hill said.
However, before the convoy of truck drivers protesting the federal vaccine mandate for cross-border truckers arrive in Ottawa, the Maverick Party had released a statement saying that while some of its members have chosen to support the convoy, it was "not directly involved."
"Maverick does not support anti-vaccination but does support freedom-of-choice and a citizen's right to decide what they do with their own bodies," the party said in a January 24 statement.
"Like the majority of Canadians, most Maverick members have chosen to be vaccinated, some have not. Our party will not condemn either for their choice," the statement read. "People with close ties to the Liberal Party have attacked the Maverick Party as being, 'white supremist [sic], separatists'. We condemn all level of racism and extremism."
Over the course of the 12 days of protest, some participants have been seen waving Nazi flags and carrying signs featuring swastikas and other hate symbols.
Trudeau has denounced those protest behaviors, saying, "Canadians were shocked and—frankly—disgusted by the behavior displayed by some people protesting in our nation's capital" after the first weekend of demonstrations.
On Monday, the prime minister doubled down on his remarks, saying, "Canadians trust science. A few people shouting and waving swastikas does not define who Canadians are."
In a statement issued Wednesday, the Maverick Party slammed Trudeau for not meeting with Lich or other organizers from the convoy.
"The Prime Minister has shown a blatant disrespect for Canadians in his efforts to sabotage protesters, while Ottawa's Liberal Mayor, Jim Watson, has declared a State of Emergency, implying Ottawa citizens have something to fear," the group said.
Update 02/09/22 11:27 a.m. ET: This story was updated with comments from the Maverick Party.