Worry over a roadway-clogging protest around the SoFi Stadium in Los Angeles first emerged out of a group calling itself the USA Trucker Convoy, which purported to be planning such a demonstration. The potential event gained more traction on social media, according to Reuters, after the possibility was raised in a U.S. Department of Homeland Security memo.
However, a new report from Pyrra Technologies says that the concerns are overstated and that a protest of any significance is unlikely. Based in Washington, DC, Pyrra is a firm that monitors social media traffic. Its study of engagement around the supposed plans of the USA Trucker Convoy, as of Saturday, found little to suggest that the protest would go ahead, let alone have any impact.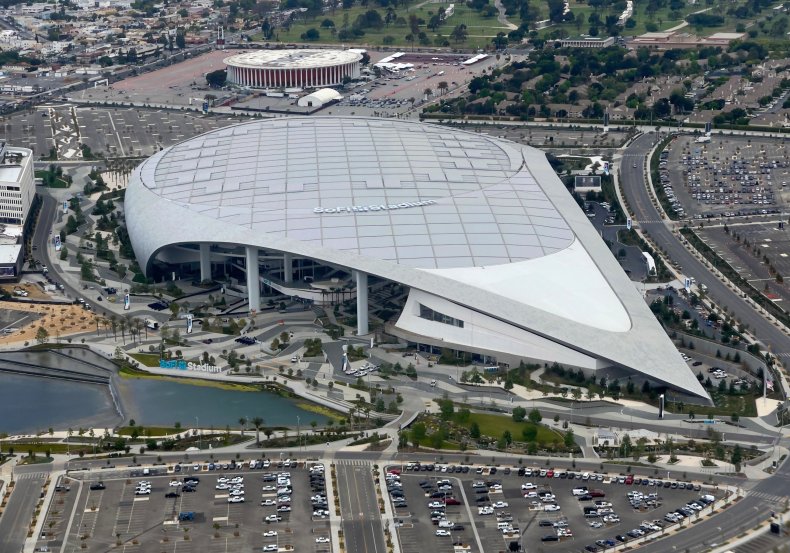 "I think they ran out of time," Dr. Welton Chang, co-founder and CEO of Pyrra Technologies, told Reuters.
Chang noted that, in addition to there being minimal online chatter surrounding the hypothetical protest, there has also been a debate amongst those trying to plan the event as to whether or not the Super Bowl is actually an appropriate target. A consensus, he said, has still not been reached.
In its report, Reuters noted that its own review of social media backed up Pyrra's report and "found little support for a Super Bowl plan." In particular, the outlet found "scant mention" of the Super Bowl idea on TruckersForFreedom, a group on the conservative-leaning platform Telegram that shares news of "Freedom Convoy" protests in Canada and elsewhere.
A different channel on Telegram devoted specifically to a hypothetical Super Bowl protest had only one poll running, asking users if they intended to participate. Of the 8,000 users that responded, "the overwhelming majority" said no, according to Reuters.
The "Freedom Convoy" began in Canada when a sizeable group of truckers blocked roadways in the capital city of Ottawa in protest of the country's vaccine requirements for long-haul truck drivers. The idea quickly gained steam amongst anti-vaccine and general anti-mandate groups worldwide, spurred on flattering coverage from outlets like Fox News.
On Saturday, the Canadian government began cracking down on the protests, particularly along the Ambassador Bridge that connects Windsor, Ontario, to Detroit. Following an order from a judge calling for the protestors to vacate the area, police began dispersing the crowds, using "tactical teams" and snipers positioned on rooftops. Despite fierce words, reporters on the scene noted that most demonstrators left with little resistance.