Freedom Convoy's Demands Become Unclear as U.S. Moves Away From COVID Rules
The U.S. is on the way to loosen COVID rules as the pandemic dwindles down with some states lifting their mask mandates as soon as March, but the American Freedom Convoy is still heading to Washington, D.C. with unclear demands.
The convoy is gearing up for its final protest at D.C. on Saturday as it has picked up several trucks and hundreds of cars from different parts of the country ever since it left California on February 22, according to NBC News.
However, their demands now remain unclear as the U.S. is already relaxing its COVID rules and Canada's Freedom Convoy claimed in a statement on Thursday that it "achieved" what they were protesting for which included demands of ending vaccine mandates among truckers. Some provinces in Canada began dropping some of their COVID mandates, according to CBC.
The American Freedom Convoy was initially established to support the group in Canada and to protest COVID-related mandates in the U.S. Some Telegram groups that planned the rallies nationwide gained thousands of followers, according to NBC News.
"I can tell you now that there will be select trucks going to the White House," said Dan Fitzgerald, one of the rally organizers as he continued to document his trip to D.C., according to the news outlet.
At the moment, the group is reportedly calling for "accountability" without specifying any further details, according to the news outlet. Sara Aniano, a researcher focusing on far-right conspiracy theories and misinformation, said that the lack of clarity around "accountability" raises concerns.
"That could mean financial accountability. It could be physical accountability. It could be legal accountability. Their inability to distinguish what exactly that means is where the concern lies," said Aniano, according to NBC News.
Aniano also noted that supporters of the convoy believe that they are responsible for the loosening of COVID rules in the U.S.
"People should understand that supporters of the convoy believe that recent mandate rollbacks, such as mask mandate restrictions being lifted in many areas, are due to their protests. Notably, some of these lifted restrictions were announced before the [U.S] convoys even started," she wrote Friday afternoon on Twitter.
Though the group currently has unclear demands, they are still gaining traction as "smaller" convoys follow their lead, according to Jared Holt, a resident fellow at the Atlantic Council who is focusing on domestic extremism.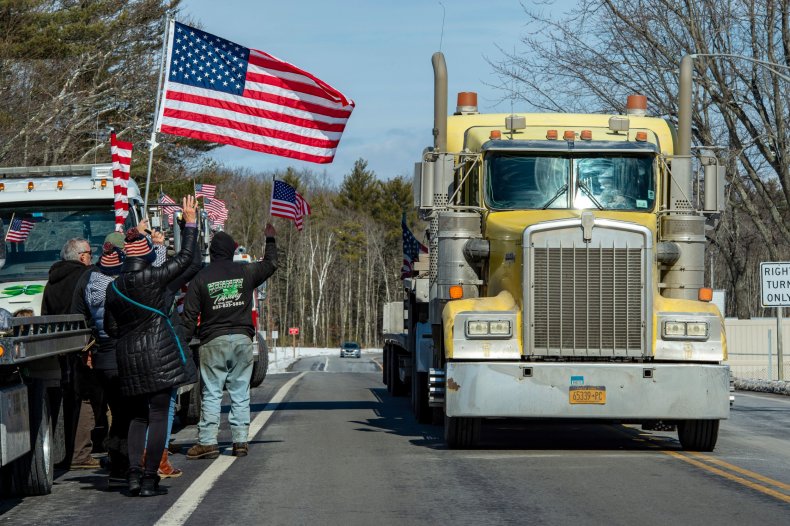 "For this news of the convoy protest heading toward [D.C.] this weekend I would also like to put it out there that there are additional, smaller convoys on its tail. If things [god forbid] go south, the situation could escalate over the week as more people arrive in the DMV area," he warned on Twitter on Friday.
Holt noted that there is no indication that the convoy is planning to be violent this weekend as they rally in D.C., but warned that the situation remains "fluid."
"And a final note to be clear: I haven't seen much to make me think this convoy crowd is plotting violent activity. My point is that this is a fluid situation. [It literally moves.] I'm not crying wolf at this point, but I'm saying maybe don't go take a nap while the sheep are out," he tweeted.
Truckers from all over the country are expected to join the protest in D.C., their final destination to call for lifting all COVID-related mandates in all 50 states, according to their Facebook page.
A similar group called The People's Convoy are joining the rally to "restore our freedoms, our civil liberties and to bring an end to all unconstitutional mandates with legal provisions in place to ensure that this never happens again."
"It is not about political parties but more so about a government that has forgotten their oath to uphold the Constitution of the United States of America as our founding fathers instructions," according to their Facebook page.
Newsweek reached out to the Freedom Convoy USA for comment.