Freedom Foundation Sues Oregon Over Expanding Face Mask Requirements
The Freedom Foundation, a conservative nonprofit legal group, has filed a lawsuit challenging Oregon's Democratic Governor Kate Brown's executive orders requiring all state residents to wear face masks in public.
The organization claims Brown and the Oregon Health Authority should have passed their order through the state legislature rather than the executive branch.
"Governors in left-leaning states all over the country are making up the rules as they go – and ignoring the procedural rules their own state laws set up," said Jason Dudash, the Freedom Foundation's Oregon director in a statement.
The Freedom Foundation filed the lawsuit on behalf of three Oregonians whose "medical conditions, past psychological trauma or strong political beliefs" make them opposed to wearing facial coverings despite the worsening COVID-19 epidemic.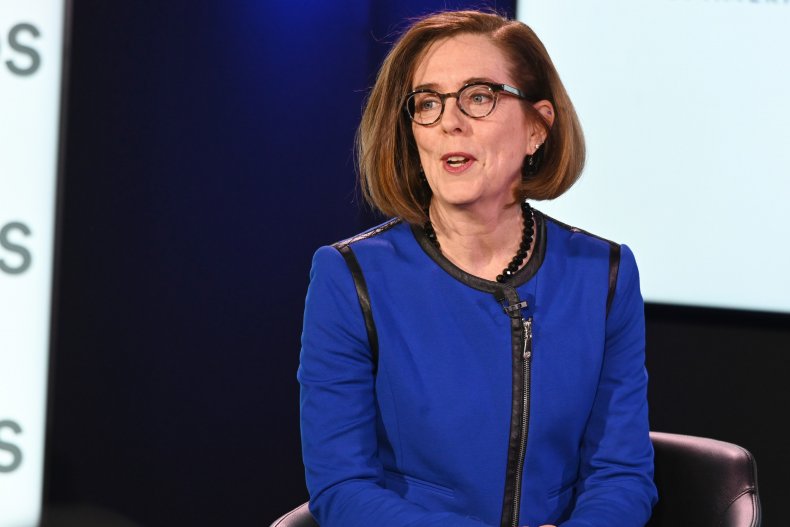 One of the complainants, Chester Mooney, said he doesn't believe masks prevent the spread of the coronavirus—even though the U.S. Centers for Disease Control and Prevention and the American Medical Association have both said that numerous studies affirm this fact. Mooney also says that as an elderly person who has had heart bypass surgery, he believes the mask physically injures him.
Another complainant, Shannan Pozzi, says that as a survivor of domestic abuse who survived an attempted murder by suffocation, she experiences "the fear of being smothered and suffocated again due to someone forcing me to wear a mask," according to court documents.
She adds that she has been denied entry into food stores, restaurants and has been verbally assaulted and followed by others for refusing to wear a mask inside of a supermarket.
The last complainant, Kevin Rubio, said being forced to wear a mask violates his political beliefs.
"I do not want to be forced to express approval for the governor nor wear a mask covering my face and hiding who I am when there is no need for me to contain any virus," Rubio wrote. "I do not have coronavirus."
Brown issued her mask orders for seven state counties on June 24, expanded the order to include public spaces statewide on July 1, included outdoor spaces in the order on July 15 and and required children ages five and older to wear masks on July 24.
"Face coverings save lives," Brown's spokesperson, Charles Boyle, told The Oregonian. "The virus is transmitted through droplets that come from your nose and mouth. Face coverings protect you, your friends, and neighbors from contracting this deadly disease."
While the Freedom Foundation has filed a similar lawsuit in Washington state, it's unclear if it has issued one in Texas or states with Republican governors that have mandatory mask orders.
Newsweek contacted the Freedom Foundation and Brown's office for comment.