Freedom of Speech Under Fire in Ferguson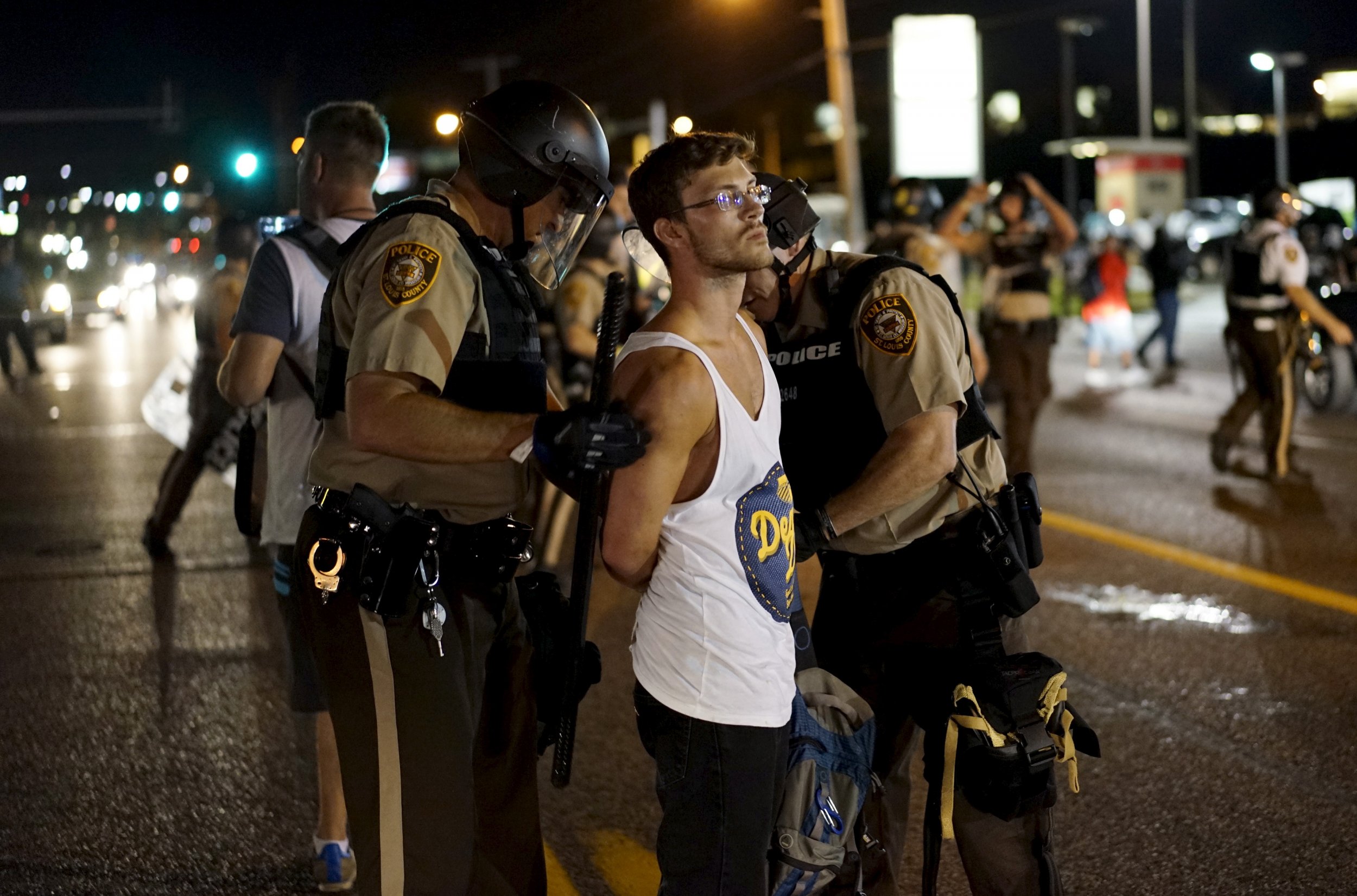 Journalists Wesley Lowery and Ryan Reilly were working at a McDonald's near the site of the Ferguson, Missouri, protests when police entered the restaurant and asked for their press credentials. The officers returned shortly thereafter and ordered them to leave.
Lowery and Reilly attempted to do so, but apparently didn't move fast enough to satisfy the police, who arrested them and, for good measure, allegedly knocked them both around on the way out the door—slamming Lowery into a soda machine and Reilly into the door, according to the reporters' accounts. Lowery was also recording the police officers involved on his mobile phone, and they illegally ordered him to stop.
That was a year ago this week. The story of Lowery and Reilly's arrests was one of the catalysts that pushed the Ferguson protests in the wake of Michael Brown's shooting into the national news and generated widespread criticism of police in the St. Louis area for their aggressive tactics toward protester and reporters attempting to document law enforcement's actions. So when charges were brought this week by St. Louis County against Lowery (The Washington Post) and Reilly (The Huffington Post)—dated August 6, just days short of the statute of limitations expired—nearly everyone involved was caught off guard.
In contrast to official promises to better understand and protect media freedoms during times of protest, the charges are a direct threat to U.S. press freedom. Bringing Lowery and Reilly to court will seriously damage all journalists' ability to report on public demonstrations throughout the country and, in turn, the public's access to reliable information about what is happening at those demonstrations.
The right of the press to gather news is clearly established, both by the U.S. Supreme Court and by international human rights law. Moreover, the right of all citizens to document police activity taking place in public has been recognized by numerous U.S. appellate courts, as well as the Department of Justice.
Despite these clear directives, the police still frequently deny this right to journalists, including citizen journalists. The arrest of Lowery and Reilly was not an isolated occurrence—PEN American Center released a report in October 2014 documenting 52 alleged violations of press freedom by police in Ferguson, including obstruction of the media, arrests of journalists and directly targeting journalists with weapons.
Not just in Ferguson, but in many settings of public protests, journalists have been arrested or assaulted by police, or had access to protests sites blocked, during past Republican and Democratic National Conventions, and at least 90 journalists were arrested in the course of the Occupy Wall Street protests that took place throughout the country in 2011 to 2012. Stories of citizen journalists attempting to record police only to be threatened with arrest or ordered to stop are commonplace.
Last fall, St. Louis–area police seemed to acknowledge they needed to do a better job of respecting journalists' First Amendment rights during protests. Lowery and Reilly were released not long after their arrest, reportedly as soon as an L.A. Times reporter called Ferguson's then-chief of police to tell him two journalists had been arrested. And a St. Louis County police spokesman told PEN in October 2014 that officers were being equipped with laminated cards detailing the rights of the press.
More recently, two other journalists arrested by police during the Ferguson protests—Trey Yingst and Bilgin Şaşmaz—successfully sued St. Louis County with the help of the Missouri American Civil Liberties Union and won a settlement that ensures they will not be charged and the county will assist them in having their arrest records expunged.
Which is why it's all the more astonishing that Lowery and Reilly have now been charged with trespassing and interfering with a police officer. The criminal charges carry potential punishments of up to a year in jail and a fine of $1,000—serious penalties that will require lawyers, time and money to adequately contest. These charges are troubling, not only because of the potential consequences for Lowery and Reilly but also for the severe chilling effect they could have on journalists working to document public demonstrations all over the U.S., especially those who cannot rely on the steadfast support of well-resourced news organizations like The Washington Post and The Huffington Post if they are charged.
What are journalists working for small, overstretched local papers or blogs going to do if they have to defend themselves against charges like this? How many people will hesitate to exercise their First Amendment right to document public protests and police activity, knowing they could end up facing spurious criminal charges?
And what's more—if St. Louis County officials are bold enough to bring such unfounded charges against two national reporters, what kind of charges are they bringing against ordinary protesters and citizen journalists in Ferguson?
Katy Glenn Bass is the deputy director of free expression programs at PEN American Center and co-author of Suppressing Protest: Human Rights Violations in the U.S. Response to Occupy Wall Street.