Freeform '31 Nights of Halloween' Line-Up: All the Classic Movies Coming This October
October is finally here which means Halloween is just around the corner. To celebrate the haunting occasion, Freeform will be hosting "31 Nights of Halloween" which will see an all-month-long line-up of classic and new Halloween films on the channel in the build-up to the scariest night of the year.
Films featuring in the line-up include Ghostbusters, Tim Burton's Corpse Bride, Hotel Transylvania 2, Goosebumps, Shrek, Jaws, and Men in Black II.
Fans will also be able to see The Addams Family, The Simpsons: Treehouse of Horror, Hocus Pocus, The Goonies, and Matilda.
If you do not have access to cable TV, Freeform is available to watch via the streaming services: Hulu + Live TV, Sling TV, Vidgo, fuboTV, DIRECTV Stream, and YouTube TV. You will not want to miss it.
Freeform's 31 Nights of Halloween Line-up in Full.
Friday, October 1
2:30 p.m. EDT/PDT – Casper (1995)
5:00 p.m. EDT/PDT – The Addams Family (1991)
7:00 p.m. EDT/PDT – Addams Family Values
9:00 p.m. EDT/PDT – Hocus Pocus
Saturday, October 2
7:00 a.m. EDT/PDT – The Goonies
9:35 a.m. EDT/PDT – Charlie and the Chocolate Factory
12:15 p.m. EDT/PDT – Casper (1995)
2:45 p.m. EDT/PDT – The Addams Family (1991)
4:50 p.m. EDT/PDT – Addams Family Values
6:55 p.m. EDT/PDT – Monsters, Inc. (Disney and Pixar)
9:00 p.m. EDT/PDT – Monsters University (Disney and Pixar)
11:30 p.m. EDT/PDT – Ghostbusters (1984)
Sunday, October 3
7:00 a.m. EDT/PDT – Tim Burton's Corpse Bride
8:40 a.m. EDT/PDT – Ghostbusters (1984)
11:10 a.m. EDT/PDT – Matilda
1:15 p.m. EDT/PDT – Tim Burton's Corpse Bride
2:55 p.m. EDT/PDT – Tim Burton's The Nightmare Before Christmas
4:35 p.m. EDT/PDT – Hocus Pocus
6:45 p.m. EDT/PDT – Maleficent
8:50 p.m. EDT/PDT – Maleficent: Mistress of Evil – Freeform Premiere
11:30 p.m. EDT/PDT – The Craft (1996)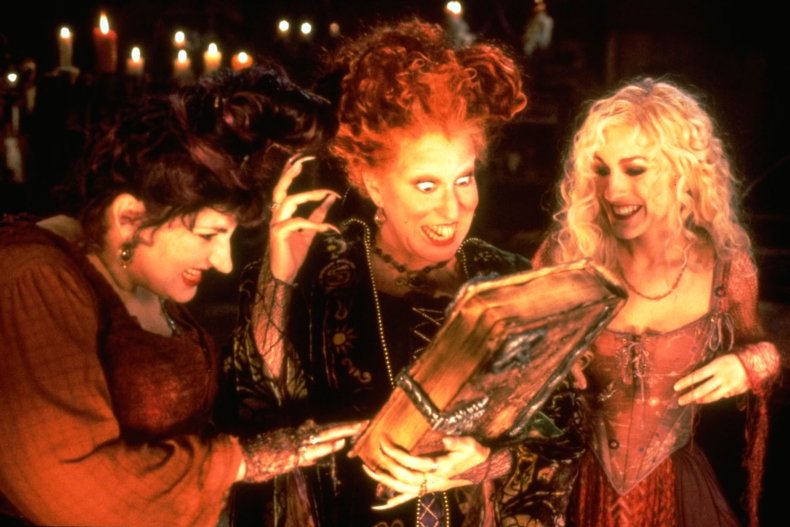 Monday, October 4
12:30 p.m. EDT/PDT – Decorating Disney: Halloween Magic
1:30 p.m. EDT/PDT – The Goonies
4:00 p.m. EDT/PDT – Matilda
6:00 p.m. EDT/PDT – The Craft (1996)
8:30 p.m. EDT/PDT – Fright Night (2011) – Freeform Premiere
12:00 a.m. EDT/PDT – The Simpsons: Treehouse of Horror
Tuesday, October 5
10:30 a.m. EDT/PDT – Matilda
12:30 p.m. EDT/PDT – Casper (1995)
3:00 p.m. EDT/PDT – Shrek
5:00 p.m. EDT/PDT – Shrek 2
7:00 p.m. EDT/PDT – Shrek Forever After
9:00 p.m. EDT/PDT – Hocus Pocus
12:00 a.m. EDT/PDT – The Simpsons: Treehouse of Horror
Wednesday, Oct. 6
10:30 a.m. EDT/PDT – Casper (1995)
12:30 p.m. EDT/PDT – Shrek
2:30 p.m. EDT/PDT – Shrek 2
4:30 p.m. EDT/PDT – Shrek Forever After
6:30 p.m. EDT/PDT – Tim Burton's Corpse Bride
8:00 p.m. EDT/PDT – The Simpsons: Treehouse of Horror
12:00 a.m. EDT/PDT – The Simpsons: Treehouse of Horror
Thursday, October 7
11:30 a.m. EDT/PDT – Tim Burton's Corpse Bride
1:30 p.m. EDT/PDT – Halloweentown
3:30 p.m. EDT/PDT – Charlie and the Chocolate Factory
6:00 p.m. EDT/PDT – Ghostbusters (1984)
8:30 p.m. EDT/PDT – Ghostbusters II
12:00 a.m. EDT/PDT – Jaws 3 – Freeform Premiere
Friday, October 8
10:30 a.m. EDT/PDT – Ghostbusters (1984)
9:00 p.m. EDT/PDT – Family Guy Halloween programming
12:00 a.m. EDT/PDT – Frankenweenie (2012)
Saturday, October 9
7:00 a.m. EDT/PDT – Turbo (2013)
9:10 a.m. EDT/PDT – Shrek
11:15 a.m. EDT/PDT – Shrek 2
1:20 p.m. EDT/PDT – Shrek Forever After
3:25 p.m. EDT/PDT – Hotel Transylvania 2
5:30 p.m. EDT/PDT – Hotel Transylvania 3: Summer Vacation
7:40 p.m. EDT/PDT – Hocus Pocus
9:50 p.m. EDT/PDT – The Addams Family (1991)
11:55 p.m. EDT/PDT – Addams Family Values
Sunday, October 10
7:00 a.m. EDT/PDT – Shrek
9:05 a.m. EDT/PDT – Shrek 2
11:10 a.m. EDT/PDT – Shrek Forever After
1:15 p.m. EDT/PDT – Hotel Transylvania 2
3:20 p.m. EDT/PDT – Hotel Transylvania 3: Summer Vacation
5:30 p.m. EDT/PDT – Hocus Pocus
7:40 p.m. EDT/PDT – The Addams Family (1991)
9:45 p.m. EDT/PDT – Addams Family Values
11:50 p.m. EDT/PDT – Casper (1995)
Monday, October 11
11:30 a.m. EDT/PDT – Jaws – Freeform Premiere
2:30 p.m. EDT/PDT – Jaws 2 – Freeform Premiere
5:05 p.m. EDT/PDT – Alien
7:45 p.m. EDT/PDT – Aliens
12:00 a.m. EDT/PDT – The Simpsons: Treehouse of Horror
Tuesday, October 12
3:00 p.m. EDT/PDT – Decorating Disney: Halloween Magic
4:00 p.m. EDT/PDT – Casper (1995)
6:30 p.m. EDT/PDT – Tim Burton's The Nightmare Before Christmas
8:00 p.m. EDT/PDT – Mrs. Doubtfire
12:00 a.m. EDT/PDT – The Simpsons: Treehouse of Horror
Wednesday, October 13
12:30 p.m. EDT/PDT – Casper (1995)
3:00 p.m. EDT/PDT – Halloweentown
5:00 p.m. EDT/PDT – Mrs. Doubtfire
8:00 p.m. EDT/PDT – The Simpsons: Treehouse of Horror
12:00 a.m. EDT/PDT – The Simpsons: Treehouse of Horror
Thursday, October 14
1:00 p.m. EDT/PDT – Willy Wonka the Chocolate Factory
3:30 p.m. EDT/PDT – Hook
6:45 p.m. EDT/PDT – Matilda
8:50 p.m. EDT/PDT – Hocus Pocus
Friday, October 15
11:00 a.m. EDT/PDT – Matilda
9:00 p.m. EDT/PDT – Family Guy Halloween programming
Saturday, October 16
7:00 a.m. EDT/PDT – Ghostbusters (1984)
9:30 a.m. EDT/PDT – Ghostbusters II
12:00 p.m. EDT/PDT – Mrs. Doubtfire
3:05 p.m. EDT/PDT – Men in Black (1997)
5:15 p.m. EDT/PDT – Men in Black II – Freeform Premiere
7:15 p.m. EDT/PDT – Hocus Pocus
9:25 p.m. EDT/PDT – Maleficent
11:30 p.m. EDT/PDT – The House with a Clock in Its Walls – Freeform Premiere
Sunday, October 17
7:00 a.m. EDT/PDT – The Middle Halloween episode
7:30 a.m. EDT/PDT – Mrs. Doubtfire
10:30 a.m. EDT/PDT – Men in Black (1997)
12:40 p.m. EDT/PDT – Men in Black II
2:40 p.m. EDT/PDT – The House with a Clock in Its Walls
5:10 p.m. EDT/PDT – Hocus Pocus
7:20 p.m. EDT/PDT – Hotel Transylvania 2
9:25 p.m. EDT/PDT – Hotel Transylvania 3: Summer Vacation
11:35 p.m. EDT/PDT – Toy Story of TERROR! (Disney and Pixar)
12:05 a.m. EDT/PDT – Tim Burton's Corpse Bride
Monday, October 18
2:00 p.m. EDT/PDT – Tim Burton's Corpse Bride
4:00 p.m. EDT/PDT – Toy Story of TERROR! (Disney and Pixar)
4:30 p.m. EDT/PDT – Hotel Transylvania 2
6:30 p.m. EDT/PDT – Hotel Transylvania 3: Summer Vacation
8:30 p.m. EDT/PDT – Casper (1995)
12:00 a.m. EDT/PDT – The Simpsons: Treehouse of Horror
Tuesday, October 19
12:30 p.m. EDT/PDT – Pirates of the Caribbean: On Stranger Tides
3:40 p.m. EDT/PDT – X-Men: First Class
6:50 p.m. EDT/PDT – Men in Black (1997)
9:00 p.m. EDT/PDT – Men in Black II
12:00 a.m. EDT/PDT – The Simpsons: Treehouse of Horror
Wednesday, October 20
10:30 a.m. EDT/PDT – X-Men: First Class
1:30 p.m. EDT/PDT – Cowboys & Aliens – Freeform Premiere
4:00 p.m. EDT/PDT – Men in Black (1997)
6:00 p.m. EDT/PDT – Men in Black II
8:00 p.m. EDT/PDT – The Simpsons: Treehouse of Horror
12:00 a.m. EDT/PDT – The Simpsons: Treehouse of Horror
Thursday, October 21
4:00 p.m. EDT/PDT – The Craft (1996)
6:30 p.m. EDT/PDT – The Huntsman: Winter's War – Freeform Premiere
9:00 p.m. EDT/PDT – Maleficent
12:00 a.m. EDT/PDT – Mirror Mirror
Friday, October 22
10:30 a.m. EDT/PDT – The Craft (1996)
9:00 p.m. EDT/PDT – Family Guy Halloween programming
12:00 a.m. EDT/PDT – Willy Wonka and the Chocolate Factory
Saturday, October 23
7:00 a.m. EDT/PDT – Willy Wonka and the Chocolate Factory
9:30 a.m. EDT/PDT – Casper (1995)
11:50 a.m. EDT/PDT – Shrek
1:55 p.m. EDT/PDT – Shrek 2
4:00 p.m. EDT/PDT – Halloweentown
6:05 p.m. EDT/PDT – Hocus Pocus
8:15 p.m. EDT/PDT – Ghostbusters (2016)
11:30 p.m. EDT/PDT – Fright Night (2011)
Sunday, October 24
7:00 a.m. EDT/PDT – Casper (1995)
9:30 a.m. EDT/PDT – Shrek
11:40 a.m. EDT/PDT – Shrek 2
1:45 p.m. EDT/PDT – Halloweentown
3:50 p.m. EDT/PDT – Tim Burton's The Nightmare Before Christmas
5:30 p.m. EDT/PDT – Ghostbusters (2016)
8:45 p.m. EDT/PDT – Hocus Pocus
10:55 p.m. EDT/PDT – Mrs. Doubtfire
Monday, October 25
1:00 p.m. EDT/PDT – Decorating Disney: Halloween Magic
2:00 p.m. EDT/PDT – The Goonies
4:30 p.m. EDT/PDT – Scared Shrekless
5:00 p.m. EDT/PDT – Shrek
7:00 p.m. EDT/PDT – Shrek 2
9:00 p.m. EDT/PDT – Shrek Forever After
12:00 a.m. EDT/PDT – The Simpsons: Treehouse of Horror
Tuesday, October 26
12:00 p.m. EDT/PDT – The Goonies
2:30 p.m. EDT/PDT – Scared Shrekless
3:00 p.m. EDT/PDT – Shrek
5:00 p.m. EDT/PDT – Shrek 2
7:00 p.m. EDT/PDT – Shrek Forever After
9:00 p.m. EDT/PDT – Maleficent
12:00 a.m. EDT/PDT – The Simpsons: Treehouse of Horror
Wednesday, October 27
1:00 p.m. EDT/PDT – Charlie and the Chocolate Factory
3:30 p.m. EDT/PDT – Casper (1995)
6:00 p.m. EDT/PDT – Matilda
8:00 p.m. EDT/PDT – The Simpsons: Treehouse of Horror
12:00 a.m. EDT/PDT – The Simpsons: Treehouse of Horror
Thursday, October 28
11:30 a.m. EDT/PDT – Casper (1995)
2:00 p.m. EDT/PDT – Matilda
4:00 p.m. EDT/PDT – Ghostbusters (1984)
6:30 p.m. EDT/PDT – The Craft (1996)
9:00 p.m. EDT/PDT – Hocus Pocus
12:00 a.m. EDT/PDT – Frankenweenie (2012)
Friday, October 29
12:30 p.m. EDT/PDT – Men in Black (1997)
9:00 p.m. EDT/PDT – Family Guy Halloween programming
12:00 a.m. EDT/PDT – Men in Black II
Saturday, October 30
7:00 a.m. EDT/PDT – Decorating Disney: Halloween Magic
8:00 a.m. EDT/PDT – Ghostbusters (1984)
10:30 a.m. EDT/PDT – Men in Black (1997)
12:35 p.m. EDT/PDT – Men in Black II
2:35 p.m. EDT/PDT – Goosebumps (2015)
5:05 p.m. EDT/PDT – Goosebumps 2: Haunted Halloween – Freeform Premiere
7:10 p.m. EDT/PDT – Tim Burton's The Nightmare Before Christmas
8:50 p.m. EDT/PDT – Hocus Pocus
11:00 p.m. EDT/PDT – Miss Peregrine's Home for Peculiar Children – Freeform Premiere
Sunday, October 31
7:00 a.m. EDT/PDT – Miss Peregrine's Home for Peculiar Children
10:00 a.m. EDT/PDT – Goosebumps
12:30 p.m. EDT/PDT – Goosebumps 2: Haunted Halloween
2:35 p.m. EDT/PDT – Hocus Pocus
4:45 p.m. EDT/PDT – Casper (1995)
7:15 p.m. EDT/PDT – Maleficent
9:20 p.m. EDT/PDT – Hocus Pocus
11:30 p.m. EDT/PDT – Ghostbusters (1984)